U.S. Consumer Spending, Incomes Probably Increased in December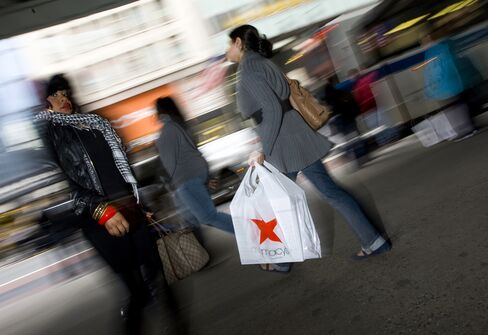 Consumer spending in the U.S. probably accelerated in December, capping its strongest quarter in more than four years, economists said before a report today.
Purchases, which account for about 70 percent of the economy, rose 0.5 percent after a 0.4 percent gain in November, according to the median estimate of 58 economists surveyed by Bloomberg News. Incomes grew for a third month, and inflation remained below the Federal Reserve's long-term forecast.
Households are driving demand at companies from Coach Inc. to Ford Motor Co. and bolstering the recovery. The economy needs even faster growth to reduce unemployment, which is projected to average more than 9 percent this year, one reason Fed policy makers are pushing ahead with a second round of monetary stimulus worth $600 billion.
"Consumers are doing their bit and the recovery is right on track," said Scott Brown, chief economist at Raymond James & Associates Inc. in St. Petersburg, Florida. "The job market really needs to pick up before we see bigger gains in consumption. Unemployment is still high enough for the Fed to stay accommodative."
The Commerce Department's spending report is due at 8:30 a.m. in Washington. Economists' forecasts ranged from gains of 0.2 percent to 0.8 percent.
Incomes rose 0.4 percent last month after a 0.3 percent gain in November, according to the survey median.
Chicago Purchasers
At 9:45 a.m., figures from the Institute for Supply Management-Chicago Inc. may show businesses kept growing in January. The group's business barometer fell to 64.5 this month from December's 66.8, which was the highest since October 2004, according to the Bloomberg survey median. Readings greater than 50 signal expansion.
The economy accelerated in the fourth quarter at a 3.2 percent annual pace, the Commerce Department reported on Jan. 28. Consumer spending climbed at a 4.4 percent rate, the most since the first three months of 2006.
Retailers' 2010 holiday sales jumped 5.5 percent for the best performance in five years, according to MasterCard Advisors' SpendingPulse. Demand for clothing and jewelry helped sales at chains from Macy's Inc. to Tiffany & Co.
"We feel great about the performance of the company, about how we're heading into the first half of 2011," Macy's Chief Executive Officer Terry Lundgren said in a Bloomberg Television interview on Jan. 10.
Demand for automobiles also drove spending. Car sales in December rose to a 12.53 million unit annual pace, the best since the government's cash-for-clunkers program in August 2009, industry data showed.
Ford Sales
Ford, the second-largest U.S. automaker, on Jan. 28 reported its U.S. sales climbed 15 percent in the fourth quarter and said profit-sharing checks for its 40,600 U.S. hourly workers will average $5,000, the highest since 2000.
Demand from affluent Americans helped profit at Coach, the largest U.S. maker of luxury leather handbags, jump 26 percent in the second quarter. The New York-based chain introduced new bags more frequently in the holiday season, and North America same-store sales were "exceptional," Chief Executive Officer Lew Frankfort said in a Jan 25 statement.
Investors propelled retail stocks as spending improved. The Standard & Poor's Supercomposite Retailing Index climbed 26 percent last year, while the broader S&P 500 advanced 13 percent.
Shoppers may have more money to spend after the Obama administration and Congress agreed in December to extend Bush-era tax cuts. The legislation also included the renewal of emergency jobless benefits for the long-term unemployed and a 2 percentage-point reduction in payroll taxes.
Little Inflation
Today's report may also show inflation was contained. The Fed's preferred price index, which is tied to spending patterns and excludes food and fuel, increased 0.8 percent from December 2009, according to the survey median. The increase matched the year-over-year gains in the prior two months, the lowest in records dating back to 1975.
The central bank's long-term goal is for inflation of 1.6 percent to 2 percent. The lack of price pressures is allowing the Fed to maintain quantitative easing to spur growth.
"Although commodity prices have risen, longer-term inflation expectations have remained stable, and measures of underlying inflation have been trending downward," policy makers said in a statement on Jan. 26.
                        Bloomberg Survey

=====================================================
                              Pers     Pers  Chicago
                               Inc    Spend       PM
                              MOM%     MOM%    Index
=====================================================
Date of Release              01/31    01/31    01/31
Observation Period            Dec.     Dec.     Jan.
-----------------------------------------------------
Median                        0.4%     0.5%     64.5
Average                       0.4%     0.5%     64.7
High Forecast                 0.8%     0.8%     71.3
Low Forecast                  0.2%     0.2%     60.0
Number of Participants          58       58       41
Previous                      0.3%     0.4%     66.8
-----------------------------------------------------
4CAST Ltd.                    ---      ---      64.3
ABN Amro Inc.                 0.6%     ---      65.0
Action Economics              0.4%     0.5%     64.0
Aletti Gestielle SGR          0.4%     0.5%     64.5
Ameriprise Financial Inc      0.4%     0.5%     64.0
Bank of Tokyo- Mitsubishi     0.5%     0.4%     71.3
Bantleon Bank AG              0.4%     0.4%     64.0
Barclays Capital              0.4%     0.5%     64.0
Bayerische Landesbank         0.4%     0.6%     ---
BMO Capital Markets           0.4%     0.5%     ---
BNP Paribas                   0.3%     0.6%     65.0
Briefing.com                  0.8%     0.7%     65.0
Capital Economics             0.6%     0.7%     ---
CIBC World Markets            0.5%     0.6%     ---
Citi                          0.3%     0.6%     64.0
Commerzbank AG                0.6%     0.6%     64.0
Credit Agricole CIB           0.4%     0.5%     65.5
Credit Suisse                 0.4%     0.6%     64.0
DekaBank                      0.5%     0.4%     63.0
Desjardins Group              0.7%     0.7%     63.0
Deutsche Bank Securities      0.4%     0.7%     65.0
Deutsche Postbank AG          ---      0.5%     ---
DZ Bank                       0.3%     0.3%     65.6
First Trust Advisors          0.6%     0.5%     69.4
HSBC Markets                  0.3%     0.6%     63.0
Hugh Johnson Advisors         0.4%     0.5%     66.0
IDEAglobal                    0.4%     0.5%     66.0
Informa Global Markets        0.4%     0.7%     65.0
ING Financial Markets         0.4%     0.3%     66.0
Insight Economics             0.5%     0.4%     65.0
Intesa-SanPaulo               0.4%     0.5%     65.0
Janney Montgomery Scott L     0.2%     0.6%     ---
Jefferies & Co.               0.3%     0.4%     63.7
Landesbank Berlin             0.6%     0.3%     62.0
Landesbank BW                 0.5%     0.5%     64.0
Maria Fiorini Ramirez Inc     0.4%     0.5%     ---
Moody's Analytics             0.4%     0.8%     65.8
Morgan Keegan & Co.           0.3%     0.4%     ---
Morgan Stanley & Co.          0.3%     0.4%     ---
Natixis                       0.3%     0.3%     ---
Nomura Securities Intl.       0.3%     0.4%     62.0
Nord/LB                       0.4%     ---      64.0
OSK Group/DMG                 0.5%     0.6%     ---
Pierpont Securities LLC       0.5%     0.6%     ---
PineBridge Investments        0.4%     0.5%     60.0
PNC Bank                      0.4%     0.6%     ---
Raymond James                 0.4%     0.6%     ---
RBC Capital Markets           0.3%     0.5%     ---
Scotia Capital                0.4%     0.6%     ---
Standard Chartered            0.5%     0.5%     ---
State Street Global Marke     0.6%     0.6%     65.6
Stone & McCarthy Research     0.2%     0.4%     67.7
TD Securities                 0.2%     0.2%     67.0
Thomson Reuters/IFR           0.4%     0.6%     ---
UBS                           0.4%     0.6%     66.0
Union Investment              0.3%     0.4%     ---
University of Maryland        0.4%     0.5%     63.0
Wells Fargo & Co.             0.3%     0.6%     ---
WestLB AG                     0.4%     0.5%     65.5
Westpac Banking Co.           0.2%     0.4%     60.0
Wrightson ICAP                ---      0.5%     64.0
=====================================================