Auto Sales May Reach Second-Fastest Rate in 17 Months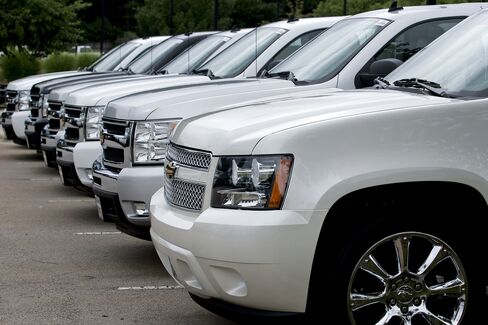 U.S. automobile sales in January may have reached the second-fastest pace in 17 months, aided by rising business spending and consumer confidence.
January vehicle deliveries, to be released tomorrow, may have run at a 12.4 million annual rate, the average of six analysts' estimates compiled by Bloomberg. The seasonally adjusted rate in December was 12.6 million, the fastest since the government's "cash for clunkers" program in August 2009.
Spending on equipment and software rose at a 5.8 percent annual rate in the fourth quarter, showing businesses were investing in a recovering economy. Humphrey & Associates Inc., a family-owned electrical contractor in the Dallas area, added seven Chevrolet trucks and vans to its fleet in December after delaying the purchases during the recession.
"People are beginning to spend a little money they've had on the sidelines," Randy Humphrey, 42, the company's vice president, said in a telephone interview. "We are dependent on our commercial and industrial clients and their business growth to make ours. When they're adding, we're adding."
U.S. consumer confidence rose more than forecast in January to the highest in eight months, the Conference Board reported last week, while the Thomson Reuters/University of Michigan final index of consumer sentiment fell less than analysts estimated. Gross domestic product grew at a 3.2 percent annual pace in the fourth quarter, the Commerce Department reported.
2011 Estimates Rise
Analysts at Deutsche Bank AG and J.D. Power & Associates this month raised their estimates for 2011 light-vehicle sales after auto demand topped expectations in the fourth quarter. Gains from General Motors Co. and Ford Motor Co. may push the industry to a second annual sales increase after a 27-year low in 2009.
"There was such a strong close in December, and we aren't expecting an equally strong payback," said Jeff Schuster, the director of forecasting at J.D. Power who raised his full-year sales estimate to 13 million from 12.8 million. "That sets the year up for a good start."
Full-year sales in 2010 were 11.6 million, or 31 percent less than the average 16.8 million annual rate before the recession, according to researcher Autodata Corp., based in Woodcliff Lake, New Jersey.
Ford, which last week announced full-year profit of $6.56 billion that was the most since 1999, may say sales climbed 18 percent, according to four analysts' estimates.
Consumers Exiting 'Caves'
"Consumers are coming out of their caves and spending money again," George Pipas, Ford's sales analyst, said today during a briefing with reporters in Dearborn, Michigan, where the company is based.
Sales may rise from a year earlier while falling short of December's 12.6 million annualized rate, Pipas said.
"Ford still relies heavily on F-150 sales for the profit generation, and that segment is poised to outperform the market this year," said Jesse Toprak, vice president of industry trends at TrueCar.com, who predicts a 16 percent gain for Ford in January.
GM may report a 9.2 percent increase in January sales, the average of four estimates. The Detroit-based automaker announced this month it would add a third shift and about 750 jobs to its assembly plant in Flint, Michigan, to meet rising demand for heavy-duty pickups.
Small Business Sales
The largest U.S. automaker said its top-selling Chevrolet brand's sales to small businesses accelerated in the fourth quarter, including a 54 percent surge in December from a year earlier.
Federal Reserve policy makers last week kept measures to stimulate the economy in place after President Barack Obama reached an agreement with Republicans in December to extend by two years tax cuts enacted during President George W. Bush's administration.
"Interest rates are low enough, credit availability is improving, and we didn't get a jolt from tax increases that would have affected higher-income taxpayers who buy a lot of vehicles," said Paul Ballew, chief economist for Nationwide Mutual Insurance Co. in Columbus, Ohio. "All those things are clear pluses helping to bolster demand."
Toyota Motor Corp., the only large automaker to post a U.S. sales decline last year, may report a 16 percent gain for January, the average estimate of four analysts.
Suspended Sales
The world's largest automaker suspended U.S. sales and production of eight models a year ago that accounted for more than half its deliveries. The Toyota City, Japan-based company recalled more than 8 million vehicles for unintended acceleration since late 2009.
"Toyota is trying to make 2011 their year," Jessica Caldwell, an analyst for researcher Edmunds.com in Santa Monica, California, said in a telephone interview. "They're talking about 11 new or refreshed models they're bringing to market, which they so desperately need."
Barclays Capital analyst Brian Johnson predicts a 2.8 percent decline for Toyota, its fourth straight month of a decrease in sales from the earlier year. Deliveries of the top-selling Camry and Corolla cars may decline at least 10 percent, and Lexus sales also may drop, Christopher Ceraso, an analyst at Credit Suisse in New York, wrote in a Jan. 27 research note.
Chrysler Group LLC may have increased sales 27 percent, the average of four analysts' estimates. The Auburn Hills, Michigan-based automaker is preparing for an initial public offering this year and has said it can break even on an operating basis with 150,000 fewer vehicle sales annually.
Marchionne's Forecast
The seasonally adjusted annual rate may be 12.4 million to 12.5 million in January, Chrysler Chief Executive Officer Sergio Marchionne said today on a conference call after the automaker reported a $199 million fourth-quarter net loss.
Chrysler is considering two new pickups, a seven-passenger Jeep and a smaller minivan as part of a plan to boost global sales to 2.8 million in 2014. Worldwide deliveries gained 21 percent to 1.6 million last year, the automaker said.
Deliveries at Tokyo-based Honda Motor Co. may have risen 24 percent, and Yokohama, Japan-based Nissan Motor Co.'s sales may have increased 14 percent, according to the average of four analysts' estimates.
The following table shows estimates for car and light-truck sales in the U.S. Estimates for companies are a percentage change from January 2010. Forecasts for the seasonally adjusted annual rate, or SAAR, are in millions of vehicles.
GM     Ford   Chrysler  SAAR



Brian Johnson                 10%     18%      26%    12.4
(Barclays Capital)
Jesse Toprak                  9.1%    16%      28%    12.7
(TrueCar.com)
Joseph Barker                 NA      NA       NA     12.4
(IHS Automotive)
Jeff Schuster                 NA      NA       NA     12.2
(J.D. Power)
Christopher J. Ceraso         10%     24%      29%    12.6
(Credit Suisse)
Rod Lache                     7.6%    15%      26%    12.3
(Deutsche Bank)

Average                       9.2%    18%      27%    12.4