Most European Stocks Decline on Egypt Unrest; Lufthansa Slides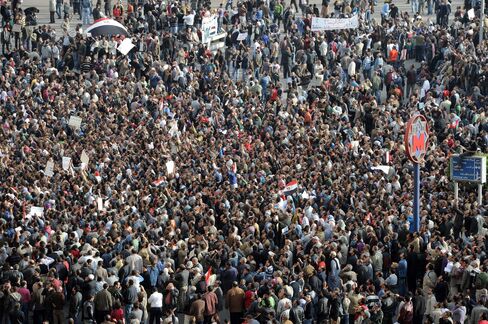 Most European stocks dropped, extending two weeks of losses, as anti-government protests rocked Egypt for a seventh day, causing airline and travel company shares to fall.
Deutsche Lufthansa AG and International Consolidated Airlines Group SA both retreated more than 1 percent. Greene King Plc rallied 5.3 percent as the maker and retailer of beer bought Cloverleaf Restaurants to support its focus on food.
The Stoxx 600 slipped 0.1 percent to 280.05 at the 4:30 p.m. close in London, as two stocks fell for every stock that climbed. Even so, the gauge hsa gained 1.5 percent this month. Stocks fell earlier today after tens of thousands of protesters defied a curfew in Cairo and Egyptian President Hosni Mubarak met yesterday with military commanders.
"The current geopolitical tension in Egypt is serving as a handy excuse for investors to take some money off the table," said Cameron Peacock, a markets analyst at IG Markets in Melbourne. "There have been many nervous market participants espousing the imminence -- or need for -- a pullback, but who have been reluctant to sell out of positions for fear of missing out on further gains. It seems Egypt could be the catalyst for such a pullback."
National benchmark indexes fell in 11 of the 18 western European equity markets today. Germany's DAX Index declined 0.4 percent and the U.K.'s FTSE 100 Index lost 0.3 percent, while France's CAC 40 Index added 0.1 percent.
Egyptian Protests
The Stoxx 600 fell 0.3 percent last week as escalating protests in Egypt and an unexpected drop in the U.K.'s gross domestic product offset accelerating U.S. economic growth in the fourth quarter. Even so, the gauge has rallied 21 percent since its low in May 2010 amid optimism that the U.S. economy is strengthening and as European governments implemented policies to support indebted countries using the single currency.
In the U.S., consumer spending rose more than forecast in December, capping its strongest quarter in more than four years. Consumer purchases, which account for about 70 percent of the U.S. economy, increased 0.7 percent after climbing 0.3 percent the prior month, Commerce Department figures showed today in Washington.
A separate report showed businesses in the U.S. expanded in January at a faster pace than forecast. The Institute for Supply Management-Chicago Inc. said today its business barometer rose to 68.8 this month from December's 66.8, which was the highest level since October 2004. Economists had predicted that the gauge would slip to 64.5, based on the median projection in a Bloomberg News survey.
Euro-Area Inflation
European inflation accelerated more than economists forecast in January. Inflation in the 17-member euro region quickened to 2.4 percent from 2.2 percent in December, the European Union's statistics office in Luxembourg said today in a preliminary estimate without providing a breakdown.
Lufthansa sank 1.6 percent to 15.35 euros and IAG, the airline created from the merger of British Airways Plc and Iberia Lineas Aereas de Espana SA, retreated 1.8 percent to 256.4 pence. Air France-KLM Group, Europe's biggest carrier based on traffic, lost 1.9 percent to 13.35 euros.
Thomas Cook Group Plc fell 3.1 percent to 190.6 pence and TUI Travel Plc declined 2.6 percent to 253 pence as investors speculated that the anti-government protests in Egypt will deter tourists from visiting the country. TUI Travel and Thomas Cook's German units will allow people who have booked holidays to Egypt to change their destination for free after anti-government protests turned violent.
Non-travel companies with earnings in Egypt also declined. London-listed Hikma Pharmaceuticals Plc slumped 2.9 percent to 804 pence, for a fourth day of declines. Hikma generated 64 percent of its sales from the Middle East and Africa in 2009.
Lafarge, Fiat Drop
Lafarge SA declined for a fifth day, losing 1.7 percent to 43.28 euros. Lafarge bought the cement unit of Egypt's Orascom Construction Industries for $15 billion in 2007 in the largest takeover deal targeting the Middle East and North Africa in the last decade. The company made 22 percent of its 2009 sales from the region. Lafarge has halted production in Egypt until the situation improves, spokeswoman Christel des Royeries said by telephone today.
Titan Cement Co. SA slumped 4.2 percent to 15.44 euros, the biggest retreat in eight months. Greece's largest cement maker faces the most risk among Greek companies from continued unrest in Egypt, according to National P&K Securities SA. Titan, which has two cement plants in Beni Suef and Alexandria, controls about 9 percent of Egypt's fast-growing cement market, the brokerage said in a report.
French, U.K. Banks
French and U.K. banks may be at the most risk from the political strife in Egypt, data from the Bank for International Settlements show. French banks' claims on Egyptian borrowers stood at $17.6 billion at the end of September, BIS statistics released on Jan. 27 show. Egyptians have borrowed $10.7 billion from U.K. banks and some $6.3 billion from Italian banks, the data show. European banks' total claims amounted to $40.3 billion.
Societe Generale SA lost 2.3 percent to 47.23 euros. Barclays Plc declined 1.5 percent to 293.8 pence.
Still, some investors say the turmoil in Egypt will be contained and they remain bullish on equities.
"We don't believe that the situation in Egypt will spread much across the region," Lothar Mentel, chief investment officer at Octopus Investments Ltd., said in an interview on Bloomberg Television's 'On The Move' with Mark Barton. "We are not overly unnerved. We see it more as a buying opportunity."
Greene King, Ryanair
Greene King rallied 5.3 percent to 472.2 pence, among the largest gains on the Stoxx 600, as the brewer of Old Speckled Hen ale bought Cloverleaf Restaurants for 55.8 million pounds ($89.5 million) to support its focus on food.
Ryanair Holdings Plc advanced 0.8 percent to 3.65 euros. Europe's biggest discount carrier reported a fiscal third-quarter loss after snow and air-traffic control strikes disrupted flights across Europe this winter and its fuel costs rose. The net loss was 10.3 million euros ($14.1 million) for the three months ended December 31. Analysts had predicted a loss of 19.5 million euros, according to the average of eight estimates compiled by Bloomberg.
Oil and gas shares rallied after Exxon Mobil Corp.'s profit topped analysts' estimates for the fourth consecutive quarterly increase in the company's net income.
BG Group Plc soared 5 percent to 1,401 pence as Cheuvreux SA raised its price estimate on the shares 14 percent to 1,600 pence, citing the improved valuation of its Brazilian assets.
PPR SA surged 2.9 percent to 116.75 euros as Steinhoff International Holdings Ltd., Africa's largest furniture maker, agreed to buy Conforama Holdings SA from the owner of Gucci clothes and FNAC bookstores for 1.2 billion euros.
-- With assistance from Julie Cruz in Frankfurt. Editor: Will Hadfield