Organized Crime Blamed for Roiling $110 Billion Carbon Market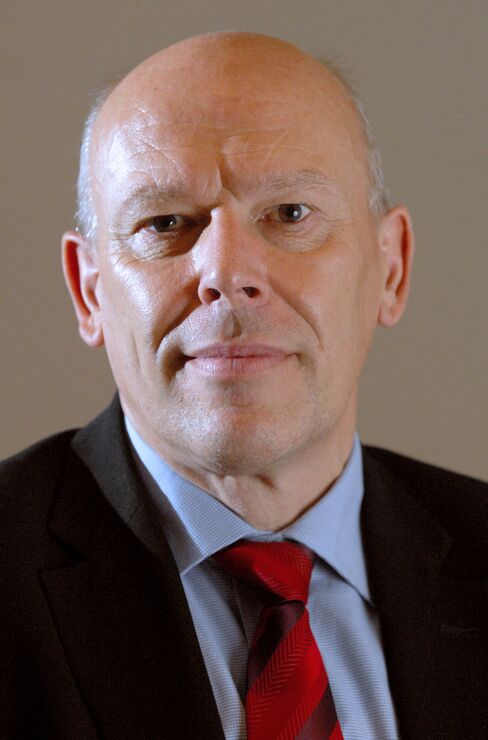 Organized criminals are being blamed for stealing European Union pollution permits and sparking a police hunt across the continent, battering confidence in an 80 billion-euro ($110 billion) market.
Thieves who steal carbon dioxide allowances try to sell them before owners know they are gone, according to Nikos Tornikidis, a Czech trader with 700,000 missing permits. Criminals may have exploited "negligent" security standards in some EU nations that participate in the world's largest system for trading rights to discharge greenhouse gases, Jos Delbeke, director general for climate at the European Commission, said in an interview.
"Sophisticated" computer attacks this month may be linked to last year's outbreaks of "carousel fraud" and password "phishing," the director of Europol said. Barclays Plc, based in London, said it stopped buying futures from some clients, and a traders association said the market may become "untenable." The EU regulator suspended registries on Jan. 19 in 30 countries that track carbon permits, triggering a 12-day halt in spot trading.
"The resulting lack of a spot market reference will have cascading effects on contracts,'' the Amsterdam-based European Federation of Energy Traders said today in a statement. "The absence of a secure trading infrastructure supporting the main European carbon marketplaces will rapidly become untenable.''
The BlueNext SA exchange in Paris and ICE Future Europe exchange in London gave no indication today when they may resume trading for immediate delivery. Still, EU futures for December rose 1.5 percent to 14.98 euros in London on speculation that the market turmoil may lead to a shortage of permits in the EU, according to OTC Europe LLP.
Retrieving Missing Permits
While the commission estimated as many as 2 million permits valued at 30 million euros ($42 million) may be missing, some may be recovered. Greek cement company Halpys Building Materials SA was able to block thieves from reselling about 300,000 carbon dioxide permits that were stolen from its account on Jan. 18, Pagona Ligou, an Athens-based spokeswoman, said today.
"We have blocked the sale and the next step is to get the permits back," she said. Halpys was informed on Jan. 18 that the carbon permits were missing, she said.
CO2 hackers in Greece have been traced and arrests will be announced in the next few days, The Wall Street Journal reported today, citing unidentified people involved in the matter.
The Austrian registry announced on Jan. 21 that it tracked down 488,141 missing carbon credits in Sweden and Liechtenstein shortly after a Jan. 10 hacking attack, and authorities blocked them from use.
Unauthorized Trades
The EU suspended all registries in Europe after Blackstone Global Ventures, a trader based in the Czech city of Brno, informed national administrators on Jan. 19 that 475,000 allowances were missing from its account. Last week CEZ AS, the largest Czech power producer, said it lost 700,000 allowances in unauthorized transfers in the raids on the registry.
The allowances stolen from Blackstone went through accounts in national registries in Poland, Estonia and Liechtenstein, said Tornikidis, manager of Blackstone's carbon portfolio.
"When we realized on Wednesday that something happened with our accounts, I immediately called BlueNext and ICE exchanges," Tornikidis said. "But since the illegal transfer happened on Tuesday around midday, that means that those guys had six trading hours to do whatever they wanted."
The EU, which started its carbon trading system in 2005 to reduce the emissions linked to global warming, is requiring national carbon registries to present independent reports to verify their security before they are allowed to reopen. The first registries may reopen in the second half of this week, the commission said Jan. 28.
'Relatively Negligent'
"It's a bit sobering to see that what we had been requiring has not always been followed up by member states," Delbeke said. "Despite our repeated actions, member states are still relatively negligent, and even companies are being negligent. We have very different cases, but we also have indications that in some of them companies gave passwords to strangers."
The EU sytem is called cap-and-trade because it puts emission limits on more than 11,000 utilities and manufacturers, capping their greenhouse gas discharges at 2.08 billion metric tons of carbon-dioxide a year between 2008 and 2012. Companies that go over their limit can buy permits in the market, while those with surplus permits can sell them. Trading was valued at 80 billion euros last year, according to Bloomberg New Energy Finance.
'Behind Closed Doors'
The EU's security requirements are confidential, and Delbeke said the commission won't reveal them or set a deadline for lifting the suspension on registries. Henry Derwent, president of International Emissions Trading Association, last week called for the commission to set a date for security upgrades. Derwent said the commission's communications on the matter have been insufficient.
"We regret the process by which minimum security measures were decided behind closed doors and remain unknown," he said in a Jan. 28 statement.
Delbeke rejected that criticism. "IETA would like to have us publish the minimum criteria, and I have one question about it: is IETA expecting us to educate the gangsters?"
While IETA and other traders have acknowledged the need to close Europe's carbon registries, Barclays Capital said it is cutting back trading and following new precautions until security concerns are addressed.
Safety of U.K.
Barclays advised customers to open registry accounts in the U.K., Louis Redshaw, head of environmental markets in London, said today in an interview. The U.K. has better security and "it is likely that you will get your EU allowances back if they are stolen."
Barclays said it stopped most spot carbon on Jan. 21, trading last month after Holcim Ltd., a Swiss cement maker, lost 1.6 million metric tons of EU permits worth about 23.6 million euros to CO2 permit thieves.
"We will not currently buy over-the-counter forwards from anyone but end-users," Redshaw said today. "And I will not currently be a net buyer on exchanges that result in physical delivery. You don't know what you are going to get from them."
The taint of organized crime doesn't undermine carbon trading as a way to fight climate change, Delbeke said.
"The environmental effectiveness is not threatened," he said. "There's a short-term pain, but I'm convinced it'll become a long-term gain," he said. "Once this is behind us, we'll have a much stronger system, with a much stronger infrastructure."