Snow in Store for New York as Storm Threatens Chicago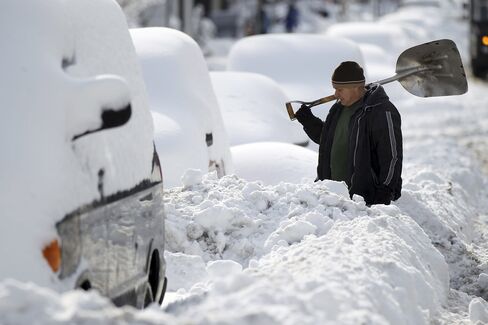 Another winter storm will move into New York and the U.S. Northeast late today, bringing snow, ice and possibly rain while dumping almost two feet of snow on Chicago, according to forecasters.
A large system covering the U.S. from the Rocky Mountains to the northeastern Atlantic coast will sweep east over the next three days. The federal government urged residents from the Midwest to Texas to the Northeast to get ready.
"A storm of this size and scope needs to be taken seriously," Craig Fugate, administrator of the Federal Emergency Management Agency, said in an e-mail. "Already this winter we've seen how snow and ice can knock out power and affect transportation. If you haven't already, take steps now to get your homes and families ready, and be sure to check on your neighbors, especially the elderly and young children -- those who can be most vulnerable during emergencies."
As of 2 p.m. East Coast time, 328 flights had been canceled across the U.S. for tomorrow, according to the FlightAware aircraft tracking website.
About 5 inches (13 centimeters) of snow may fall in New York City by the end of the day tomorrow, followed by as much as a half inch of ice the day after, said Matt Scalora, a National Weather Service meteorologist in Upton, New York.
Urban Flooding
"It's definitely going to be tricky on the roads, especially with a lot of the snow clogging the drains," Scalora said. "There will be some minor urban flooding and the ice can bring down tree limbs and power lines."
Chicago may receive more than 20 inches of snow from the two-part storm, according to weather service forecast maps. A blizzard watch, anticipating winds as intense as 40 miles per hour, has been posted for the area from tomorrow through the day after.
It's a "dangerous multifaceted and potentially deadly winter storm," said Gino Izzi, a weather service meteorologist in Romeoville, Illinois. "With this storm we are looking at the possibility of heavy snow, possible thunderstorms with the snow. Snowfall rates could exceed 2 inches per hour Tuesday night."
A wave of snow will leave as much as 3 inches on the ground in Chicago overnight before the main part of the storm arrives, Izzi said in a briefing posted on the weather service's website.
Snow Path
The pocket of heavy snow will move east from Chicago through Detroit and southern Ontario before crossing northern New England, according to the Hydrometeorological Prediction Center in Camp Springs, Maryland.
Matthew Belk, a weather service meteorologist in Taunton, Massachusetts, said 3 to 6 inches of snow may fall in Boston.
"We're expecting some snow to arrive pretty late tonight and continue through the day tomorrow when there might be a little bit of a lull Tuesday night," Belk said.
The storm will pick up again in the Boston area the day after tomorrow, although rain and sleet may mix in, limiting the total snowfall, Belk said.
"For some portions of the Boston metropolitan area, especially north of the city, there is a chance for a foot or more of snow," Belk said. "Where that foot of snow is going to be, we have yet to figure out."
New York and much of the Northeast have been hit with heavier-than-normal snowfall since the season began. Since Dec. 1, New York's Central Park has received 56.1 inches (142.5 centimeters) of snow, the sixth-snowiest season on record, according to weather service data.
Snow Accumulations
The snowiest was the winter of 1995-96, when 75.6 inches fell in Central Park, according to the weather service.
Since Jan. 1, 36 inches of snow have fallen in Central Park, 28.2 inches more than normal and a January record, according to the service. The snowiest single month was February 2010 when 36.9 inches fell.
In Chicago, 10.1 inches of snow have fallen since the start of January, just under the normal amount of 11 inches, according to the weather service.
Chicago's heaviest snowstorm on record occurred Jan. 26-27, 1967, when 23 inches fell, according to weather service records. The most snow to fall on a single day since records began in 1886 was 18.6 inches on Jan. 2, 1999, the agency reported.
Winter storm warnings, watches and advisories stretch from Colorado to the Massachusetts coast, according to the weather service.
Ice Mixed In
In New York, tomorrow snow and sleet will mainly fall during the day with freezing rain being added to the mix tomorrow night, Scalora said. The following day will see almost all freezing rain, with a chance of rain mixed in.
As much as a quarter-inch of ice may fall through Virginia and Maryland, including Washington and Baltimore, according to the weather service. Snow and ice warnings also extend to Cleveland, Pittsburgh and Philadelphia.
The storm is growing out of a collision of arctic air from the north with warm, moist air from the south over the central part of the U.S., said Mike Pigott, a meteorologist with AccuWeather Inc. in State College, Pennsylvania. By later today, the center of the storm will be in Texas, where the Super Bowl will be played in Dallas on Feb. 6, he said.
Parts of western and central Texas may receive 2 to 5 inches of snow through tomorrow, including Fort Worth, according to the weather service. As the storm passes, a large swath of arctic air will blanket Texas.
A hard-freeze warning has been posted for the Houston-Galveston area tomorrow. The warning means temperatures will fall below 25 degrees Fahrenheit (minus 3.8 Celsius) for two hours or more, according to the weather service.
"Readings might not make it out of the 30s on Wednesday followed by another possible hard freeze warning Wednesday night," the weather service said. "In addition to the cold temperatures, blustery northerly winds will send wind chill values into the single digits and teens."
Before it's here, it's on the Bloomberg Terminal.
LEARN MORE