Rajaratnam Seeks McKinsey File on Ex-Goldman Director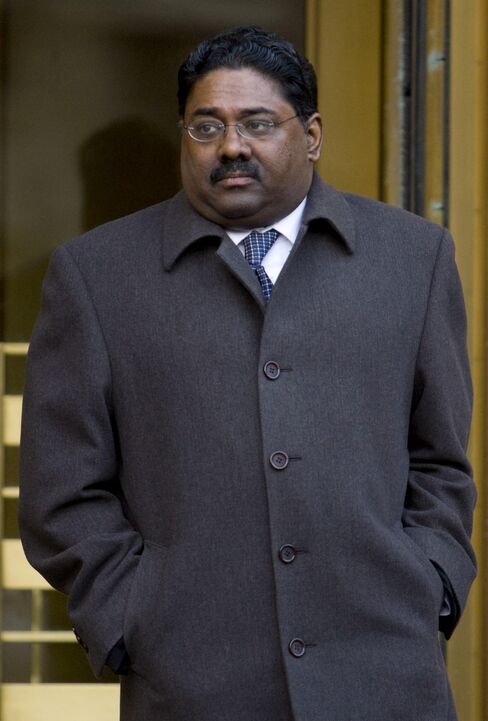 Galleon Group LLC co-founder Raj Rajaratnam wants McKinsey & Co. to give him "all documents" on "any investigation" of alleged leaks of inside information by Rajat Gupta, a former Goldman Sachs Group Inc. director and a senior partner at the consulting firm until January 2008.
Rajaratnam, who faces trial next month for insider trading tied to his hedge fund, served a subpoena on McKinsey seeking the files, according to court papers. The subpoena was disclosed Jan. 28 by McKinsey in Manhattan federal court in a motion seeking to block the request.
The hedge-fund manager wants "documents concerning any investigation conducted by McKinsey into the disclosure of non-public information by Anil Kumar and/or Rajat Gupta" regarding several transactions, according to the subpoena. Kumar, an ex-McKinsey director, pleaded guilty and is cooperating with the government.
Rajaratnam's lawyers may be seeking information to "impeach" Gupta's testimony should he be called as a government witness, said Jacob Frenkel, a lawyer at Shulman Rogers Gandal Pordy & Eckerin in Potomac, Maryland, who isn't involved in the Rajaratnam case. Or they may have another purpose entirely.
"Rajaratnam knows what information he's looking for to aid his defense but he doesn't want to be too specific and telegraph what it is," Frenkel, a former lawyer with the Securities and Exchange Commission, said in a telephone interview today.
Business Collaboration
Interviews, public records, lawsuits and regulatory filings show a 13-year history of co-investing and business collaboration between Rajaratnam and Gupta, the former worldwide head of McKinsey. As of May, Rajaratnam had a stake in a fund managed by New Silk Route NSR Partners LLC, co-founded by Gupta.
Gupta was under scrutiny as of April in the U.S. government's probe of Galleon, according to a person familiar with the matter who declined to be identified because the matter wasn't public. Gupta, who is no longer on the board of New York-based Goldman, has denied wrongdoing.
His lawyer, Gary Naftalis, declined to comment today. Naftalis has previously said that Gupta's record of ethical conduct is "beyond reproach." A McKinsey legal brief accompanying its Jan. 28 court filing notes that no charges have been filed again Gupta.
Rajaratnam sought to acquire secret tips about Berkshire Hathaway Inc.'s 2008 purchase of preferred shares in Goldman Sachs, prosecutors said in court papers last year. Gupta was suspected by U.S. investigators of tipping off Rajaratnam, a person with knowledge of the inquiry said in April. Gupta hasn't been accused of wrongdoing.
Rajaratnam's spokesman, Jim McCarthy, declined to immediately comment today. He previously called the Goldman Sachs allegation "false."
Other Funds
Rajaratnam goes on trial Feb. 28 for allegedly leading an insider-trading conspiracy that earned his fund about $45 million. The probe of New York-based Galleon has expanded to other hedge funds, banks, technology companies and consulting firms.
Prosecutors said they will offer wiretaps of the hedge fund manager's phone conversations and accomplice testimony. Rajaratnam has said there were innocent reasons for his trades.
McKinsey's filing seeks to quash the subpoena that Rajaratnam's lawyers served on the consulting firm Jan. 24. McKinsey said it has complied with multiple prior requests from the Department of Justice, the SEC and Rajaratnam, who has already obtained 16,000 pages of documents from the firm.
'Far Broader'
The latest "subpoena is far broader than any subpoena the DOJ or SEC served on McKinsey in this matter and much broader that the three prior Rajaratnam subpoenas," the consulting firm said in its filing. "This latest subpoena seeks troves of irrelevant, unspecific and inadmissible documents."
David Greenwald, a lawyer for McKinsey, declined to comment.
Kumar, who pleaded guilty in January 2010, admitted leaking McKinsey information to Rajaratnam, including data about Advanced Micro Devices Inc.'s purchase of ATI Technologies Inc.
Rajaratnam, who faces decades in prison if convicted of conspiracy and securities fraud, seeks documents relating to possible leaks by Kumar or Gupta regarding transactions including an AMD deal in Abu Dhabi in 2008, AMD's acquisition of ATI in 2006, earnings of Business Objects SA in 2007, Cisco Systems Inc.'s possible purchase of EMC Corp., EMC's earnings in 2008, eBay Inc. personnel moves in 2008, a possible purchase of Spansion Inc. by Reliance Industries Ltd, and Samsung's possible purchase of SanDisk Corp., according to the filing.
Defense Theories
The subpoena doesn't say why Rajaratnam wants the records. In an unrelated court filing last week, prosecutors said Rajaratnam "has gone to great lengths to keep from the government the witnesses he intends to call and the defense theories he intends to present."
Also among the documents sought in Rajaratnam's subpoena are McKinsey records "concerning New Silk Route" and records about Kumar's relationship with New Silk Route. The fund owns stakes in at least 11 Indian companies.
The subpoena seeks McKinsey documents relating to entities "Ambit Ltd" and "Pecos Trading Co." and to Manju Das and Anand Burman, whom it doesn't identify. Burman is chairman of Dabur India Ltd, which makes consumer products.
A March subpoena by Rajaratnam also made public last week sought from McKinsey communications between Kumar and Parag Saxena, a co-founder of New Silk Route; and Anand Dorairaj, a New Silk Route partner. A call to New York-based New Silk Route wasn't immediately returned.
Rajaratnam in March also requested communications between Kumar and Galleon employees Krish Panu, a managing director, and Kris Chellam, who was a co-general partner.
The case is U.S. v. Rajaratnam, 1:09-cr-01184, U.S. District Court, Southern District of New York (Manhattan).
Before it's here, it's on the Bloomberg Terminal.
LEARN MORE