Dollar Weakens on Signs Global Recovery Improving; Won Gains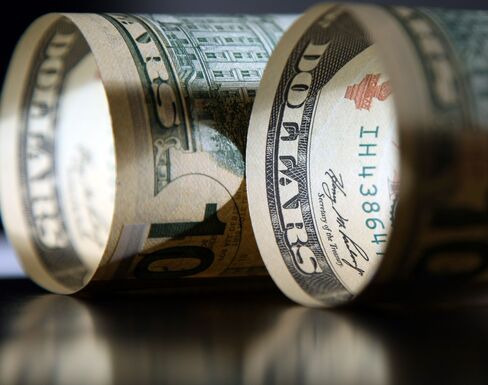 The dollar fell for a second day against the euro and slid versus the yen amid speculation that a global economic recovery is building momentum, boosting stock markets and reducing demand for safer assets.
The euro strengthened as a report showed manufacturing growth in the currency region was stronger than first estimated, bolstering the case for policy makers to raise borrowing costs. Australia's dollar climbed as its central bank signaled business investment is rising. South Korea's won strengthened as the nation's exports increased, while Indonesian and Indian data also showed growing exports. The greenback slid to an 11-week low against the pound on speculation that the Bank of England will raise interest rates this year.
"There are a lot of indications that the growth momentum is very robust, and that tends to work in the euro's favor against the dollar and underpin the more risk-sensitive G-10 currencies," said Henrik Gullberg, a currency strategist at Deutsche Bank AG in London. "An increased focus on inflation, and the fact that the European Central Bank has relatively strong inflation-fighting credentials compared to the Fed, is putting the dollar under pressure."
The dollar dropped 0.5 percent to $1.3764 per euro at 6:15 a.m. in New York from $1.3694 yesterday. It depreciated 0.6 percent to $1.6113 per pound, the weakest since Nov. 15. The U.S. currency declined 0.6 percent to 81.55 yen, the lowest level since Jan. 3. The yen was at 112.21 per euro from 112.34.
Dollar Index
The U.S. currency declined against all its 16 major counterparts as the MSCI Asia Pacific Index of shares rose 0.5 percent and the Stoxx Europe 600 Index climbed 0.8 percent.
Economists predict a U.S. report today will show manufacturing grew for an 18th month. The Institute for Supply Management's factory index was likely 58 in January, down from an eight-month high of 58.5 in December, according to a Bloomberg survey. Readings above 50 signal growth.
The Dollar Index, which tracks the currency against six major peers including the euro, yen and pound, declined 0.4 percent to 77.428, extending its year-to-date drop to 2 percent.
"In the absence of a very strong U.S. story, a very strong economy or some expectation of monetary tightening, the dollar is vulnerable to medium-term weakness," said Jeremy Hale, London-based head of macro strategy at Citigroup Inc. Hale expects the dollar to weaken to $1.40 against the euro within six months as the European Central Bank considers raising borrowing costs while the U.S. Federal Reserve remains on hold.
Pound Surges
The pound gained 0.7 percent to $1.6119, the highest since Nov. 11, when it traded at $1.6123. The National Institute for Economic and Social Research predicted the Bank of England will raise its key rate three times this year to prevent a surge in consumer prices from becoming entrenched. The research group forecast the benchmark rate will rise to 1.25 percent by year-end, compared with an October forecast of 0.75 percent.
"Expectations are growing for higher U.K. borrowing costs," said Takashi Kudo, general manager of market information services at NTT SmartTrade Inc., a unit of Nippon Telegraph & Telephone Corp. in Tokyo. "This is leading to buying of the pound."
Short-sterling futures fell, pushing the implied yield on the contract expiring in December 2011 up 10 basis points to 1.61 percent. That indicates investors are adding to bets that U.K. borrowing costs will rise.
Euro, ECB
The euro appreciated for the seventh day in eight against the dollar. A gauge of manufacturing in the region rose to 57.3 this month from 57.1 in December, Markit Economics said. That's the highest since April and above the initially reported 56.9. A reading above 50 indicates growth. A separate report showed German unemployment fell to an 18-year low last month.
ECB policy makers meet to discuss monetary policy on Feb. 3. Inflation in the euro region accelerated to a 2.4 percent annual rate in January, the fastest since October 2008, data released yesterday showed.
"The euro's been pushing higher on ECB rate expectations," said Geoff Kendrick, head of European foreign-exchange strategy at Nomura International Plc in London. "If the U.S. data this week is stronger, then perhaps U.S. yields will head higher, and that may start to assist the dollar."
Australia's dollar advanced above parity with its U.S. counterpart as Reserve Bank of Australia Governor Glenn Stevens and his board left their key rate unchanged and signaled inflation was likely to remain within its 2 percent to 3 percent target range over the year ahead. The central bank's decision was expected by all 22 economists surveyed by Bloomberg.
RBA Decision, Won
"The RBA is not in any immediate hurry to change rates in either direction," said Greg Gibbs, a currency strategist at Royal Bank of Scotland Group Plc in Sydney. "The Aussie is going to struggle to make too much headway from here, and there's always that risk of having a correction."
The benchmark rate of 4.75 percent in Australia compares with as low as zero in the U.S. and Japan, attracting investors to the South Pacific nation's higher-yielding assets. The risk in such trades is that currency market moves will erase profits.
Australia's dollar rose 0.9 percent to $1.0067 and reached the highest since Jan. 3. It gained 0.2 percent to 82.04 yen.
The won strengthened 0.4 percent to 1,116.95 per dollar and rose versus 14 of its 16 major counterparts. The Ministry of Knowledge Economy said exports rose 46 percent in January from a year earlier, more than the 39.1 percent gain forecast by economists in a Bloomberg survey.
The Kospi stock index gained after a U.S. report yesterday showed consumer spending increased more than forecast and a business barometer rose at the fastest pace since 1988.
"There was a lot of news today that boosted risk appetite, whether from Korea or globally," said Kim Sung Soon, a currency dealer at Industrial Bank of Korea in Seoul. "This was the main reason the won strengthened."