Axelrod Says Obama's Returning to Strategy That Won Election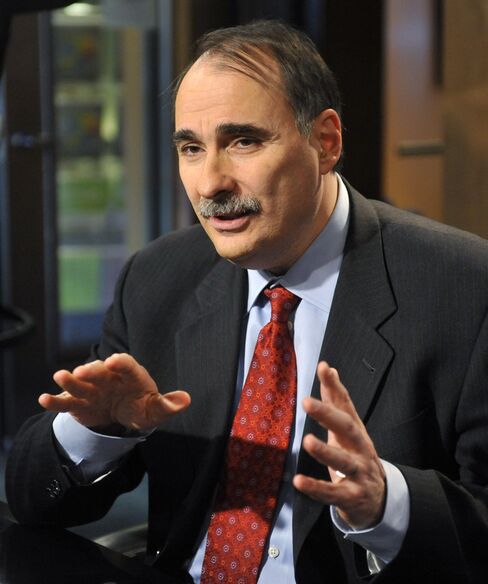 David Axelrod had straightforward advice for President Barack Obama to recover from Democratic losses in the midterm elections: Get back to basics.
"We need to return to first principles," Axelrod, a senior White House adviser, said he wrote in a memo to the president.
Axelrod said the president and his administration had lost the essence of their strength, the ability to maintain public support by offering a consistent narrative, much as Obama had during the 2008 campaign. Instead, Obama and his staff were too deep into the tactical legislative battles over the response to the financial crisis and overhauling health-care laws.
"We got so enmeshed in the details of governing that we stopped telling the story," Axelrod said in an interview Jan. 28, his last official day at the White House as Obama's senior adviser. "The president of the United States has a responsibility to set that tone, to set that vision, to give people that sense of the things that bind us. I regret that we didn't spend more time doing that."
Axelrod, 55, who has been at Obama's side in virtually every major policy and political decision in the president's political career, returns to Chicago this week to begin preparing for Obama's 2012 re-election campaign. With Obama's approval ratings rebounding to an average of 50 percent in most recent major polls -- from about 45 percent at the midpoint of 2010 -- Axelrod said he's leaving the White House confident the president is well-positioned for the second half of his term.
"We did that better in the last 60 days," Axelrod said. "We've righted the ship."
Rebuilding Bridges
After Republicans won control of the House of Representatives and gained seats in the Senate, Obama shuffled his staff and sought to rebuild bridges to critics and supporters alike.
During the lame-duck session of Congress, he struck an $858 billion deal to extend all Bush-era tax cuts, as sought by congressional Republicans, in exchange for measures to boost jobs. Fulfilling a campaign promise, he signed into law legislation lifting the 17-year ban on gays serving openly in the military.
Obama has begun a concerted effort to reach out to the business community. He appointed former JPMorgan Chase & Co. executive Bill Daley as his chief of staff, named General Electric Co. Chief Executive Officer Jeff Immelt as head of an advisory panel on jobs and competitiveness, and vowed on the Wall Street Journal's opinion page to revamp outmoded federal regulations that impede economic growth.
Reviving the Narrative
Obama also revived the narrative. The speech he delivered after the Jan. 8 mass shootings in Tucson, Arizona, won praise from Republicans as well as Democrats for its call for a more civil political discourse. Then he gave a State of the Union address that distilled his economic strategy into three words: "winning the future."
Still, Obama faces the prospect of waging his re-election campaign amid a challenging economy. While U.S. corporate profits in the third quarter of 2010 exceeded the 2006 high reached before the recession and the Standard & Poor's 500 Index has surged almost 18 percent over the past 12 months, the unemployment rate will average 8.5 percent in 2012, according to the median projection of forecasters surveyed by Bloomberg News this month.
No president since World War II has been re-elected with a jobless rate higher than 7.5 percent.
'Not Pollyannish'
"We have tremendous challenges in the country; obviously the economy is going to be an important factor in where we go from here as well," Axelrod said. "But, I'm not Pollyannaish and I'm not naïve. We're prepared for a tough race in 2012."
The question the campaign will pose for voters is, "Are we moving in the right direction," he said. "I'm very comfortable having that debate with whomever is on the other side."
Obama begins the second half of his term with an overhauled economic team that leaves Treasury Secretary Timothy Geithner as the only remaining original member.
Disputes among the president's key economic advisers, who included former National Economic Council Director Lawrence Summers, Budget Director Peter Orszag, and Council of Economic Advisers chief Christina Romer didn't hinder the administration's response to the recession, he said.
Defending Summers
Axelrod particularly defended Summers, who he said "really made a sacrifice" to take the NEC job after having served as Treasury secretary during President Bill Clinton's administration.
"It was a great luxury to have at your side every single day one of the singular economic thinkers of the world," he said.
"Yes, people had differences," Axelrod said. "They felt passionately. They argued about those differences. But at the end of the day, the president made sound decisions based on the advice he got."
Axelrod said he'll continue to advise Obama from Chicago. He'll spend the rest of the year giving speeches, traveling and writing. In 2012 that changes: "I owe the president my full attention next year, and he'll get it."
He said the perspective he will gain from spending time outside Washington will help with the campaign. He said he'll also have time to reflect on, among other things, the Obama narrative for 2012.
"This is what I want to spend some time thinking about," Axelrod said. "I really believe we have a good story to tell about a guy who's made some really tough and smart decisions with a mind toward not just dealing with a crisis but building the future, winning the future, if you will."