U.S. Stocks, Euro Gain as Egypt Bonds, Emerging Stocks Decline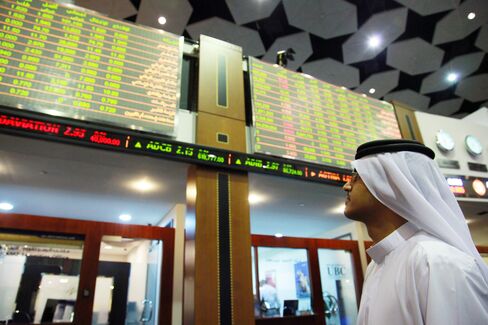 U.S. stocks rose, paring losses from the biggest slump in the Standard & Poor's 500 Index since August, after consumer spending and Exxon Mobil Corp.'s earnings beat forecasts. The euro advanced, while Egypt's bonds fell as protests entered a second week.
The S&P 500 rose 0.8 percent to 1,286.12 at 4 p.m. New York time after losing 1.8 percent on Jan. 28 amid unrest in Egypt. The Stoxx Europe 600 Index fell 0.1 percent, rebounding from a 1.1 percent slump earlier today, as the euro gained 0.6 percent against the dollar. Yields on Egypt's 10-year bonds climbed 26 basis points to a record 7.23 percent. The MSCI Emerging Markets Index fell 0.6 percent as shares in Saudi Arabia, Thailand and South Korea lost at least 1 percent. Brent crude exceeded $100 a barrel for the first time since 2008.
Consumer spending in the U.S. topped forecasts, American businesses expanded at the fastest pace since July 1988 and Exxon, the world's largest company by market value, exceeded earnings projections by 13 percent, according to reports today. Accelerating inflation in Europe helped drive the euro up against 10 of 16 major currencies, while shares in emerging markets dropped as opposition groups in Egypt planned for a 1 million person march against President Hosni Mubarak.
"We had continued strong earnings out of bellwethers like Exxon, and the U.S. economy is improving," said Richard Campagna, chief executive officer of 300 North Capital LLC, which manages $500 million in Pasadena, California. "Everybody has one eye on what's going on in Egypt, but things are getting back to normal."
Rally Ended
U.S. stocks rebounded after the Dow Jones Industrial Average ended an eight-week rally on Jan. 28 as intensifying unrest in Egypt overshadowed an acceleration in American economic growth. Exxon rose 2.1 percent after energy demand boosted oil and fuel prices.
The majority of S&P 500 companies are posting higher-than-estimated profits, with 139 of the 187 companies that reported since Jan. 10 beating projections, according to data compiled by Bloomberg. Earnings for companies in the index rose 30 percent in 2010, the fastest growth since 1995, and will rally 15 percent this year, according to analyst estimates.
U.S. consumer purchases, which account for about 70 percent of the world's biggest economy, increased 0.7 percent in December, compared with the median estimate of 0.5 percent, according to Commerce Department figures today. The Institute for Supply Management-Chicago Inc. said its business barometer rose to 68.8 this month, beating the median projection of 64.5.
Intel's Error
Intel Corp. shares were unchanged at $21.46 after losing as much as 2 percent. The world's largest semiconductor company said a design error in one of its chips will reduce sales and profit margins as it spends $700 million to repair and replace affected products. Advanced Micro Devices Inc. advanced 4.5 percent, the most since Nov. 4.
European stocks erased losses as the euro strengthened. The common currency appreciated 0.6 percent against the dollar and 0.5 percent versus the yen. Inflation quickened to 2.4 percent from 2.2 percent in December, the European Union's statistics office in Luxembourg said today.
Egypt's banks and the stock market were closed for a second straight day. The country's currency retreated 0.9 percent last week to 5.8575 against the dollar on Jan. 28, while the EGX 30 Index of stocks tumbled 16 percent. Orascom Construction Industries, Egypt's biggest publicly traded company, fell 4.3 percent in London, extending its six-day decline to 29 percent.
Auctions Delayed
Egypt's plan to raise 4 billion Egyptian pounds ($683 million) this week at debt auctions was disrupted after the government closed banks and the stock market. The government is trying to cut its budget deficit to 3 percent of gross domestic product by 2015. The gap widened to 8.1 percent in the fiscal year that ended in June from 6.9 percent the year before.
The MSCI Asia Pacific Index lost 0.8 percent. Nissan Motor Co., Japan's third-biggest carmaker by market value, dropped 2.2 percent after closing its factory in Egypt. Chiyoda Corp., a Japanese engineering company that counts the Middle East as its main market by sales, decreased 2.5 percent. Fujitsu Ltd., Japan's largest provider of computer services, tumbled 6.2 percent after cutting its profit forecast.
The S&P GSCI index of 24 commodities rose 2.1 percent, the second consecutive advance, led by zinc, lead and crude oil. Rice climbed to the highest price since November in Chicago, and wheat rose gained for the first time in three days. The crisis in Egypt has increased the "near-term risk" for wheat and rice, Goldman Sachs Group Inc. said today.
Canada's dollar weakened against all but five of its 16 most-traded currencies on speculation about Bank of Canada Governor Mark Carney's statement last week that the currency's strength is a threat to economic expansion. Crude futures advanced 3.2 percent to a two-year high of $92.19 a barrel in New York.