Sawiris Says Suleiman Appointment May 'Not Be Enough'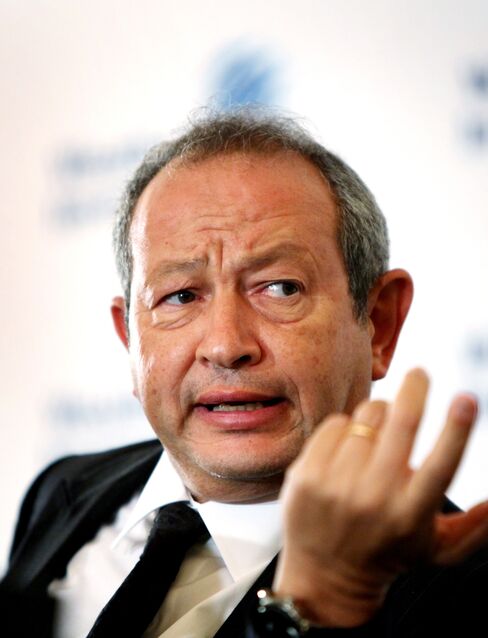 Egyptian billionaire Naguib Sawiris, the chairman of Orascom Telecom Holding SAE, said the appointment of Omar Suleiman as the nation's vice president by President Hosni Mubarak may not be enough to satisfy protesters.
"I think it is not enough," Sawiris said in a telephone interview today from Egypt. "It's a good step because the gentleman, Mr. Suleiman, has a very good international reputation. He is from the system so he can at least ensure that the current transition to a more democratic regime can happen."
Suleiman's appointment yesterday makes him the first vice president since Mubarak's ascension to power in 1981. The move came as thousands of protesters congregated in central Cairo, defying a military-imposed curfew, and looting erupted in several cities. Mubarak also named Aviation Minister and former air force commander Ahmed Shafik as prime minister to replace Ahmed Nazif, who resigned yesterday at Mubarak's request.
"What we need now is stability, and I think he portrays this stability," said Sawiris, 56. "Also the choice of prime minister is a good one, but it will not be enough unless there is a real intention to have real democracy established here."
Sawiris said he expects in the "short term you will see the stock exchange tumbling like it did," when protests began almost a week ago. "But the minute we have clarity and stability on the current situation with the new government, I think people will start to feel more comfortable," he said.
'Never Leave'
Cairo-based Orascom Telecom is the biggest mobile-phone operator in the Middle East by users.
Egypt's stock exchange was closed today, as were banks, state TV said. The benchmark EGX30 stock index plunged 11 percent on Jan. 27, the most since October 2008, when it was last open. More losses are likely when trading resumes, said Win Thin, global head of emerging-markets strategy at Brown Brothers Harriman.
Asked if he would leave Egypt as a result of the almost weeklong turmoil, Sawiris said: "I am an Egyptian from top to bottom. I would never leave this country whatever happens. Unless there is a fundamentalist terrorist regime, I would never leave."
Before it's here, it's on the Bloomberg Terminal.
LEARN MORE