Perth Home Prices Slide Even as W.A. Has Mining Boom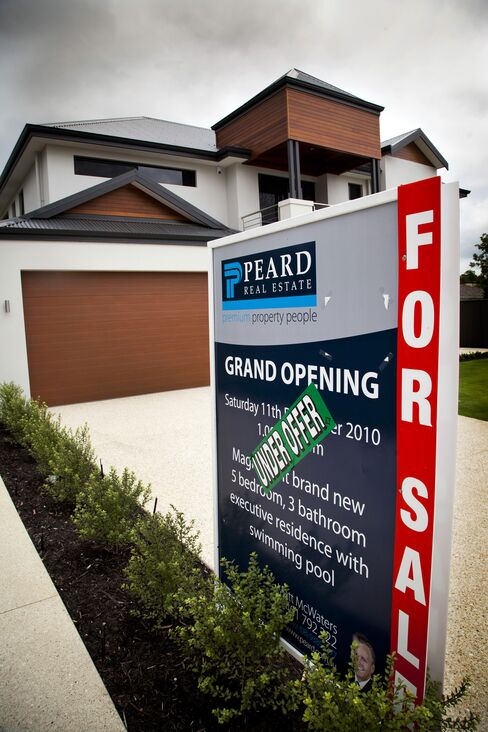 Property prices in Perth posted the biggest declines in Australia as an oversupply of homes and a "two-speed economy" take their toll on the capital of the nation's biggest mining state.
Perth home prices fell a seasonally adjusted 1.9 percent to a median A$465,000 ($461,000) in the three months to December, compared with a 0.4 percent rise in the national capital city median home price, according to a RP Data-Rismark report released today. Perth home values are likely to be little changed for most of this year before bouncing back in 2012, economists at the Australia & New Zealand Banking Group Ltd., National Australia Bank Ltd. and the Real Estate Institute of Western Australia forecast.
Western Australia's "economy itself seems to be moving ahead very strongly, getting back towards the boom-type conditions in the resources sector," said Paul Braddick, senior economist at ANZ. "But that's quite a contrast with the housing market, where it has definitely become a buyers' market and prices have eased quite considerably."
The economy of Western Australia, home to the Pilbara region, one of the world's biggest sources of iron ore and natural gas, grew at an annual rate of 6.5 percent in the quarter ended Sept. 30, more than double the national average, according to the national statistics bureau. In contrast, Perth's housing market fell by 2.3 percent in the year to December, lagging behind a national growth rate of 4.7 percent, RP Data figures show.
Housing Glut
Property prices more than doubled between 2004 and 2007, spurring an increase in property construction. That created a glut that's helped push prices down, Braddick said.
This has also made Perth's apartment rental yields of 4.3 percent the second-lowest in the nation after Melbourne, and compared with a national average of 4.7 percent, according to the RP Data-Rismark figures.
There are about 15,300 properties for sale in Perth, some 3,000 more than demand, according to the state's Real Estate Institute. The oversupply -- compared with a national shortage of 178,400 dwellings at June 2009, according to the government's National Housing Supply Council -- will take about a year to absorb, REIWA President Alan Bourke estimates.
The story is different about 1,500 kilometers (930 miles) to the north of Perth, where mining projects are causing a housing shortage. Karratha's median home price in December was about A$830,000, and Port Hedland's was A$920,000, REIWA figures show.
'Two-Speed Economy'
"We've got a two-speed economy," Bourke said in a telephone interview. "If you go to the areas where the resources industry is doing well, median prices are close to A$1 million. We in Perth are more indirectly affected, and not bolstered to the same level."
A 31 percent drop in migration in the year ended June 30 from a year earlier also helps account for a decline in demand, Bourke said. Prime Minister Julia Gillard campaigned before the Aug. 21 election for reduced population gains and dropped her predecessor's endorsement of a "Big Australia" policy that envisioned a surge of more than 50 percent in citizens in the coming four decades.
Still, Perth prices will overtake the national average next year, rising 5 percent, and climb by 6.5 percent in 2013, assuming a 1 percentage point increase in the central bank's benchmark interest rate, ANZ's Braddick said. This compares with a nationwide increase of 3.3 percent in 2012 and 5 percent in 2013, he said.
Mining Projects
Andrew Wilson, economist at Australian Property Monitors, expects growth will be driven by a slew of planned mining projects, he said in a telephone interview. The state has about A$170 billion of mining and petroleum production projects in its five-year investment pipeline, according to the government.
This will mean a jump in the population of "fly in, fly out" workers, -- who are based in cities like Perth and travel to mining projects -- which will in turn drive up demand for housing, particularly rental accommodation, Wilson said.
"The expected boom will have to draw resources from Perth," he said. "Perth remains the accommodation and financial hub that connects the mining industry with the resources it requires."