European Financials Defy Debt Crisis in January Rally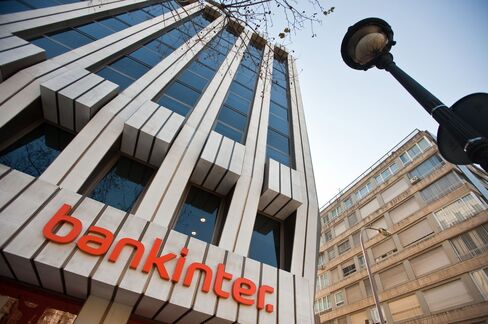 European financial stocks had their best January in more than a decade as investors bet policymakers will backstop the euro region's indebted nations and preserve the currency union.
The benchmark Stoxx Europe 600's insurance index climbed 9.9 percent this month, while the banks index advanced 8.6 percent, the most among the 19 industry groups and the biggest January gains for both since at least 1998. The rally compares with a 1.5 percent increase in the overall index.
"There is a commitment to solve issues around sovereign debt," said Patrick Lemmens, who helps manage about $13 billion at Robeco Group in Rotterdam and predicted in December that financial stocks may advance as much as 50 percent in the next 12 months. "Concerns have diminished."
The banking rally was led by companies including Bankinter SA and Banco Sabadell SA of Spain, Intesa Sanpaolo SpA of Italy and France's Societe Generale SA, which all climbed at least 17 percent. Last year, Spanish and Italian lenders tumbled on concern the debt crisis might trigger sovereign defaults, throttle economic growth and threaten the existence of the euro. Greece and Ireland needed bailouts from the European Union and the International Monetary Fund in 2010.
'Final Signal'
Policymakers have assuaged those worries, at least for now, investors said. French President Nicolas Sarkozy, speaking at the World Economic Forum in Davos, Switzerland, said on Jan. 27 that France and Germany will defend the euro at all costs. A day later, German Chancellor Angela Merkel also pledged to defend the currency.
European Central Bank President Jean-Claude Trichet said in an interview in Davos that it may be "useful" for the 440 billion-euro ($598 billion) European Financial Stability Facility to buy government bonds to help ease tensions in financial markets.
The EFSF, set up last year to backstop indebted nations, attracted 44.5 billion euros of orders from about 500 bidders for its inaugural sale of 5 billion euros of five-year debt this month intended to help fund Ireland's bailout.
"The successful EFSF placement was the final signal that the European sovereign-debt crisis can be handled -- at least temporarily," said Moritz Rehmann, who helps manage about 10 billion euros at DJE Kapital AG in Munich. "Insurers and banks are being bought back to normal allocations by investors around the globe and this trend could continue for a while."
'Limited Risks'
France's Axa SA and Ageas of Belgium led insurers higher in January, rising 24 percent and 21 percent, respectively. Analysts at HSBC Holdings Plc reiterated their positive view on the industry in a Jan. 27 report, saying there are "limited" risks from sovereign-debt holdings of euro countries such as Greece and Italy.
"European insurers continue to navigate volatile markets well," as their capital levels keep rising, wrote HSBC's Kailesh Mistry, Thomas Fossard and Dhruv Gahlaut.
German insurers including Munich Re and Talanx AG said Jan. 26 that they don't currently see a need for impairments on Greek sovereign-debt holdings after Vienna Insurance Group AG wrote down the value of Greek and Irish government bonds in its investment portfolio.
JPMorgan Report
European insurers may continue to outperform other industries this year, helped by rising bond yields and equity markets, JPMorgan Chase & Co. said in a report today. They are also "more shielded from any potential fallout" related to the region's sovereign-debt crisis than banks, the brokerage said.
Gains in European financial shares have outpaced those in the U.S. in 2011, after trailing last year. The 8.6 percent advance in the 53-company Stoxx 600 Banks Index compares with a 2.6 percent increase in the 81-member Standard & Poor's 500 Financials Index.
The cost of insuring the debt of European nations has fallen on speculation policymakers will let governments buy back their bonds at market prices to avoid restructuring their debts. The Markit iTraxx SovX Western Europe Index of credit-default swaps on 15 countries posted its biggest two-week decline through Jan. 21 since the index was created in October 2009.
Even so, most global investors predict at least one nation will leave the euro area within five years and that Greece and Ireland will default. Fifty-nine percent of respondents in a Bloomberg Global Poll this month said one or more of the 17 euro nations will quit by 2016, including 11 percent who see an exit within 12 months. Respondents were divided over whether Portugal would default, while a majority expressed confidence in Spain.
'Creates Opportunities'
In December, Bank of America Corp.'s Merrill Lynch fund manager survey showed 28 percent of global investors were underweight banks, meaning they held a lower proportion of the stocks than are represented in benchmark indexes. "European investors were especially fast to move out of bank stocks," the brokerage said.
"A lot of equity funds are still underweight the sector, focusing on the current situation," said Edwin Simon, who helps manage 3.7 billion euros of the OBAM fund at BNP Paribas Investment Partners in Amsterdam. "This creates opportunities once we do see ongoing recovery in the bank sector." OBAM was overweight financial shares in January, accounting for 28 percent of its investments.