'The Rite' Is Top Film in Theaters With $14.8 Million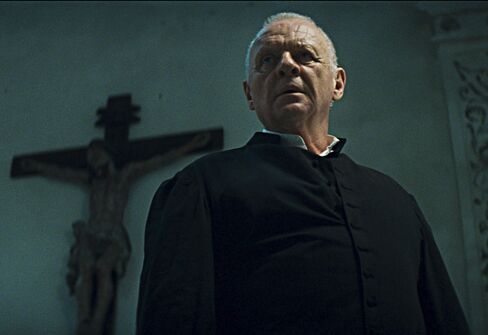 The horror film "The Rite" opened in first place at U.S. and Canadian theaters over the weekend, taking in $14.8 million for Time Warner Inc.'s Warner Bros.
The action film "The Mechanic" tied for third in its debut, generating $11.4 million in sales, researcher Hollywood.com Box-Office said today in an e-mailed statement.
Sales for the top 12 films fell for the 12th straight weekend, as box offices compete against last year's "Avatar," the top-grossing movie of all time. The James Cameron 3-D movie was No. 1 in its seventh week a year ago, grossing $31.3 million for the weekend of Jan. 29-31, 2010.
"Until the long shadow of 'Avatar' wanes or lessens its impact on our year-ago comparisons, we're going to be looking at down weekends," said Paul Dergarabedian, president of Hollywood.com's box-office division.
This year's domestic box-office sales total $871.7 million, down 24 percent from a year earlier. Attendance is off 25 percent. Revenue this weekend was $92.4 million, down from $109.8 million a year earlier, according to Hollywood.com.
"Eventually, we will get our way out of this," Dergarabedian said. "But we're going to have a lot of ground to make up by the time these big movies start kicking in."
Potential blockbusters this year include "Thor," "Pirates of the Caribbean: On Stranger Tides," the Justin Bieber documentary "Never Say Never" and another "Transformers" sequel, he said.
'No Strings Attached'
"The Rite," starring Anthony Hopkins as a priest specializing in exorcism, is among at least 11 horror films studios plan to release this year, according to Hollywood.com. The genre is one of the most reliable because of their low production costs and popularity with teenagers.
"The Rite" is based on Matt Baglio's non-fiction book about an American priest who goes to the Vatican for exorcism training. Hopkins's character is assigned to teach a skeptical seminary student to perform the ritual. The older man's behavior turns sinister after he is unable to cast a powerful demon out of a young woman.
The romantic comedy "No Strings Attached" fell to second from first with sales of $13.4 million for Viacom Inc.'s Paramount Pictures. The movie, starring Ashton Kutcher and Natalie Portman, is about a man and woman who agree to a relationship of uncommitted sex.
'The King's Speech'
"The Mechanic" features Jason Statham as an assassin who takes on an apprentice played by Ben Foster. The movie, from CBS Corp.'s CBS Films, is a remake of the 1972 film starring Charles Bronson and Jan-Michael Vincent.
"The Green Hornet" had $11.2 million in sales, dropping to fourth place from second. The film, based on the 1930s radio program and comic books, stars Seth Rogen as a wealthy newspaper heir who secretly fights crime.
Weinstein Co.'s "The King's Speech," was fifth with $11.1 million. The film, which stars Colin Firth as King George VI of England, expanded to 2,557 locations from 1,680 after securing 12 Oscar nominations on Jan. 25. The movie chronicles the monarch's struggle to overcome a speech impediment.
The amounts below are based on actual ticket sales for Jan. 28-30.
                         Rev.             Avg./  Pct.  Total
   Movie                (mln) Theaters  Theater  Chg.  (mln) Wks
================================================================
 1 THE RITE             14.8    2,985    4,955    --    14.8   1
 2 NO STRINGS ATTACHED  13.4    3,022    4,438    -32   39.5   2
 3 THE MECHANIC         11.4    2,703    4,226     --   11.4   1
 4 THE GREEN HORNET     11.2    3,524    3,174    -37   78.5   3
 5 THE KING'S SPEECH    11.1    2,557    4,327     41   72.2  10
 6 TRUE GRIT             7.5    3,120    2,410      3  148.3   6
 7 THE DILEMMA           5.7    2,905    1,950    -38   40.8   3
 8 BLACK SWAN            5.1    2,315    2,211    -13   90.7   9
 9 THE FIGHTER           4.0    1,914    2,069     -5   78.3   8
10 YOGI BEAR             3.2    2,133    1,485    -17   92.5   7
11 LITTLE FOCKERS        2.6    2,051    1,255    -40  144.7   6
12 TRON: LEGACY (3-D)    2.5    1,505    1,680    -31  166.7   7



Top 12 Films Grosses



   This Week     Year Ago      Pct.
     (mln)         (mln)       Chg.
===================================
     $92.4        $109.8      -15.8



Year-to-date Revenue



     2011          2010
      YTD           YTD        Pct.
     (mln)         (mln)       Chg.
===================================
      $872        $1,146      -23.9

Year-to-date Attendance:     -25.1%