Alpha Said to Be Close to $7 Billion Massey Energy Takeover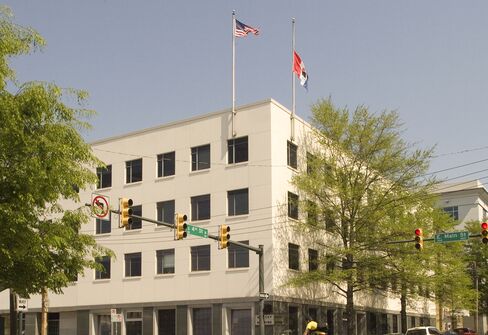 Alpha Natural Resources Inc., the third-biggest U.S. coal producer, is close to an agreement to buy Massey Energy Co. for about $7 billion, according to a person familiar with the situation.
The stock and cash offer values Massey, the largest Central Appalachian coal producer, at $68 to $69 a share, said the person, who declined to be identified because the talks are private. An agreement may be reached as early as today and announced on Jan. 31, this person said. The Wall Street Journal reported the deal earlier.
Massey shareholders will receive about 1.025 Alpha shares, plus $10 in cash for each share held, representing an almost 20 percent premium from Massey's closing share price yesterday, according to the person. The boards of Alpha and Massey have been briefed on details of the deal, the person said. The runner-up for Richmond, Virginia-based Massey was Arch Coal Inc., according to the person.
Jeff Gillenwater, a Massey spokesman, didn't return e-mail and telephone messages. Ted Pile, a spokesman for Abingdon, Virginia-based Alpha, declined to comment. Telephone messages and e-mails left outside of normal business hours for Kim Link, an Arch spokeswoman, weren't immediately returned.
Alpha, the largest U.S. metallurgical coal producer, has operations in Virginia, West Virginia, Kentucky, Pennsylvania and in Wyoming's Powder River Basin.
Foundation Purchase
The Abingdon, Virginia-based company bought Foundation Coal Holdings Inc. for $2 billion in July 2009 to gain access to the low-cost thermal coal reserves in Wyoming, and controls about
2.3 billion tons of reserves.
Massey has about 2.8 billion tons of reserves, 1.3 billion of which is of the metallurgical or coking coal used to produce steel. Prices for steelmaking coal may surge 78 percent to a record $400 a metric ton for the three-month contract starting April 1, amid flooding in Queensland, Australia, which has disrupted supply, Bank of America Merrill Lynch said in a Jan. 25 report.
The company owns the Upper Big Branch mine near Montcoal, West Virginia, where 29 people died in an April 5 explosion, the worst U.S. coal mining disaster in 40 years. Massey has posted consecutive losses since the accident, citing associated costs and increased regulatory scrutiny.
Massey rose $2.84, or 5.2 percent, to $57.23 in New York Stock Exchange composite trading yesterday. The shares had fallen 35 percent since the fatal blast before surging on an Oct. 18 Wall Street Journal report that it was weighing a sale.
Coal Premiums
The average premium for coal-industry deals announced in 2010 was 26 percent, according to data compiled by Bloomberg. Walter Energy Inc. a southern Appalachia producer of steelmaking coal, agreed to buy Canada's Western Coal Corp. last month for C$3.3 billion ($3.3 billion) to add reserves and boost production of the commodity.
Baxter Phillips became Massey's chief executive officer on Dec. 31 after Don Blankenship retired. Blankenship, who emerged as the face of the company in public disagreements with U.S. regulators following the accident, had been with Massey for 28 years.
The company, with about 7,000 employees, has been operating for more than 94 years and started with the Massey family selling coal door to door via horse-drawn wagon. St. Joe Minerals acquired a majority interest in 1974. Six years later St. Joe and Royal Dutch Shell Plc formed Massey Coal Partnership, according to the company's website.
Fluor Corp. bought St. Joe Minerals, reorganizing Massey into a subsidiary. Massey completed a reverse spinoff from Fluor in 2000.
Blankenship's Concerns
Blankenship, who began his career with the company as an office manager in 1982, had expressed reservations about the company's potential sale. When he became president in 1990 Massey had about 700 million tons of coal, he has said. Under his management it mined 763 million tons of coal and he boosted its reserves to the 2.8 billion it currently holds.
Shareholders in May urged Massey to declassify, or end staggered terms for its board, a measure that proxy advisers Glass Lewis & Co. LLC and Riskmetrics Group Inc.'s ISS/RiskMetrics both recommended.
"A classified board can entrench management and effectively preclude most takeover bids or proxy contests," ISS RiskMetrics wrote in a May 5 report.
Massey's board ordered a review of strategic alternatives "to enhance shareholder value" in November after its annual meeting at the Greenbrier Resort in White Sulphur Springs, West Virginia.
Metallurgical or coking coal is an ingredient used to forge steel, while the thermal form of the fuel is needed by utilities to generate electricity.
Before it's here, it's on the Bloomberg Terminal.
LEARN MORE