Alpha Natural Agrees to Buy Massey Energy for $7.1 Billion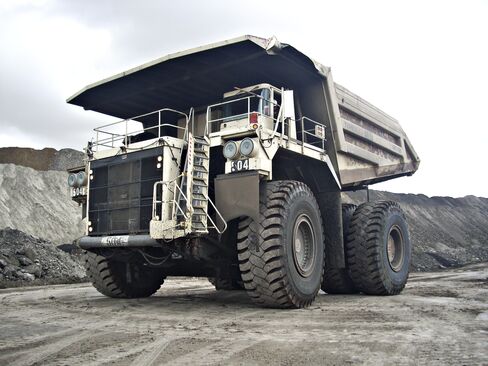 Alpha Natural Resources Inc., the third-biggest U.S. coal producer, agreed to buy Massey Energy Co. for about $7.1 billion in cash and stock, gaining the largest coal company in the U.S. Central Appalachian region.
Massey shareholders will receive 1.025 Alpha Natural shares plus $10 cash for each share held, the companies said in a statement yesterday. The bid values Massey at $69.33 a share, 21 percent more than Massey's price at the close of trading Jan. 28. Massey has $1.63 billion in debt, according to Bloomberg data.
The combination will give the new company more than 110 mines and coal reserves of about 5 billion tons, and creates the world's third-largest metallurgical coal producer behind BHP Billiton-Mitsubishi Alliance, known as BMA, and Teck Resources Ltd. It will be the second-largest U.S. coal company by sales, with almost 14,000 employees.
"We've always thought the combination between our two companies was strategic, transformational and compelling," Alpha Natural Chief Executive Officer Kevin Crutchfield said in a telephone interview yesterday. "We went into the process with an eye toward winning, and, at the end of the day we did emerge victorious and we're absolutely delighted that we did."
Alpha Natural will own 54 percent of the company, and Richmond, Virginia-based Massey will own the remaining 46 percent, according to the statement. Both companies' boards have approved the transaction, they said.
Alpha and Arch
Alpha Natural won Massey over a competing proposal from St. Louis-based Arch Coal Inc., according to two people with knowledge of the talks.
Alpha Natural, the largest U.S. metallurgical coal producer, has operations in Virginia, West Virginia, Kentucky, Pennsylvania and in Wyoming's Powder River Basin. The Abingdon, Virginia-based company bought Foundation Coal Holdings Inc. for $2 billion in July 2009 to gain access to the low-cost thermal coal reserves in Wyoming, and controls about 2.3 billion tons of reserves.
Massey has about 2.8 billion tons of reserves, 1.3 billion of which is of the metallurgical or coking coal used to produce steel. Prices for steelmaking coal may surge 78 percent to a record $400 a metric ton for the three-month contract starting April 1, amid flooding in Queensland, Australia, which has disrupted supply, Bank of America Merrill Lynch said in a Jan. 25 report.
Mine Disaster
The company owns the Upper Big Branch mine near Montcoal, West Virginia, where 29 people died in an April 5 explosion, the worst U.S. coal mining disaster in 40 years. Massey has posted consecutive losses since the accident, citing associated costs and increased regulatory scrutiny.
Crutchfield said he will remain CEO of the combined company, while Alpha Natural's Michael Quillen keeps his job as chairman and Kurt Kost continues in his role as president of Alpha.
Massey Chief Executive Baxter Phillips will remain with Alpha as an adviser, Crutchfield said.
"Baxter will be staying on with us in an advisory-type capacity," Crutchfield said. "He will play a very key role in the integration process as well as other key business matters."
Alpha executives have coveted Massey since at least 2007, when the companies discussed a stock merger, according to the two people familiar with the talks. The previous year, Massey had announced it was exploring alternatives after activist hedge fund Third Point LLC, run by Daniel Loeb, won two board seats and pressed for a sale.
Blankenship's Opposition
Massey's chief executive officer at the time, Don Blankenship, opposed the Alpha combination, the people said, and ultimately succeeded in keeping the company independent. Loeb and his colleague quit, chiding the board for failing "to follow through with an attractive business combination with a competitor," according to a regulatory filing.
Alpha Natural went on to agree to a sale to iron ore producer Cleveland-Cliffs Inc. in 2008 that fell through and then it bought Foundation Coal.
The company approached Massey again last year, a few months after the Upper Big Branch explosion, and followed up with an unsolicited, written takeover proposal, the people said. Massey's board entered into talks with Alpha and other potential acquirers.
"We've had discussions off and on for several years, but they reached a point of earnestness, call it, the last few months," Crutchfield said yesterday.
Coal Premiums
The average premium for coal-industry deals announced in 2010 was 26 percent, according to data compiled by Bloomberg. Walter Energy Inc., a southern Appalachia producer of steelmaking coal, agreed to buy Canada's Western Coal Corp. last month for C$3.3 billion ($3.3 billion) to add reserves and boost production.
Massey has about 7,000 employees and has been operating for more than 94 years and started with the Massey family selling coal door-to-door via horse-drawn wagon. St. Joe Minerals acquired a majority interest in 1974. Six years later, St. Joe and Royal Dutch Shell Plc formed Massey Coal Partnership, according to the company's website.
Fluor Corp. bought St. Joe Minerals, reorganizing Massey into a subsidiary. Massey completed a reverse spinoff from Fluor in 2000.
Former CEO
Phillips, who has been with the company for 30 years, became Massey's chief executive officer on Dec. 31 after Blankenship retired. Blankenship, who emerged as the face of the company in public disagreements with U.S. regulators following the Montcoal accident, had been with Massey for 28 years.
Blankenship, who began his career with the company as an office manager in 1982, had expressed reservations about the company's potential sale. When he became president in 1990 Massey had about 700 million tons of coal, he has said. Under his management it mined 763 million tons of coal and he boosted its reserves to the 2.8 billion it currently holds.
Massey rose $2.84, or 5.2 percent, to $57.23 in New York Stock Exchange composite trading Jan. 28. The shares had fallen 35 percent since the fatal blast before surging on an Oct. 18 Wall Street Journal report that it was weighing a sale.
Alpha said that it received commitments for $3.3 billion in financing from Morgan Stanley and Citigroup Inc. and that it will use some of it to refinance both companies debt.
Morgan Stanley is the lead financial adviser for Alpha, in addition to Citi and Cleary Gottlieb Steen & Hamilton LLP is providing legal counsel.
Massey is advised by Perella Weinberg Partners LP and UBS Securities LLC. Cravath, Swaine & Moore LLP and Troutman Sanders LLP are Massey's legal counsel.
(The companies will hold a conference call with analysts and investors tomorrow at 8 a.m. in New York. To listen, go to either company's Web site at http:// www.masseyenergyco.com or www.alphanr.com or via telephone at +1-877-407-8037 or +1-201-689-8037.)