Tour de France Champion Contador Says He'll Fight Doping Ban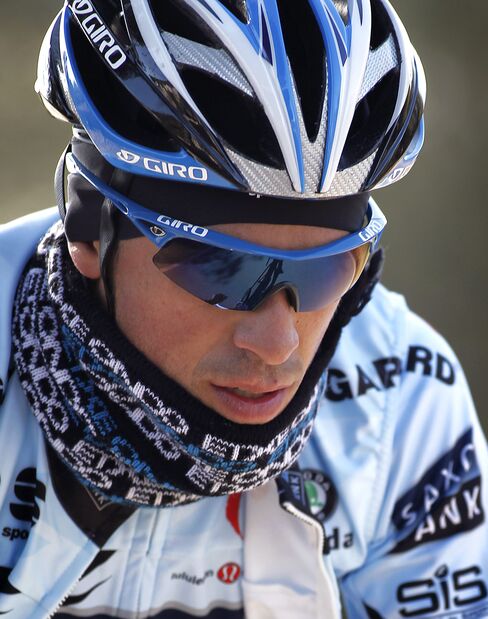 Jan. 28 (Bloomberg) -- Tour de France champion Alberto Contador said he'll fight a proposed one-year doping ban and the removal of his 2010 victory.
Contador faces the double sanction according to a Jan. 26 proposal by the Spanish cycling federation. The organization found no evidence of intentional cheating, said Bjarne Riis, the manager of Contador's team.
Athletes are held responsible if they consume food containing banned drugs under World Anti-Doping Agency guidelines. Contador blames contaminated beef for failing a drug test and said the rule is "completely obsolete."
"I consider myself an example of fair play," Contador told a televised news conference from Palma de Mallorca, Spain. He said he'd been subject to a "public trial" and his case had become a "soap opera."
Contador, 28, tested positive for what the International Cycling Union, the sport's ruling body also known as UCI, called "very small" traces of the stimulant clenbuterol during July's race. He had 50 picograms per milliliter of clenbuterol in his body, the UCI said. A picogram is one trillionth of a gram.
Contador is at a preseason training camp with the Saxo Bank-SunGard team. He joined the team from Astana after last year's Tour de France.
Riis said the team and its sponsors would continue to back Contador as long as the verdict by the Spanish federation doesn't change.
Riis won the 1996 Tour de France as a rider. In 2007, he admitted taking performance-enhancing drugs during his career and was erased from the Tour race guide as a previous winner.
To contact the reporter on this story: Alex Duff in Madrid at aduff4@bloomberg.net
To contact the editor responsible for this story: Christopher Elser at at celser@bloomberg.net