Samsung Electronics Rises to Record After Profit Beats Estimate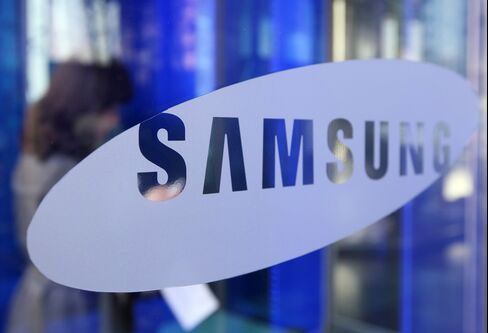 Jan. 28 (Bloomberg) -- Samsung Electronics Co., the world's second-largest maker of mobile phones, rose to a record in Seoul trading after sales of smartphones helped the company post fourth-quarter profit that beat analysts' estimates.
Net income increased 13 percent from a year earlier to 3.42 trillion won ($3.1 billion) in the three months ended December, the Suwon, South Korea-based company said in a statement today. That beat the 3.1 trillion won average of six analyst estimates compiled by Bloomberg in the past 28 days.
The stock rose above 1 million won after the mobile-phone division's profit climbed a better-than-estimated 38 percent, led by sales of the Galaxy S smartphone. Samsung, competing with Apple Inc. in the market for handheld devices, is also boosting sales of tablet computers, helping it make up for falling prices of televisions.
"Samsung is catching up with rivals like Apple in smartphones and tablet computers," said Park Hyoung Ryol, a fund manager at ING Investment Management Korea Ltd., which oversees $17 billion in assets. "This sector will help Samsung offset slow growth in the television business."
Samsung rose 0.9 percent to 1,003,000 won on the Korea Exchange as of 1:15 p.m., while the benchmark Kospi index declined 0.5 percent. The stock gained 19 percent last year.
The company forecast capital spending of 23 trillion won in 2011, up from 21.6 trillion won in 2010. Samsung said it expects to boost smartphone sales to 60 million units this year as it introduces new models in emerging markets including Russia and East Europe.
Operating income, or sales minus the cost of goods sold and administrative expenses, fell 12 percent to 3.01 trillion won, in line with the company's preliminary estimate on Jan. 7.
TV Losses
Samsung's digital-media unit, which makes TVs, had a loss of about 170 billion won, the company said. The loss is narrower than the 205 billion won median of five analysts' estimates surveyed by Bloomberg News.
Profit at the display division fell 81 percent to about 100 billion won, compared with the 106 billion won median of analysts' estimates.
After dropping prices during the holiday season, TV makers may have to brace for lower prices in 2011 as new technologies such as 3-D and Web-based models have yet to convince consumers to replace their existing sets, analysts said.
Shipments of liquid-crystal-display TVs in the U.S. may have fallen for the first time last year as consumers cut back spending, research firm ISuppli Corp. said last month.
3-D TVs
Samsung aims to increase flat-screen TV sales by 15 percent to 45 million units this year, Yoon Boo Keun, head of the digital media division, told reporters Dec. 23. That includes as many as 10 million sets with 3D features and 12 million Web-enabled TVs. Samsung plans to include 3-D features in a wider range of models this year to offer cheaper products and boost sales.
Profit at the semiconductor division rose 34 percent to 1.8 trillion won, compared with the 2 trillion won median of the five analyst estimates.
Samsung, the largest maker of NAND flash memory chips, will benefit from surging demand for smartphones and tablet computers that use flash memory for storage, Lee Sun Tae, an analyst at Meritz Securities Co. in Seoul, said in a Dec. 14 report.
The price of the benchmark DDR3 1-gigabit DRAM fell about 47 percent in the fourth quarter amid weak demand for personal computers, according to data from Taipei-based Dramexchange. The benchmark price for 32-gigabit NAND flash-memory chips fell 2.6 percent during the three-month period.
Chips
DRAM chips are used to store data temporarily to help devices run multiple programs at the same time, while NAND flash memory saves songs and pictures in consumer gadgets such as smartphones, MP3 players and digital cameras.
Profit at the telecommunications unit rose 38 percent to 1.44 trillion won, compared with the 1.2 trillion won median of the five analyst estimates.
Google Inc. and Samsung introduced the Nexus S, the first smartphone to use a new version of the Android operating system, last month. The company's earnings will get a further boost from tablet computers this year, with 8.8 million units forecast to be shipped, according to Goldman Sachs.
Samsung unveiled the Galaxy Tab tablet computer in September to compete with Apple's iPad and tap into the surging market for the hand-held devices. The company plans to introduce more tablet computers this year, J.K. Shin, head of Samsung's mobile-communications division, said in November.
Sales of smartphones and tablet computers will probably grow to about 1.0 billion units by 2015 from 300 million last year, according to Meritz Securities Co.
To contact the reporter on this story: Jun Yang in Seoul at jyang180@bloomberg.net
To contact the editor responsible for this story: Young-Sam Cho at ycho2@bloomberg.net.