Obama Tells Mubarak He Must Stick to Pledge of Egyptian Reforms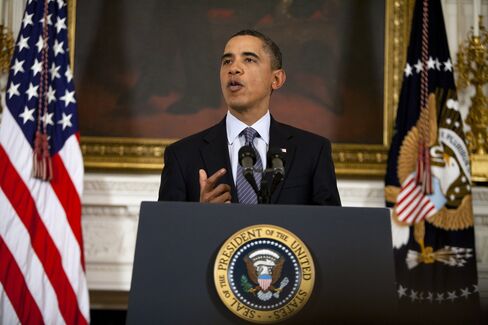 President Barack Obama told Egyptian President Hosni Mubarak last night he must live up to promises he made about political, social and economic reforms following the fourth day of anti-government demonstrations across Egypt.
Obama delivered the message in a 30-minute phone call between the two leaders that followed public remarks by Mubarak in which he asked the country's government to resign and pledged to fight poverty, speed economic and social changes, and promote civil liberties and democracy.
"He pledged a better democracy and greater economic opportunity," Obama said in brief remarks at the White House following the call. "I told him he has a responsibility to give meaning to those words, to take concrete steps and actions that deliver on that promise."
The U.S. is ramping up pressure on the Egyptian authorities as Mubarak's government has clashed with protesters in Cairo and other cities who are calling for his ouster. White House spokesman Robert Gibbs said earlier yesterday that the administration would be reviewing the annual $1.5 billion in aid to Egypt, a key U.S. ally in the Middle East, based on how authorities there deal with the opposition.
In a televised address to the Egyptian people just after midnight Cairo time, Mubarak said he asked his ministers to resign and promised that the new government would speed reforms and promote civil liberties. He defended his response to widespread demonstrations, which has included ordering the army to help police impose a 6 p.m. to 7 a.m. curfew by sending armored vehicles and tanks into the streets.
'Moment of Promise'
Obama responded that "this moment of volatility has to be turned into a moment of promise." He also called on the Egyptian government to end the blocking of the Internet, including social networking sites that protesters have used to organize.
The U.S. president said he wanted to be "very clear" that Egyptian authorities must refrain from violence against peaceful protesters. He also said the demonstrations must be non-violent.
"Ultimately, the future of Egypt will be determined by the Egyptian people," Obama said. "Governments have an obligation to respond to their citizens."
Michele Dunne, editor of the Arab Reform Bulletin at the Carnegie Endowment for International Peace in Washington, said in an e-mail that "for Mubarak to be pledging to 'continue reform" is laughable."
"The protesters are not asking for the prime minister or cabinet to leave, they are asking for Mubarak to leave," she said.
Pressure on Military
The Obama administration is also putting pressure on Egyptian military and security forces. More than 80 percent of U.S. aid to Egypt is in the form of military assistance, according to data supplied by the U.S. State Department.
"We are watching very closely the actions of the government, of the police, of all the security forces, and all of those in the military," Gibbs said yesterday during his daily briefing. "That their actions may affect our assistance would be the subject of that review."
The Egyptian government yesterday recalled a 25-member military delegation that was at the Pentagon for meetings previously scheduled to continue through Feb. 2, Defense Department spokesman Captain Darryn James said in an e-mail. The chief of staff of the Egyptian Armed Forces, Lieutenant General Sami Hafez Enan, led the delegation.
Urged Restraint
Assistant Secretary of Defense for International Security Alexander Vershbow urged restraint to his Egyptian counterpart during the meetings this week, James said.
"That's probably the single most important thing we can do at the moment -- shaping the calculations of the military," said Bruce Rutherford, an associate professor of political science at Colgate University in Hamilton, New York, and author of the 2008 book "Egypt after Mubarak: Liberalism, Islam and Democracy in the Arab World."
Starting with a statement early yesterday afternoon by Secretary of State Hillary Clinton, the U.S. toughened its criticism of Mubarak's methods in suppressing protests that pose the biggest challenge to his 30-year rule.
"These protests underscore that there are deep grievances within Egyptian society and the Egyptian government needs to understand that violence will not make these grievances go away," Clinton said in Washington. "We think that moment needs to be seized."
Inspired by Tunisians
The anti-government demonstrations started Jan. 25, when thousands took to the streets of Cairo and other cities, inspired by an uprising in Tunisia that ousted President Zine El Abidine Ben Ali on Jan. 14. The Egyptian government restricted Internet and mobile-phone access in the nation of about 87 million people and detained senior leaders of the Muslim Brotherhood, the main opposition group, before the nationwide demonstrations began.
Nine people died in the Egyptian unrest, Human Rights Watch said yesterday. Four French journalists were arrested yesterday in Cairo, France's Foreign Ministry said. They were later freed, Al Arabiya television reported.
The protests have extended to the U.S. Outside the White House yesterday, about two dozen people gathered along Pennsylvania Avenue, chanting "Hey hey, ho ho, Hosni Mubarak has to go" and holding signs saying "Mubarak's gang burning Egypt" and "The minimum Egyptians demand is 'Mubarak out.'"
'Universal' Human Rights
At the White House, Obama said the Egyptian protestors were exercising "universal" rights to peaceful assembly and association, free speech and "the ability to determine their own destiny.
"These are human rights," he said. "And the United States will stand up for them everywhere."
Egypt's benchmark EGX30 stock index plunged 11 percent yesterday, the most since October 2008, and has fallen 16 percent in the past two days. The country's bourse, where companies including Orascom Construction Industries, Talaat Moustafa Group and Orascom Telecom Holding SAE are listed, is the biggest in North Africa by market capitalization.
The State Department issued a travel alert yesterday, urging U.S. citizens to put off non-essential travel to Egypt at this time and advising U.S. citizens in the country to defer non-essential movement and to exercise caution.
Before it's here, it's on the Bloomberg Terminal.
LEARN MORE