Massey Disputes U.S. Findings on Cause of Fatal Blast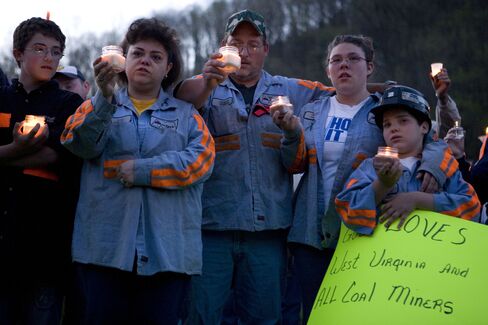 Massey Energy Co. disputed U.S. findings that coal dust played a significant role in the April explosion that killed 29 miners at the Upper Big Branch mine in West Virginia.
A company investigation shows "a massive inundation" of combustible natural gas was the more likely cause, Shane Harvey, vice president and general counsel for the Richmond, Virginia-based Massey, said today on a conference call. Tests show natural gas continues leaking from cracks in the mine's floor and wall, he said.
The Mine Safety and Health Administration said on Jan. 19 that a small ignition of methane gas combined with a buildup of coal dust triggered the fatal explosion, the worst U.S. mine accident in 40 years.
"Last week MSHA concluded the primary source of fuel for the explosion at UBB was coal dust," Harvey said. "Our conclusion to date is different."
Massey disputes U.S. conclusions that are based on samples of rock dust, which is used to reduce the risk of igniting explosive coal dust, taken months after the blast, Harvey said. Areas affected by the explosion show poor rock-dusting and areas unaffected show good dusting, he said. The difference can be attributed to the explosion, he said.
'Not Scientific'
"It is not scientific to take data after an explosion and find it meaningful in any way," Harvey said in the first presentation since the retirement of Don Blankenship, Massey's chief executive officer and a critic of MSHA.
MSHA failed to find evidence of a large methane explosion cited by Massey, Amy Louviere, an agency spokeswoman, said today in an e-mail responding to Harvey's statements. The agency has concluded that rock-dust samples taken after the explosion represent mine conditions at the time of the blast, she said.
"Non-compliance was seen throughout the mine, not just in the immediate area of the explosion," Louviere said. "Company record books also indicate the need for rock dusting in the days prior to the explosion."
Massey rose $2.84, or 5.2 percent, to $57.23 at 4:15 p.m. in New York Stock Exchange composite trading.
MSHA's assistant administrator, Kevin Stricklin, said this month the Upper Big Branch mine's main coal-cutting machine had been run without all its water sprayers that help tamp down dust and douse small methane ignitions to prevent explosions.
Faulty Sprayers
Harvey said those conclusions also are flawed. A test of a cutting machine at a different Massey mine showed damp conditions when some sprayers aren't working. The Upper Big Branch cutter, or shearer, had 153 sprayers when 109 were required by regulators, he said. It's estimated eight sprayers were inoperative on April 5.
Investigators are still reviewing bits on the cutting machine to determine how many had excessive wear, Louviere said. It only takes one bit without proper spray to allow an ignition to occur, she said.
Relatives of the miners killed in the April 5 explosion were briefed on the company's investigation today, Harvey said.
The mine safety agency may issue its final report on the disaster in the next two months to three months.