Egypt Cuts Off Access to the Internet Following Street Protests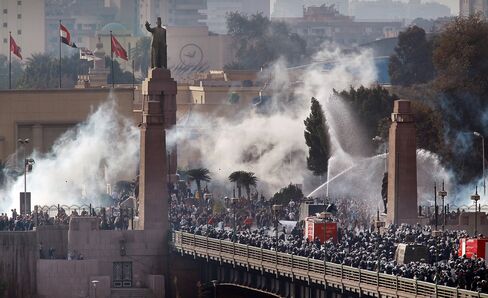 Egypt, following days of anti-government protests, "withdrew" from the Internet after Egyptian authorities shut connections to the outside world.
Internet traffic in and out of the country slumped shortly after midnight Cairo time yesterday, according to Web security company Arbor Networks. Mobile-phone services run by local units of Vodafone Group Plc and France Telecom SA were also halted.
"Rather abruptly, in a coordinated fashion, all of the major Internet providers that have traffic in and out of Egypt basically withdrew from the Internet," said Craig Labovitz, chief scientist at Arbor Networks.
National authorities shut the connections after demonstrators took to the streets, inspired by an uprising that ousted Tunisian President Zine El Abidine Ben Ali on Jan. 14. Egypt has one one of the most advanced telecommunications markets in the Middle East and Africa. Local officials couldn't be reached for comment.
Facebook Inc., owner of the world's biggest social-networking site, is seeing "only minimal traffic from Egypt," spokesman Andrew Noyes said in an e-mail. Google Inc., the largest search engine, said people in Egypt are unable to access Google and its YouTube video service, "or at best are having real difficulty doing so," according to a company spokeswoman.
'Turn Off'
To shut down the Web, the government likely told network providers to "turn off" connectivity, a legal directive under Egypt's telecommunications laws, said Jim Cowie, chief technology officer at Web-monitoring firm Renesys Corp.
That probably doesn't require flipping a switch or pulling a plug, Cowie said. Network engineers can log into routers and type in text that blocks service providers from sending out a signal.
"There is virtually no Internet access in Egypt at the moment," said Jillian York, a spokeswoman for Herdict.org, a site that monitors website accessibility, in an e-mail.
Separate international Internet networks that pass through Egypt appear to be unaffected, Arbor Networks' Labovitz said.
Television network Al Jazeera said transmission had to be switched to another frequency as its signal on Nilesat was jammed.
Mobile Service
Vodafone said it was ordered to suspend mobile-phone services in selected areas. "Under Egyptian legislation, the authorities have the right to issue such an order and we are obliged to comply with it," Vodafone said in an e-mailed statement. "All mobile operators in Egypt have been instructed to suspend services in selected areas."
France Telecom, which operates the country's biggest wireless carrier Egyptian Co. for Mobile Services, known as Mobinil, said "technical measures" taken by Egyptian authorities had blocked services. The company said it didn't have information on when service might resume.
Mobinil has about 30 million subscribers. Vodafone Egypt had 28.2 million subscribers at the end of September. About 95 percent of Egyptians, or 74.9 million subscribers, are clients of a mobile-phone network, according to analysts at Cairo-based AlembicHC.
While Egypt has opened up the telecommunications market and encouraged new entrants, operators are still controlled by the authorities, Arbor Networks' Labovitz said.
"They do operate under fairly strict regulatory control, far more liberal than it was," Labovitz said. But there are still strong regulatory powers within Egypt."
The U.S. State Department said open communications must be allowed, according to spokesman Philip Crowley.
The action by the government is "an inappropriate response to a political crisis," the nonprofit Internet Society, a Web advocacy group based in Geneva and Reston, Virginia, said in a statement yesterday. "Cutting off a nation's access to the Internet only serves to fuel dissent and does not address the underlying causes of dissatisfaction.