Disney Leaker Sebbag Sentenced to 27 Months in Prison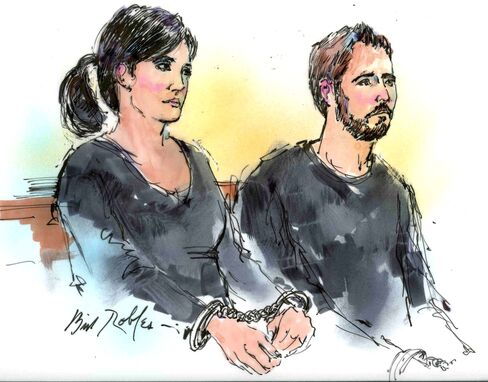 Yonni Sebbag, the California man who pleaded guilty to selling confidential Walt Disney Co. information in what his lawyer called "an unsophisticated, amateurish, hare-brained scheme," was sentenced to 27 months in prison.
Sebbag, 30, and his girlfriend, Bonnie Hoxie, admitted to attempting to selling information about the entertainment company's quarterly earnings. Hoxie, a former executive assistant to Disney corporate communications chief Zenia Mucha, is scheduled to be sentenced Feb. 22.
"Insider trading undermines the integrity of our securities exchanges and undermines confidence in our financial markets," U.S. District Judge Kimba Wood said today at a hearing in Manhattan federal court, rejecting a request by Sebbag's lawyer, Steven Kartagener, to sentence Sebbag to the eight months he has already served in jail.
Sebbag sent letters to at least 33 investment companies, including hedge funds, offering to sell information about Burbank, California-based Disney, prosecutors said. None of the funds acted on the tips. Disney said it cooperated with prosecutors.
Wood also sentenced Sebbag to two years of supervised release. As part of a plea deal, Sebbag agreed to forfeit the $15,000 paid to him by undercover federal agents in exchange for internal Disney documents. After Sebbag is released from prison, he will be deported to his native Morocco, Kartagener said.
Supporters in Court
The hearing was attended by about 25 supporters of Sebbag, some of whom travelled from Morocco, France and Portland, Oregon, Kartagener told Wood. Sebbag's mother and aunt wept after the judge passed sentence.
Sebbag attended the Universite Paris-Sorbonne before moving to the U.S., where he started two restaurants, Kartagener said in court papers. Sebbag lost money day-trading stocks and gambling to try to make money to support the businesses, he said. The attempt to sell the Disney information was an act of desperation, Kartagener told Wood.
"He's not stupid, but he did something stupid and silly," Kartagener said in an interview outside the courtroom.
The case is U.S. v. Hoxie, 10-cr-753, U.S. District Court, Southern District of New York (Manhattan).
Before it's here, it's on the Bloomberg Terminal.
LEARN MORE