U.S. Stocks Advance on Earnings Reports, Pending Home-Sale Data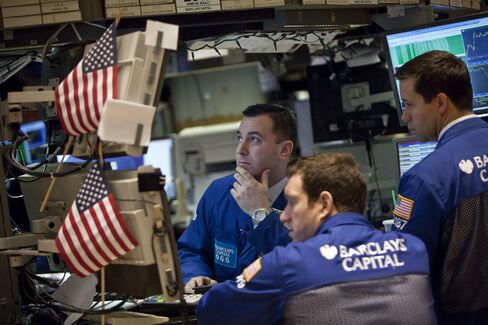 U.S. stocks rose, with the Standard & Poor's 500 Index gaining a fifth day, as home sales and Qualcomm Inc.'s forecast beat projections, offsetting Japan's credit downgrade and higher-than-estimated jobless claims.
Qualcomm rallied 5.9 percent as the biggest maker of mobile-phone chips benefited from more sales of devices that browse the Internet. An index of car companies in the S&P 500 advanced 2 percent after online researcher Edmunds.com forecast a 17.3 percent jump in the industry's new sales in January. Netflix Inc. surged 15 percent as profit topped projections. Microsoft Corp. increased 0.3 percent after its quarterly results were released before exchanges closed.
The S&P 500 rose 0.2 percent to 1,299.54 at 4 p.m. in New York. The index has gained 1.5 percent over its five-day advance. The Dow Jones Industrial Average added 4.39 points, or less than 0.1 percent, to 11,989.83.
"We're in repair mode," said James Dunigan, chief investment officer at PNC Wealth Management in Philadelphia, which oversees $105 billion. "As confidence improves, home sales will rise and that will be an important piece of the puzzle in this recovery. We still need to see progress in hiring. The U.S., Europe and Japan are not out of the deleveraging woods yet. Still, earnings have been good, valuations are reasonable. It might not be the best entry point, but it's certainly not time to reduce your equity allocation."
Earnings
The Dow average rose above 12,000 for the first time since June 2008 yesterday after the Federal Reserve maintained stimulus measures and new-home sales topped projections. Of the 171 companies in the index that have posted quarterly results since Jan. 10, 129 beat the average analyst earnings estimate, according to data compiled by Bloomberg.
U.S. stocks rose after the National Association of Realtors said the number of Americans signing contracts to buy previously owned homes rose in December for a third month, showing the industry that triggered the recession was stabilizing heading into 2011. The index of pending home resales climbed 2 percent, more than forecast, after a revised 3.1 percent gain the prior month. The median estimate in a Bloomberg News survey called for a 1 percent increase.
"We continue to be cautiously positive on stocks for the next couple of quarters," said Thomas Nyheim, a Greenville, Delaware-based money manager for Christiana Trust, which oversees $6.8 billion. "We're focused on the fact that earnings continue to exceed forecasts, so we should have a strong market for the next six months without a correction."
Qualcomm
Qualcomm advanced 5.9 percent to $54.90. The biggest maker of mobile-phone chips reported first-quarter adjusted earnings of 82 cents a share, beating the 72-cent average estimate of analysts. Sales in the period ending in March will be $3.45 billion to $3.75 billion. That compares with $3.14 billion, the average of estimates compiled by Bloomberg.
An index of car companies rose 2 percent, the biggest gain among 24 industries in the S&P 500. January new car sales are expected to be about 816,000 units, a 17.3 percent advance from a year ago, according to Santa Monica, California-based Edmunds.com, the premier online resource for automotive information. Ford Motor Co. added 2.3 percent to $18.79. General Motors Co. increased 2.1 percent to $38.67.
Netflix surged 15 percent to $210.87. The DVD-rental and video-streaming company posted fourth-quarter earnings of 87 cents a share, exceeding the 71-cent average estimate of analysts. Netflix was raised to "buy" from "underperform" at Bank of America Corp.
Microsoft
Microsoft gained 0.3 percent to $28.87. The world's largest software maker said second-quarter profit topped analysts' predictions as corporate customers bought more Office and server programs and consumers purchased Xbox Kinect motion sensors. Net income was 77 cents a share and sales rose to $20 billion. Analysts on average projected profit of 68 cents and sales of $19.1 billion, according to a Bloomberg survey.
Earlier today, equity futures declined as Labor Department figures showed that more Americans than forecast filed first-time claims for unemployment insurance payments last week. Applications for jobless benefits increased by 51,000 to 454,000 in the week ended Jan. 22. Economists forecast 405,000 claims, according to the median estimate in a Bloomberg News survey.
Stock futures also fell earlier as S&P cut Japan because the nation lacks a "coherent strategy" to reduce the world's biggest debt burden. Persistent deflation and political gridlock are undermining efforts to cut Japan's 943 trillion yen ($11 trillion) debt, S&P said. The country is now rated AA-, the fourth-highest level and the same grade as China.
AT&T
AT&T Inc. lost 2.1 percent to $28.13. The second-largest U.S. wireless carrier reported fourth-quarter sales of $31.4 billion. Analysts predicted $31.5 billion.
Procter & Gamble Co. declined 2.9 percent to $64.18. Third-quarter profit excluding some items will rise to 95 cents to $1 a share, P&G said. That compares with the 99-cent average of estimates compiled by Bloomberg. Prices for some commodities have climbed as much 20 percent year over year, reducing sales last quarter, Chief Financial Officer Jon Moeller said today.
Bearish bets against S&P 500 companies rose for the first time since September as short sellers increased speculation stocks may decline after the benchmark gauge soared to the highest level since August 2008. The proportion of S&P 500 shares available for trading --or float -- that was sold short on Jan. 14 rose to 3.99 percent, up from 3.93 percent two weeks before, according to data compiled by U.S. exchanges and Bloomberg. It was the first increase since Sept. 15 as traders boosted bets against materials and consumer goods companies.
While the number of shares sold short on S&P 500 companies decreased to 6.89 billion from 6.9 billion, the percentage of float that investors were betting against increased because shares in the S&P 500 available for trading fell.
The decline in that figure "can indicate complacency in the market," said Michael Purves, chief market strategist at BGC Partners LP in New York. "It may be a good indicator of a directional change in the market."
Before it's here, it's on the Bloomberg Terminal.
LEARN MORE