TSMC Net Beats Estimates, Raises Spending to Record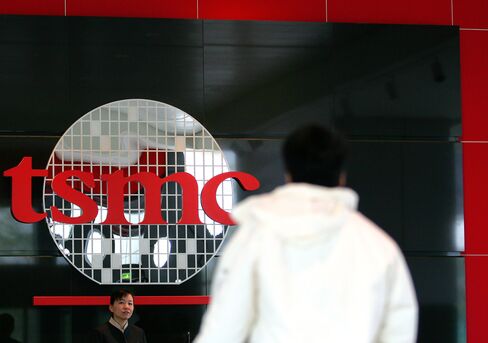 Taiwan Semiconductor Manufacturing Co., the world's largest contract manufacturer of chips, posted profit that beat estimates and raised spending to a record as it anticipates tablets and smartphones will drive semiconductor demand.
Fourth-quarter net income climbed 25 percent to NT$40.7 billion ($1.4 billion), the Hsinchu, Taiwan-based company said in a statement today. The average of 21 analyst estimates compiled by Bloomberg was for profit of NT$38.5 billion.
Earnings rose as TSMC and clients including Qualcomm Inc. and Nvidia Corp. benefited from rising demand for smartphones, computers and consumer electronics. More customers turning to outsourcing, instead of self-manufacturing, and growing global sales of internet-connected handsets and tablets devices prompted Chairman Morris Chang, 79, to raise spending 30 percent to $7.8 billion this year.
"Forecast demand from our customers for 2011 outpaces supply and our current capacity," Chang said at an investors' conference today. "We expect to fully utilize our capacity this year."
The capital spending surpassed the $7.4 billion median of six analyst estimates compiled by Bloomberg News. Spending last year was a record $5.94 billion, the company said today.
Tablet Devices
TSMC gained 0.8 percent to NT$75.20 at the close of trading in Taipei today. The benchmark Taiex index added 0.5 percent.
Microsoft Corp.'s decision to develop a version of its latest Windows operating system for use on chips designed by ARM Holdings Plc. will boost orders for TSMC's clients, and thus demand for its manufacturing capacity, Chang said today.
Tablet devices are also spurring orders for TSMC's customers this year, Chang, who's also the founder and Chief Executive Officer of TSMC, said at an investors' conference today. The global tablet market will be around 40 million units this year, and smartphones will climb 45 percent to 420 million handsets, he said.
"TSMC needs to ramp up capacity as clients outsource more, because the cost and technology for making their own chips keeps rising," said Ricky Liu, who rates TSMC "outperform" at KGI Securities Co. in Taipei.
TSMC on Jan. 10 reported fourth-quarter sales climbed 20 percent to NT$110.1 billion, surpassing the NT$108.6 billion average of 20 analyst estimates compiled by Bloomberg. The company's quarterly profit has surpassed analyst estimates by an average of 3.5 percent over the past 5 years, according to Bloomberg data.
Stronger Currency
Taiwan's dollar will average NT$29.16 per U.S. dollar this year, a 7 percent appreciation from the 2010 average, cutting operating profit margin by around 3 percent, Chang said. TSMC will begin making chips on wafers measuring 450 millimeters, from the current 300 mm standard, from around 2013, Chang said today. Larger wafers allow the company to make more chips per silicon piece, boosting efficiency and lowering costs.
Qualcomm, the biggest maker of mobile-phone chips, yesterday forecast sales this quarter of at least $3.45 billion, surpassing the $3.14 billion of 29 analyst estimates compiled by Bloomberg. Nvidia, a designer of chips which help run graphics on computers and games machines, in November forecast sales for the quarter that surpassed analyst estimates.
TSMC's gross margin, a measure of profitability which tracks sales less the cost of goods sold, was 49.8 percent during the quarter, compared with the 49.5 percent median of six analyst estimates compiled by Bloomberg News. That figure will be 47 percent to 49 percent this quarter, the company said today.
Sales for the current quarter will be NT$105 billion to NT$107 billion, implying a decline of 3 percent to 5 percent from the prior quarter. The average of 16 analyst estimates compiled by Bloomberg is for sales of NT$105.6 billion. Communications chip demand will be above normal seasonality, Chief Financial Officer Lora Ho said today.
TSMC revenue has declined an average 13 percent from fourth-quarter to first-quarter, the industry's low-season, over the past six years, according to Bloomberg calculations.
             4Q                            1Q
             Company   Company   Analyst   Company     Analyst
             Actual    Guidance  Estimate  Guidance    Estimate
Sales NT$bln   110.1    107~109   108.6      105~107   105.6
Gross Margin%  49.8     48~50     49.5       47~49     47.3
Op Margin%     37.7     35.5~37.5 37.5       35~37     35.4

Sources: Bloomberg News, TSMC.