Tiger Woods's Play May Lead to 'Hard Ball' Golf TV Negotiations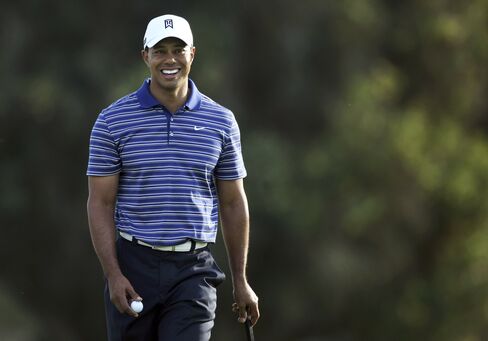 During Tiger Woods's rise to golf dominance, U.S. PGA Tour Commissioner Tim Finchem held most of the negotiating power against television network executives.
That may change this year.
With Woods, who begins his season today at the Farmers Insurance Open near San Diego, falling to No. 3 in the Official World Golf Ranking from the top spot after a winless year and a divorce, and Finchem touting young players such as 22-year-old Rickie Fowler and 26-year-old Dustin Johnson, talks on new television contracts may take a different tone.
"I'd play hard ball," Brad Adgate, director of research at Horizon Media Inc., a New York-based advertising company, said in a telephone interview. "If you're the networks, you've got to sit there and say, 'Your numbers are down, your matinee idol has fallen on hard times. What kind of numbers am I going to get?' There's a lot of competition for eyeballs in sporting events."
The PGA Tour's network contracts with General Electric Co.'s NBC Universal and CBS Corp. expire after the 2012 season. Discussions on new contracts will begin soon, Finchem said in a press conference on Jan. 24 at Torrey Pines golf course, site of this week's Farmers Insurance Open. The event is the first of 20 U.S. PGA Tour events to be telecast this season by CBS, the sport's leading over-the-air broadcaster.
As Woods rolled to 14 major championships and dominated the sport, the value of television contracts reached as high as $850 million for a four-year deal that expired after the 2006 season. Financial terms of the current contracts, which began in 2007, have never been disclosed.
CBS officials declined to comment on negotiations, Jerry Caraccioli, a network spokesman, said in an e-mail. NBC Sports also declined to comment, spokesman Chris McCloskey said.
'Positive' Impact
Finchem wouldn't put a dollar figure on how much Woods's play may enter into negotiations. He said that when Woods is at the top of his game it "positively affects everything we do, because he creates a lot of attention."
Because the PGA Tour relies on a wide variety of revenue streams, it doesn't "depend on" ratings, Finchem said. "We can still eat lunch without it."
Sean McManus, president of CBS News and Sports, said in August that the value of golf's last two television contracts has been "inflated" by Woods and the network planned to be "monitoring pretty closely" how well Woods plays and try to factor that into the negotiations.
Masters Ratings
CBS will televise this year's Masters Tournament, golf's highest-rated event, for the 56th straight year in April. Woods finished fourth last year, when the network had its highest final-round rating since his 2001 victory.
As he begins his 15th full professional season, Woods said he'll try to do his best to help the tour's bargaining position.
"It's going to be interesting to see what Tim's going to do," Woods told reporters yesterday. "Obviously I would like to play well, and hopefully that helps. But first I need to take care of my own game and get the ball to the hole faster than I have in the past."
While Woods, 35, has won the past five tournaments he has played at Torrey Pines, his last victory in any event came at the 2009 Australian Masters. Days later he crashed his car into a fire hydrant outside his Florida home, leading to his admission of marital infidelity. Along with taking an extended break from golf, getting divorced and losing swing coach Hank Haney, Woods was dropped by numerous sponsors, including AT&T Inc. and Accenture Plc, over the past year.
Ratings Drop
Without Woods last year, CBS's final-round ratings for the tournament at Torrey Pines declined 52.2 percent from 2008, when Woods won. He skipped the 2009 tournament while recovering from knee surgery.
All of the bad news surrounding Woods will go away as soon he wins again, fellow competitors said. In his last event, Woods blew a four-shot lead in the final round of the Chevron World Challenge in December and lost to U.S. Open champion Graeme McDowell in a playoff.
"He used to appear invincible," McDowell said after his victory. "I fully expect that mystique to return as the golf clubs start doing the talking again."
Woods has a new swing, crafted under coach Sean Foley. The biggest challenge for Woods this season may again be his driver, a club that was a nemesis a year ago.
In 12 events in 2010, Woods's driving accuracy fell to 57.2 percent, 165th of all players, from 64.3 percent (86th) over 17 events a year earlier.
Nicklaus Record
If he can land the ball in the fairway on a regular basis again, Woods may go on to regain the No. 1 ranking and soon surpass Jack Nicklaus's record of 18 major titles, Rocco Mediate told reporters during a Jan. 25 press conference. Woods hasn't won a major since beating Mediate in a 19-hole playoff at the 2008 U.S. Open, also at Torrey Pines.
"If he starts driving his ball where he's looking, the game is over," said Mediate. "Trust me when I tell you this. If he's hitting iron shots from the fairway, you can't stop this man."
Because Woods can still break Nicklaus's record, networks will keep paying more to televise golf, Adgate said. The question is, how much?
"Overall, rights fees are going to go up regardless," Adgate said. "It won't go down. The worst-case scenario is they'll stay flat. The chase for Jack is still on."
Before it's here, it's on the Bloomberg Terminal.
LEARN MORE