Merkel Defies Deutsche Bank as Ackermann Frets Bonds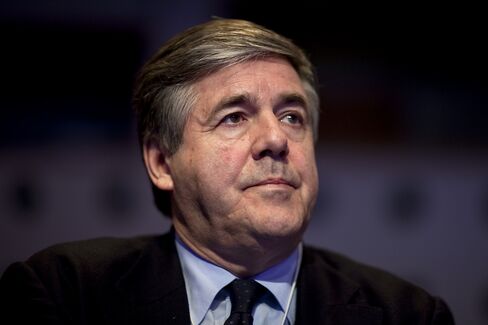 The leader of Europe's biggest economy and the head of Germany's largest bank, partners in a financial rescue two years ago, are rattling investors with their feud over how to manage the sovereign-debt crisis.
German Chancellor Angela Merkel and Deutsche Bank AG Chief Executive Officer Josef Ackermann, both of whom are airing their views at the World Economic Forum in Davos, Switzerland, this week, have disagreed publicly over who should bear the costs of future bailouts, international banking regulation and a German tax on nuclear-power producers.
The rift, including comments by Ackermann in November that Merkel was spooking markets, underscores wider divisions between Germany, France and other European governments. It has more than personal consequences, threatening to further unnerve investors concerned about Europe's ability to tackle the debt crisis after a 750 billion-euro ($1 trillion) rescue effort failed to stop the contagion spreading from Greece to Ireland. That has political and business leaders hoping for a rapprochement.
"We're in a phase where markets are reacting very nervously to individual statements and rumors about the debt crisis," said Philipp Musil, who helps manage about $11 billion at Semper Constantia Privatbank AG in Vienna. "This leads to insecurity in the market. It's important what individual states and market participants say. We need more unity."
Protecting the Euro
Ackermann, 62, and Merkel, 56, who have called for solidarity to protect the euro, each have a lot at stake. Deutsche Bank has more than 10 billion euros of government debt in Portugal, Ireland, Italy, Greece and Spain. Merkel is trying to minimize the cost of a rescue to German taxpayers before elections this year in at least seven of the country's 16 states. While the two agree on the need to salvage Europe's political union and common currency, they disagree on the means of doing so.
Merkel demanded more concessions from Greece last year before agreeing to provide financial aid, while Ackermann pushed for quicker action to stem the crisis. Merkel also called for sovereign-bond investors, including German banks, to shoulder the costs of future national bailouts. That didn't sit well with Ackermann, who blamed the chancellor for roiling markets and raising borrowing costs, criticisms echoed by the European Central Bank and governments in Ireland and Spain.
'Thin Line'
"The whole discussion is unfortunate because the signal was received by the markets in a very negative way and now we have this turbulence," Ackermann said at an event in Berlin on Nov. 25, as the cost of insuring debt for Spain, Italy, Portugal and Ireland approached record levels.
Merkel, already the largest contributor to the EU's rescue fund, must walk "a very thin line" as she tries to balance her pledge to do whatever is needed to save the euro with voter hostility to the bailouts, said Carsten Brzeski, an economist at ING Groep NV in Brussels. She also risks harming her country's banks by her insistence that bondholders take losses on future bailouts. German lenders hold more than 112 billion euros of debt issued by the governments of Greece, Ireland, Portugal, Spain and Italy, according to data compiled by Bloomberg.
"Ackermann and Merkel seemed to be at odds with each other at times in the past year, and that is not a desirable situation for our country," billionaire Arend Oetker, chairman of baby-food maker Hero AG, said in an interview in Berlin. "What is good for Deutsche Bank is also good for Germany, and the same is true the other way round."
Debt Crisis
Merkel said in a speech in Davos today that Germany is ready to show "solidarity" to fellow euro-area countries buckling under the sovereign debt crisis. "There is no crisis of the euro, this is a debt crisis," she said, echoing statements made by Ackermann earlier this month in Berlin.
The German chancellor also said the private sector shouldn't "always try to fight necessary regulation," and the financial industry should serve the real economy, "because without it, it is more or less without a job."
Merkel declined through a spokesman to comment about past disagreements with Ackermann. Deutsche Bank spokesman Ronald Weichert also declined to comment.
Meeting in Athens
Differences over crisis management surfaced last February after Ackermann met in Athens with Greece's Prime Minister, George Papandreou, as the premier tried to stem growing market skepticism about his country's ability to avoid default. Swiss-born Ackermann, who has led Deutsche Bank since 2002, returned to Germany with a proposal aimed at stopping the sovereign-debt crisis in its tracks: a 30 billion-euro rescue package for Greece to be split evenly between governments and private-sector banks, according to a person familiar with the talks.
Jens Weidmann, Merkel's chief economic adviser, rejected the idea, citing legal concerns, said the person, who declined to be identified because the talks were confidential. The German chancellor was criticized at home and abroad for refusing to rush to aid Greece before domestic regional elections. She reversed course after it became too costly for the Greek government to borrow in financial markets and German lawmakers on May 7 backed a 110 billion-euro lifeline.
Ackermann didn't hide his frustration. The day Germany approved its contribution, the banker said in a Bloomberg Television interview that "if it had been done a few months ago, the markets could have been stabilized earlier."
'No Doubts'
A week later, after Ackermann unnerved markets with remarks that Greece might not be able to repay its debt in full, Merkel's spokeswoman, Sabine Heimbach, told reporters that "it's not the place of the federal government to comment on the opinions of Mr. Ackermann." She said Germany had "no doubts" that Greece would be able to solve its debt problems.
That same day, May 14, Merkel said Europe is in a "very, very serious situation," fueling concern the currency union was headed for disintegration. Her comments helped bring the euro's decline against the dollar to 14 percent since the beginning of the year, its lowest level since the collapse of Lehman Brothers Holdings Inc.
Ackermann reversed his stance a month later, saying he was confident Greece could repay its debt obligations based on Papandreou's personal commitment to implement necessary reforms "however difficult they are, even sacrificing his own political future." Greek stocks surged the next trading day.
Tensions Flared
"Both Merkel and Ackermann have so much influence that their comments have an impact on the markets," said Wolfgang Gerke, president of the Bavarian Center of Finance in Munich. "They should keep this in mind."
Tensions flared again in October, when Merkel proposed that sovereign-bond investors be required to share the cost of future bailouts. This time it was the chancellor who backed down after criticism from Ackermann, European Central Bank President Jean-Claude Trichet and Luxembourg Prime Minister Jean-Claude Juncker, who heads the group of euro-area finance ministers.
Instead, Merkel agreed to a compromise that asks investors to take write-offs on a "case-by-case" basis and foresees "collective-action clauses" for debt issued after 2013. These clauses make it easier for issuers such as governments to revise the terms of bond contracts if they can't make payments because they allow a stated majority of bondholders to agree to changes legally binding on the minority.
'Mini Davos'
The shift came days after Ackermann and Merkel met on the weekend of Nov. 27 at the annual Isny Round, a private gathering of German businessmen and politicians dubbed "Mini Davos" by local media. At the conference at Berghotel Jaegerhof in southern Germany, they took part in a panel discussion where they discussed the euro crisis and Ackermann reiterated his call for collective-action clauses, according to a person who attended the session and asked not to be identified.
The week before, Ackermann, who is also chairman of the Institute of International Finance, a global industry group based in Washington with more than 400 members, was also lobbying behind the scenes in Brussels, a person familiar with the matter said. He met with EU officials, including European Commission President Jose Barroso and EU President Herman Van Rompuy to discuss bailouts, the person said.
Merkel spoke with both men, as well as with French President Nicolas Sarkozy, before a Nov. 28 meeting of European finance ministers where the agreement on collective-action clauses was announced.
'Incorrect and Libelous'
The compromise came a week after a public dispute between Deutsche Bank and Merkel spokesman Steffen Seibert. At a press briefing on Nov. 22, Seibert said that the Frankfurt-based bank would be hurt more than other German lenders by an Irish default. After Deutsche Bank complained, Seibert issued a statement saying he "didn't intend" to mention a specific firm and that the government had no "dependable figures."
Still not satisfied, the bank said its net exposure to Ireland was less than 400 million euros and issued a press release saying it "rejects in all forms these public allegations by the government spokesman as incorrect and libelous."
The agreement on collective-action clauses may signal that Merkel and Ackermann are toning down their rhetoric and forging a more united front to stem the sovereign-debt crisis. It may also have helped reduce bond spreads in Europe from record highs in November.
"We are all sitting in the same boat: banks, companies, politicians and unions," Ackermann said in a speech on Jan. 10 at the bank's New Year's reception in the German capital.
Rosier Relationship
Merkel and Ackermann once had a rosier relationship. When he stood trial for breach of trust in connection with the approval of more than 57 million euros in bonuses for executives at Mannesmann AG, after a takeover by Vodafone Group Plc, Merkel defended him. As head of the Christian Democrats, she said in September 2003 she was convinced "of his personal integrity."
Ackermann, a member of Mannesmann's board who wasn't accused of making any personal gain, was acquitted in a first trial and later settled the charges during a second trial, paying 3.2 million euros.
In 2008, Merkel relied on Ackermann to help stave off the country's biggest bank failure since 1931 and to forge a bank-rescue package during the peak of the financial crisis in 2008, which caused Germany's worst recession since World War II.
After-Midnight Call
As the financial crisis peaked with the collapse of New York-based Lehman, they worked closely to save commercial-property lender Hypo Real Estate Holding AG. In a 12:45 a.m. phone call on Sept. 29, 2008, Ackermann and his German banking counterparts agreed to provide 8.5 billion euros in guarantees as part of a 35 billion-euro government-led rescue before markets opened.
Ackermann also advised the German government on its 480 billion-euro bank-rescue fund created in October 2008 to stabilize the country's lenders.
Deutsche Bank never needed to tap that pool. Still, Ackermann managed to irritate the government with his remarks to 150 bank managers at a private event, reported in Der Spiegel magazine on Oct. 18, 2008, that he would be "ashamed" to accept state aid. Merkel spokesman Thomas Steg called the statement "extremely alarming," adding that banks that use state aid are "courageous" and "responsible." Ackermann later said his comments, made in English, were mistranslated and that the words he used were "a shame."
Souring Relationship
The relationship further soured in 2009 after reports surfaced in the press that Ackermann and 30 of his friends had been invited to the Chancellery the previous year to celebrate his 60th birthday. While Merkel initially defended the event, saying that it didn't cross the line between politics and business, she increasingly distanced herself from the CEO.
"I know many people look at these things and say ties between politics and business are too close," Merkel said in an interview with N24 television on Aug. 26, 2009. "You have to be sensitive to it. But I believe distance was kept. That's evident in quite a few critical remarks of mine about Mr. Ackermann."
That was the breaking point for Ackermann, according to a person familiar with the matter. The Deutsche Bank CEO felt betrayed that Merkel was distancing herself, even though they hadn't done anything wrong, the person said.
The falling out may have repercussions for Deutsche Bank beyond sovereign debt. German lenders may be forced to forfeit as much as 70 percent of their profits for a financial transaction tax Merkel has advocated, a bank levy and deposit-guarantee funds as well as normal taxes, the Association of German Banks, which represents more than 220 lenders including Deutsche Bank, warned in September.
Deutsche Bank Valuation
"It's important for Deutsche Bank to have Merkel's ear to try and avoid the most damaging financial regulation, much of which is still being hammered out," said Lutz Roehmeyer, who helps manage about 12 billion euros at Landesbank Berlin Investment GmbH, including Deutsche Bank shares.
Deutsche Bank's shares trade at 0.70 times book value, the third-lowest among 13 banking competitors, data compiled by Bloomberg on Jan. 26 show. The stock has lost about 3 percent since the beginning of last year, valuing the company at 40.5 billion euros. The Bloomberg Europe Banks and Financial Services Index of 48 companies lost about 1.5 percent in the same period.
The low share valuation is the result of concern that profit will be hurt by tighter regulation as well as investor aversion to financial stocks amid the sovereign-debt crisis, said Andreas Plaesier, a Hamburg-based analyst at M.M. Warburg & Co., who recommends buying the shares.
'Normal Phenomenon'
Kurt Lauk, who heads the business lobby within Merkel's Christian Democratic Union, said disputes between politicians and bankers aren't unusual.
"Both are doing their respective jobs," Lauk said. "Ackermann is arguing as a banker should, and she's arguing like a politician is forced to argue given the financial crisis. There is a lot of common ground, and there are also some disagreements. It's a very normal phenomenon."
Still, bond markets won't be soothed until there's agreement on how to address the sovereign-debt crisis, said Semper's Musil. Spreads between bonds of peripheral countries and German debt of the same maturity are holding close to record highs as European leaders continue to refine their crisis-response mechanisms.
"Only a unified Europe and package can calm the markets," Musil said. "Ackermann, as a representative of business, and Merkel as a leader of the political community, can only speak with the same voice about the sovereign-debt crisis when everyone involved has agreed to a unified solution."
Before it's here, it's on the Bloomberg Terminal.
LEARN MORE