LinkedIn Said Likely to File for IPO as Soon as Today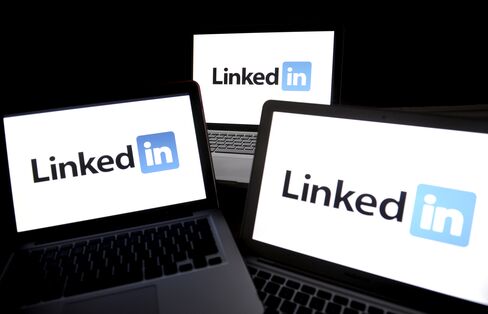 LinkedIn Corp., the largest networking website for professionals, is likely to file with the U.S. Securities and Exchange Commission for an initial public offering as early as today, a person familiar with the situation said.
LinkedIn, of Mountain View, California, hired Morgan Stanley, Bank of America Corp. and JPMorgan Chase & Co. to lead the offering, said the person, who asked not to be identified because the information is private. LinkedIn spokesman Hani Durzy declined to comment.
The company is valued at $2.5 billion on SharesPost Inc., an exchange for shares of private companies. LinkedIn would be the first of the multibillion-dollar Web companies that are traded on the secondary exchanges to go public. Facebook Inc. is worth the most. The social-networking site said last week that it raised $1.5 billion in a financing round led by Goldman Sachs Group Inc. that valued the company at $50 billion.
IPOs among technology and media companies may be picking up. Nielsen Holdings NV and Demand Media Inc. started trading yesterday after selling shares above the forecast price ranges. Nielsen, the television-rating company, is valued at $9.2 billion. Demand Media, which uses freelancers to provide low-cost content for websites, has a $1.85 billion valuation.
LinkedIn's Growth
LinkedIn, which has more than 1,000 employees, has grown to 90 million users in more than 200 countries, according to the company. Members use the site to search for jobs, recruit employees and find industry experts. The service is dwarfed by Palo Alto, California-based Facebook, the most popular social network, which has more than 500 million users.
The plans for an IPO filing were reported earlier by the AllThingsDigital blog.
Besides Facebook, the other Internet companies on the secondary markets with higher valuations than LinkedIn are Twitter Inc., Groupon Inc. and Zynga Game Network Inc.
LinkedIn was introduced in 2003 by former PayPal Inc. executive Reid Hoffman, and received its first round of funding that year from Sequoia Capital, the venture firm behind Google Inc. and Yahoo! Inc. Sequoia's Mike Moritz is on LinkedIn's board. The company has raised more than $100 million from firms including Greylock Partners, Bessemer Venture Partners and Bain Capital Ventures.
Hoffman's Roles
Hoffman, 43, was chief executive officer at LinkedIn until 2007, when the company hired Dan Nye to lead. Nye resigned in 2008 and Hoffman resumed his role as CEO until the following year, when LinkedIn named former Yahoo executive Jeff Weiner to the position. Hoffman remains chairman and is also a partner at Greylock in Menlo Park, California.
Under Weiner, Linkedin has more than doubled its membership, expanded through acquisitions and bolstered its number of customers outside the U.S.
While users can create personal profiles for free, LinkedIn introduced paid subscriptions in 2005, giving recruiters more access to job candidates and providing business professionals ways to communicate with one another. The company also makes money by selling ads on the site.
As LinkedIn's popularity has grown, investment firms have been clamoring for a piece of the company.
Tiger Global Management LLC, a hedge fund founded by Chase Coleman, paid $20 million for a stake in the company in July, at a valuation of about $2 billion, according to two people familiar with the matter. SharesPost is now trying to auction shares at a valuation of almost $3 billion, three people familiar with the matter said last week.
Before it's here, it's on the Bloomberg Terminal.
LEARN MORE