Lehman Sued Over $450 Million Bermuda Repo 'Abuse'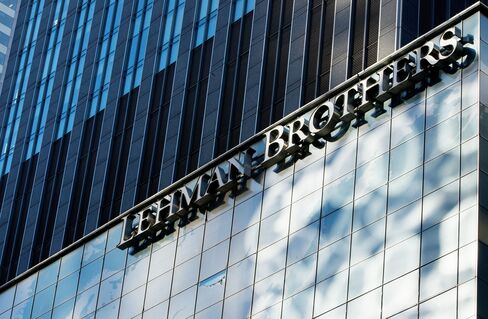 Lehman Brothers Holdings Inc. was sued for an "abuse" of repurchase agreements that effectively "looted" $450 million from a Bermuda reinsurance unit when the assets were pledged to the unit's biggest lender.
Lehman took the cash in 2008 when it was increasingly short of funds, said Pulsar Re Ltd., a Bermuda-based reinsurance company that is claiming the money from defunct Lehman Re in Bermuda, in a lawsuit. Lehman saddled the unit with illiquid assets "worth far less than the inflated market values assigned to them by Lehman personnel," Pulsar said in the complaint filed yesterday in U.S. Bankruptcy Court in New York.
"Lehman's abuse of repurchase agreements throughout 2008 to create the false appearance of financial health was rampant," Pulsar said, citing a report into Lehman's bankruptcy by examiner Anton Valukas. Under orders from former Chief Executive Officer Richard Fuld, Lehman tried to disguise its leverage by resorting to short term repos secured by "inflated" or improperly valued collateral, it said.
Pulsar's lawsuit is one of several that makes use of the Valukas report and other investigations into the largest bankruptcy in U.S. history. Most of the lawsuits seek money from former Lehman executives rather than bankrupt Lehman.
James Sprayregen, a lawyer for Pulsar at Kirkland & Ellis LLP, said Pulsar has been negotiating with Lehman over the money as part of the liquidation of Lehman Re.
Significant Chunk of Cash
Notwithstanding the lawsuit, "We are still hopeful of resolving things consensually," Sprayregan said a phone interview today. "Pulsar as creditor is interested in a significant chunk of the cash in Lehman Re that Lehman seized."
Kirkland represents the liquidators of Lehman Re as well as Pulsar.
Pulsar said it assumed $1 billion of risk from Lehman Re, keeping $450 million of its collateral in a segregated account at Lehman's brokerage. The money was seized in a $718 million repo by Lehman's commercial paper unit, which left behind "delinquent commercial loans secured by stalled, incomplete, and underfunded real estate developments," Pulsar said.
Pulsar is asking a bankruptcy judge to replace its lost assets. The reinsurer learned that its cash was improperly transferred only after Lehman filed for bankruptcy in September 2008, according to the filing.
Kimberly Macleod, a Lehman spokeswoman, didn't immediately respond to a call or e-mail seeking comment.
Fooling the Fed
According to the complaint, Lehman's pre-bankruptcy "abuses" deceived even the U.S. Federal Reserve into lending money. In April 2008, Lehman securitized its illiquid mortgage portfolio "and got a rating agency to say that some large fraction of it was investment grade," the complaint says, citing an e-mail from a senior U.S. Treasury official to the Financial Crisis Inquiry Commission.
The result was to "game" the Fed into giving Lehman tens of billions of dollars, it said, citing the e-mail.
Once the fourth-largest investment bank, New York-based Lehman filed the biggest bankruptcy in U.S. history, listing $613 billion in debts. It failed because of too much debt, which it tried to hide from investors, and risky real estate bets, according to the Valukas report in March 2010.
Lehman on Jan. 25 filed an amended plan to exit Chapter 11 bankruptcy offering bondholders more money after some creditors didn't support its previous proposals. The defunct investment bank aims to start soliciting votes for the plan after the summer.
Money for Creditors
Lehman plans to raise about $60 billion for creditors by selling assets in the next few years, cutting allowable claims to $322 billion, according to court filings.
That would give the average Lehman creditor 18.6 cents on the dollar, an increase from 14.7 cents from earlier plans outlined in March and April of 2010.
The lawsuit is Pulsar Re Ltd. v. Lehman Brothers Holdings Inc., 11-01283, U.S. Bankruptcy Court, Southern District of New York (Manhattan). Lehman's bankruptcy case is In re Lehman Brothers Holdings Inc., 08-13555, U.S. Bankruptcy Court, Southern District of New York (Manhattan).
Before it's here, it's on the Bloomberg Terminal.
LEARN MORE