Japan's Unemployment Rate Falls to 4.9% From 5.1%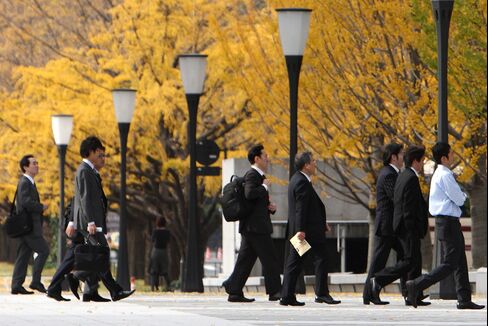 Japan's unemployment rate unexpectedly fell for the first time since September, indicating that the export-driven recovery is benefitting workers at home.
The jobless rate dropped to 4.9 percent from 5.1 percent, the statistics bureau said today in Tokyo. The median forecast of 26 economists surveyed by Bloomberg News was 5.1 percent.
Recent data have pointed to a resumption of growth in Japan as the U.S. and Chinese economies show signs of accelerating. Growing demand will help the job market recover at a faster pace this year, economist Yoshimasa Maruyama said.
"The underlying trend is improving," Maruyama, a senior economist at Itochu Corp. in Tokyo, said before the report. "Excess labor at companies is narrowing, and we're entering the stage where some firms are needing to hire."
Industrial production in November rose for the first time in six months, and export growth in December accelerated. China's economy, Japan's largest trading partner, grew 9.8 percent from a year earlier in the fourth quarter, faster than the 9.6 percent expansion in the previous period.
A separate report today suggested that hiring may pick up in coming months. There were 101 newly advertised jobs in December for every 100 people who started looking for work that month, the highest since November 2008, the Labor Ministry said today. Economists consider the figure a leading indicator of employment. The job-to-applicant ratio remained unchanged at 0.57, meaning there were 57 job openings for every 100 candidates, the Labor Ministry said today.
The number of people with work increased by 190,000 from a month earlier, calculated on a seasonally adjusted basis, according to the statistics bureau.
Before it's here, it's on the Bloomberg Terminal.
LEARN MORE