GM Aims to Triple Vehicle Sales in India by 2013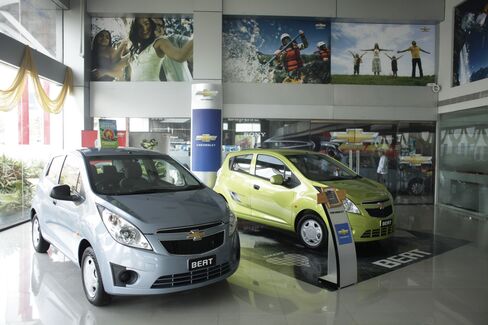 Jan. 27 (Bloomberg) -- General Motors Co.'s India unit aims to almost triple annual sales to 300,000 vehicles by 2013 as the nation's economic growth and rising incomes boost demand.
GM plans to introduce as many as six models, including two commercial vehicles, in India in the next two years, Karl Slym, head of the Detroit-based company's local unit, said at a press conference in New Delhi today. A diesel-powered version of the Beat small car will go on sale in a "few weeks," he said.
The automaker and its Shanghai-based partner SAIC Motor Corp. will start selling models in India this year similar to those already sold in China. GM, which entered the South Asian nation in 1994, aims to boost its 5 percent market share with the new range and challenge Maruti Suzuki India Ltd., the country's largest carmaker.
"The biggest additional segment that we go into is commercial vehicles," Slym said. "In India, 40 percent of the overall sales of the market are in commercial vehicles, and we don't sell in that market. That is a big, huge growth area."
India's domestic car sales rose 29 percent from a year earlier to 148,681 vehicles in December, the Society of Indian Automobile Manufacturers said this month. Total passenger-car shipments jumped 31 percent to 1.87 million last year, according to the group. GM's sales in India rose 59 percent in 2010 to 110,804, according to the company's website.
Total commercial vehicle sales in the nation rose 27 percent last month to 61,880, according to the auto group.
Toyota Motor Corp., Volkswagen AG and Nissan Motor Co. have expanded factories and introduced new vehicles in India, where the government estimates sales may pass 3 million vehicles by 2015. India's economy grew by an average of 8.5 percent annually over the past five years.
To contact the reporters on this story: Subramaniam Sharma in New Delhi at ssharma@bloomberg.net; Siddharth Philip in Mumbai at sphillip3@bloomberg.net
To contact the editor responsible for this story: Neil Denslow at ndenslow@bloomberg.net