Federer Says He Still Can Win After Losing Last Major Title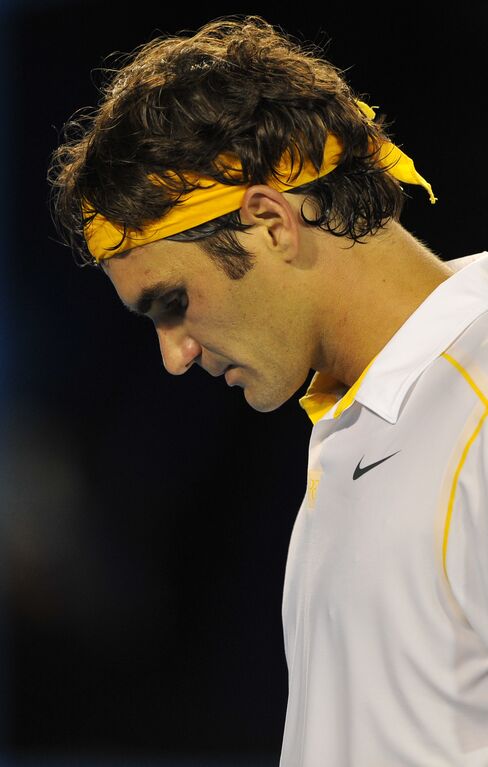 Jan. 28 (Bloomberg) -- Left without a Grand Slam title for the first time in eight years, Roger Federer insists his record-setting time on tennis's center stage isn't over.
Federer lost to Novak Djokovic of Serbia 7-6 (7-3) 7-5, 6-4 yesterday in the semifinals of the Australian Open, ending the defense of his last major championship and 16th of his career.
The last time the Swiss right-hander wasn't holding at least one of the four Grand Slam singles titles was 2003, and at 29 years, 5 months, he was the oldest men's semifinalist in Melbourne. Calling the loss a "bit of a blow," Federer said it wasn't time to declare a new era at the top of the men's game, even with him and top-ranked Rafael Nadal eliminated.
"They say that very quickly," Federer said at a news conference. "Let's talk in six months again."
The tournament hadn't been easy for the defending champion. He needed five sets to beat Gilles Simon of France in the second round and four sets to get by Tommy Robredo of Spain in the fourth. Djokovic had dropped just one set coming into the semifinal, the same spot where he eliminated Federer on the way to winning the event in 2008.
This time, Djokovic dictated play from the baseline, winning big points and breaking Federer's serve five times. He'll play for the title on Jan. 30 against the winner of today's semifinal between Britain's Andy Murray and Spain's David Ferrer, who beat Nadal in the quarterfinals.
New Faces
It will be the first Grand Slam final without Nadal or Federer since Djokovic beat France's Jo-Wilfried Tsonga three years ago in Melbourne.
Djokovic is now the favorite for the title, at 4-6 at U.K. bookmakers Ladbrokes.com, meaning a successful $6 bet brings in $4 and the original stake. Murray is 11-8 to win, while Ferrer is 12-1.
Federer had been aiming for his fifth Australian Open title, which would have left him one behind the record held by Australia's Roy Emerson. He hasn't reached a Grand Slam final since beating Murray a year ago, but said he remains positive about his game.
"I had a great season last year, and I think I'll have another one this year," said Federer, who beat Nadal for the title in the season-ending ATP World Tour finals in London in November. "I'm playing well. I just ran into a player who was a bit better than me."
Djokovic, the No. 3 seed, said neither Federer nor Nadal are finished.
"Roger is still very much motivated to reclaim the first spot in the rankings," he said. "He's playing great. Tonight I played maybe a better match, but he's still up there and in extraordinary form. You have Nadal on the other hand who has been a very, very dominant player. We are still behind them. You can't say there is a new era coming up. There are more players. More players that are able to win majors, which is good."
To contact the reporter on this story: Danielle Rossingh in London at drossingh@bloomberg.net.
To contact the editor responsible for this story: Christopher Elser at celser@bloomberg.net