Emanuel Bid to Succeed Daley Buoyed by Court Ruling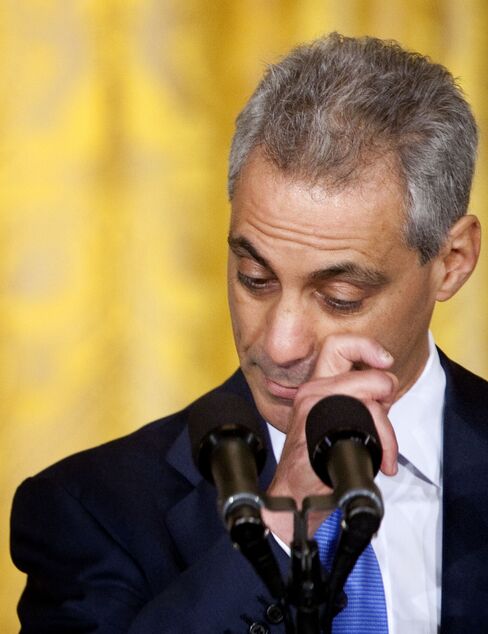 Rahm Emanuel's victory in the Illinois Supreme Court, allowing the frontrunner to stay on the Feb. 22 ballot to replace Richard M. Daley as mayor of Chicago, returned the election race to a focus on issues and money.
Emanuel, U.S. President Barack Obama's former chief of staff, satisfies candidate-residency requirements, the court unanimously ruled yesterday, four days before early voting begins in the third-largest U.S. city. The panel reversed a lower court that excluded the former Chicago congressman, who had a 23-percentage-point lead in the latest poll.
Less than a day after the ruling, Emanuel's campaign released the text of a new radio ad that features Obama's voice, captured during a White House sendoff.
"There was no candidate for the job of chief of staff who would meet the bill as well as Rahm Emanuel," Obama says in the ad. "He was not allowed to say no."
The president, a Chicagoan himself, goes on to call Emanuel's service in Washington a "great sacrifice" for him and his family.
"He has been a great friend of mine," Obama says. "He has been a selfless public servant, he has been an outstanding chief of staff."
The ad comes as the candidates have begun to focus again on the issues, rather than Emanuel's residency.
'Residency Drama'
"Emanuel's residency drama has made this election into a circus instead of a serious debate about the future of Chicago," said Gery Chico, 54, a former Daley chief of staff and one of Emanuel's rivals. "With less than 30 days to go until Election Day, there is no time to waste. Game on."
The supreme court said that "not only did the candidate testify that his intent was not to abandon his Chicago residence, his acts fully support and confirm that intent." The four top candidates -- including former U.S. Senator Carol Moseley Braun and City Clerk Miguel del Valle -- participated in a televised debate two hours after the Supreme Court opinion.
"I'm talking about the issues that affect real Chicagoans, and the ruling today doesn't affect that one way or another," Braun said during the debate.
Property Tax
Braun, who has admitted being late in paying her property taxes, turned that criticism on Emanuel. He acknowledged that he was two months late paying taxes on his north side home during his first year as Obama's top aide.
Emanuel and his rivals are bidding to succeed Daley, a six-term incumbent who announced in September that he is retiring. He leaves a city with a $6.15 billion budget and a $654 million deficit that was closed in November by spending most of the $1.15 billion it got from leasing the city's 36,000 parking meters.
Standard & Poor's on Nov. 5 downgraded Chicago's credit rating to A+, the fifth-highest investment grade, partly reflecting concern over the city's "heavy reliance on nonrecurring revenues to bridge its 2011 budget gap."
Emanuel stepped down from his White House post in October to return to the city he served as a U.S. representative from 2003 to 2009. Obama replaced him with William Daley, a brother of Chicago's mayor.
"Ultimately, this decision of who should be the next mayor is for the voters to decide," Emanuel, 51, said during a campaign stop shortly after the ruling was announced. "No one will make it for them."
Call From Obama
He was in a car on the way to the campaign stop at a downtown Chicago elevated train station when he heard the news.
"I immediately called my wife," Emanuel said. "I also called my parents, and I took a call from the president of the United States."
Emanuel joked that he had banned the word "resident" from family Scrabble games.
Langdon Neal, chairman of the Chicago Board of Election Commissioners, said that more than half of the 2 million ballots needed for the election have been printed with Emanuel's name on them.
"It's good to have certainty in the citywide contests," Neal said in a statement.
A lawsuit filed by an attorney and a 30-year veteran of the city's police force challenged Emanuel's candidacy, arguing that he hadn't met a requirement that he reside in the city for one year before the election.
Police Officer Suit
Burton Odelson, the lawyer who sued on behalf of attorney Walter Maksym and retired police officer Thomas McMahon, couldn't be reached for comment.
"We respect the supreme court decision," said Matthew Welch, another attorney at the Odelson & Sterk law firm in the Chicago suburb of Evergreen Park.
"The supreme court has spoken," and the case is over, Welch said. "This was purely a state law issue. There's no reason to take this into federal court."
The lower court decision had upended the race to lead the city by disqualifying Emanuel. Backed by Obama and another former boss, U.S. President Bill Clinton, Emanuel was approaching the majority of support he would need to avoid an April 5 runoff after next month's first round. He had the support of 44 percent of those surveyed, according to a WGN-TV/Chicago Tribune poll released Jan. 20.
Poll Standings
Braun had 21 percent support and Chico 16 percent, with del Valle at 7 percent and 9 percent undecided. The poll of 708 likely registered voters had a margin of error of plus or minus 3.7 percentage points.
Emanuel raised $10.6 million for his campaign through Jan. 19, disclosure records show. The total was almost four times as much as his closest opponent in fundraising, Chico, who brought in $2.8 million.
If no candidate wins more than 50 percent of the vote next month, the top two vote-getters compete in the April runoff. Chicago's mayor is elected by popular vote from candidates who aren't selected to represent a political party.
The state supreme court ruling yesterday rebuked the lower court's majority opinion.
"What it means to be a resident for election purposes was clearly established long ago, and Illinois law has been consistent on the matter since at least the 19th century," the court said in its ruling. "The novel standard adopted by the appellate court majority is without any foundation in Illinois law."
Less Clear
Yet a legal expert who helped write the most recent version of the law said the statutory issue of residency was less clear.
Ann Lousin, a professor at John Marshall Law School in Chicago who worked for four years as an aide to former Illinois House Speaker W. Robert Blair, helped revise the state's election law in 1974. At the time, she and her colleagues struggled to come up with a definition for what it means to reside somewhere, she said.
"We never found one," Lousin said, adding that the drafters resorted to saying it depended on intent. "I wish we could have done better."
In a concurring opinion, Justices Charles Freeman and Anne Burke reflected that same frustration. They criticized the tone of the majority opinion as "unfortunate."
"This court has not always spoken clearly on what is meant by residency," wrote the two justices, who agreed only with the majority's conclusion, not their reasoning. "This is why both sides in this dispute can contend that their respective positions are supported by decades of precedent."
"The meaning of the term 'residency' has puzzled attorneys and judges since the term first appeared in the statute books," they said.
The case is Maksym v. Board of Election Commissioners of the City of Chicago, 111773, Illinois Supreme Court.