DLA Piper Forms World's Largest Law Firm With Australian Merger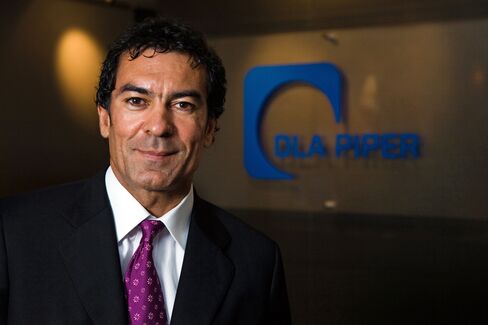 DLA Piper said it will merge with its Australian partner DLA Phillips Fox, adding about 600 lawyers to create the world's largest law firm with more than 4,000 attorneys.
"The Asia Pacific region is expected to continue to be dominant," in global takeovers this year, Alastair Da Costa, Chicago-based DLA Piper's Asia Pacific managing director, said in an interview. The merger is subject to partnership votes and is targeted to take effect May 1.
Mergers and acquisitions in Australia more than doubled to $108.5 billion last year including Arrow Energy Ltd.'s takeover by Royal Dutch Shell Plc and PetroChina Co. and an $8.4 billion offer from Singapore Exchange Ltd. for Australia's ASX Ltd. Australian and international law firms are tying up to compete for that business and to serve the Asia-Pacific region.
"M&A is the big driver," in luring foreign firms to Australia, said Robert Milliner, chief executive partner at Sydney-based Mallesons Stephen Jaques. Mallesons was the top-ranked legal adviser on Australian mergers and had considered a tie-up with London's Clifford Chance LLP before the 2008 global recession scuttled the plans.
The two firms aren't in discussions, Milliner said in an interview, adding that Mallesons always assesses opportunities.
G20 Strategy
Sydney-based Phillips Fox formed an exclusive alliance with DLA Piper in 2006 and its integration is part of the law firm's strategy to expand in the Group of 20 countries, DLA Piper's Chairman Frank Burch and Co-Chief Executive Nigel Knowles said in a statement.
DLA Piper advised on $3.5 billion worth of takeovers in Australia last year, almost a 12-fold increase from $305 million in 2009, according to Bloomberg data.
"Corporate Australia is looking much more internationally," Tony Holland, DLA Phillips Fox's chief executive officer, said in a phone interview. A strengthened Australian dollar, which has risen 12 percent against the U.S. dollar in the past year, has made foreign acquisitions for Australian companies more attractive, he said.
DLA Piper's merger takes it past Chicago-based Baker & McKenzie LLP, which has operated in Australia since 1964, as the world's largest by number of lawyers.
Allen & Overy
Washington-based Jones Day opened a Sydney practice in 1998 and Allen & Overy LLP, one of London's five highest-grossing law firms, poached 14 partners from Australia's second-ranked legal adviser on mergers, Clayton Utz, to open offices in Sydney and Perth last year.
Norton Rose LLP, based in London, also formed an alliance last year with Deacons Australia. The firms said at the time the combination allowed them to provide better client service in Asia. Their tie-up doesn't include full financial integration, as DLA Piper's does.
The DLA Phillips Fox integration is with DLA Piper's international unit. DLA Piper runs its U.S. and international units separately, although it brands itself under one name, DLA Piper. Integration allows partners in Australia to share in the international profits, and will allow DLA Piper to better compete against other firms for talent, Da Costa said.
Australian-trained lawyers, fluent in languages other than English used in Asia, will also help DLA Piper as it looks to expand into South Korea later this year and possibly Indonesia, Da Costa said.
Europe, U.S. Shrink
"Australia has become a more important part of the global economy, drawing increasing interest from banks and resources companies," said Wim Dejonghe, Allen & Overy's global managing partner. While revenue and profits for law firms are shrinking in Europe and the U.S., the firm's 80 lawyers in Australia are working "flat out," he said.
Allen & Overy advised KKR & Co. on its bid for Healthscope Ltd. The firm also advised Australia and New Zealand Banking Group Ltd. and Bank of Tokyo-Mitsubishi UFJ Ltd., who arranged a $1.1 billion syndicated loan to Woodside Petroleum Ltd.
Australia produces a fifth of the world's iron ore and 6 percent of the world's supply of gold, and the state of Queensland produces half of the global seaborne supply of coking coal used in steelmaking.
The resource boom in Australia is being fueled by growth in China, India and other expanding Asian economies.
BHP Billiton
"The big mining companies aren't just mining in Australia," Holland said. Australian-based companies including BHP Billiton Ltd. operate overseas and require international legal advice as they seek new resources in Latin America and Africa, he said.
Australia's legal market has been historically dominated by the so-called big six law firms, which include Freehills and Allens Arthur Robinson, each with about 1,000 lawyers, and Mallesons with about 800 attorneys, although the country has about 11,000 legal practices. Slater & Gordon Ltd., an Australian class action firm, in 2007 became the first law firm to sell shares to the public.
As more international firms enter the Australian market, challenging the domestic practices for corporate business and offering integrated services abroad, firms like Mallesons and Freehills will need to change to compete by expanding internationally or tying up with foreign firms, Grant Fuzi, managing partner at Allen & Overy in Australia, said in an interview.
There will be "violent change to the size and shape of the big firms," Fuzi said.
Before it's here, it's on the Bloomberg Terminal.
LEARN MORE