Continental, Banks Said to Discuss $7.2 Billion Loans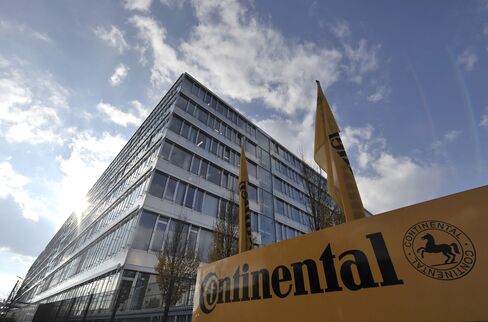 Continental AG, Europe's second-biggest tiremaker, has begun negotiations with lenders to refinance 5.3 billion euros ($7.2 billion) in loans coming due next year, three people with knowledge of the discussions said.
The talks are at an exploratory stage and the company hasn't decided on terms of the refinancing which may lead to the extension of loan maturities or a reduction in borrowing costs, said two of the people, who asked not to be identified because the negotiations are confidential.
Continental may obtain cheaper loan terms because of its improved operating business and because of a higher availability of credit in the market, one person said. The Hanover, Germany-based supplier, which trails only Robert Bosch GmbH by revenue, boosted 2010 sales about 27 percent to more than 25.5 billion euros, powered by growth in emerging economies such as China, Brazil and a rebounding U.S. market.
"A bank loan refinancing to extend Conti's debt maturity profile and lower interest expense is credit positive," Sven Kreitmair, a credit analyst at UniCredit SpA in Munich, wrote in a note to clients today. He maintained a "buy" recommendation on the company's bonds.
Antje Lewe, a Continental spokesman, declined to comment on the company's refinancing plans.
Debt Ratings
Standard & Poor's rates Continental's debt B, or five steps below investment grade. Moody's Investors Service ranks it one notch higher at B1. The outlook is stable at both credit-rating services. Continental said as recently as in November that it wants to return to investment grade by 2012.
Prices of Continental's loans maturing in August 2012 rose 13 basis points to a mid-price of 99.63 percent of face value today, from 99.5 percent yesterday, according to prices from WestLB AG.
Credit-default swaps on Continental were little changed at 261 basis points today, compared with 309 basis points at the beginning of the year, according to data provider CMA. A basis point on a contract protecting 10 million euros of debt for five years is equivalent to 1,000 euros a year.
The company has said it's pursuing a merger with its dominant shareholder, Herzogenaurach, Germany-based Schaeffler Group, in the medium term. Schaeffler, the world's second-biggest maker of roller bearings, is focusing on reducing more than 10 billion euros in debt accumulated from acquiring shares in Continental in 2008. It owns 75.1 percent of the stock.
Banks increased the amount they lent to non-investment grade companies in Europe by 11 percent in 2010 to $109 billion, according to Bloomberg data.
Term Loan
Continental's loans stem from the 2007 acquisition of Siemens AG's VDO unit for 11.4 billion euros, which lifted the manufacturer to become the second-biggest maker of auto parts in Europe after Stuttgart, Germany-based Bosch.
Continental sold 1.1 billion euros in new shares last year, followed by a total of 3 billion euros in high-yield bonds. That helped lower the amount needing to be refinanced in August 2012 to 5.3 billion euros, Chief Financial Officer Wolfgang Schaefer said in November.
One part of the credit coming due is a 4.06 billion-euro term loan. The other is a forward-start credit line of 2.5 billion euros signed in December 2009. Continental agreed to pay interest of between 475 basis points and 500 basis points more than benchmark lending rates for the loans, data compiled by Bloomberg show.
Arrangers
Citigroup Inc., Goldman Sachs Group Inc., Barclays Capital, BNP Paribas SA, Credit Agricole CIB, Commerzbank AG and Deutsche Bank AG are among arrangers of Continental's loans, according to Bloomberg data. Commerzbank is also among the creditors of Schaeffler.
Total net debt has declined to a range of 7.6 billion euros to 7.7 billion euros as of Dec. 31, Chief Executive Officer Elmar Degenhart said in a Jan. 11 interview. The company aims in 2011 to keep up last year's pace of debt reduction, when about 1.3 billion euros were repaid, he said, adding that no more bond issues are planned.
Pirelli & C. SpA, Europe's third-largest tiremaker, on Nov. 30 replaced an older credit line with a revolving five-year facility of 1.2 billion euros. Faurecia SA, Europe's biggest maker of car interiors, has a total of 1.6 billion euros of loans expiring through 2013, according to its 2010 first-half financial report.
Continental lost 1.08 euros, or 1.8 percent, to 58.65 euros at the close of trading, while the HDAX index of 110 Frankfurt-traded companies fell 0.7 percent. The shares have gained 49 percent in the past 12 months.