China Boosts Home Down Payments, Seeks Price Targets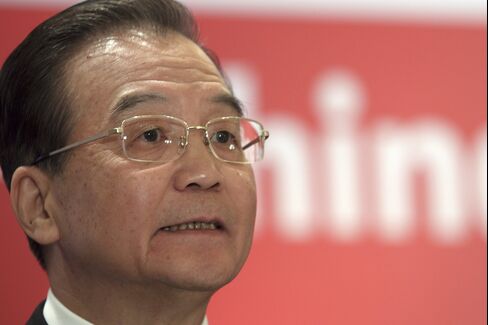 Jan. 27 (Bloomberg) -- China increased the minimum down payment for second-home purchases and told local governments to set price targets on new properties, stepping up efforts to cool the markets and driving shares of developers lower.
The down-payment ratio will rise to 60 percent from 50 percent, the State Council said in a statement on its website yesterday. The cabinet asked local governments to boost land supply and said they should set price targets for newly built houses based on regional economic growth and disposable incomes.
Property stocks slumped as much as 4.6 percent in Shanghai on concern the government's efforts to prevent an asset bubble in the world's fastest-growing major economy will hurt sales. Property prices rose for a 19th month in December, even after the government imposed loan restrictions and raised interest rates for the first time in three years.
"This set of measures are stronger than the measures in the past 12 months, and reflect the strong determination of the government to stabilize property prices in China," Deutsche Bank AG analysts led by Tony Tsang said in a report late yesterday. "We expect to see continued credit tightening and further interest rate and reserve-ratio requirement hikes."
An index of Chinese property stocks on the benchmark Shanghai equity index fell 1.2 percent at the 3 p.m. local time close of trading. The gauge was the worst performer among five industry groups last year, declining 28 percent. China Vanke Co., the nation's biggest developer by market value, lost 2.5 percent in Shenzhen trading. Gemdale Corp. declined 3.5 percent and Poly Real Estate Group Co. tumbled 4.3 percent.
Negative Concerns
"The fresh round of measures is harsh, and will create lingering negative concerns on the sector," Kasemsak Charoensiddhi, credit sector specialist at Citigroup Inc., said in a note today. "We still don't think this will result in a sharp pullback in property prices especially with the inflation concern, but we do think that it will be difficult for property prices to go up this year."
Local governments have been asked to publicize pricing control targets for newly built houses in the first quarter, a measure Credit Suisse Group AG analysts led by Jinsong Du said was "the most negative."
"This means that either high-end projects will slash their prices or the local governments will ban their sales to bring down the average selling price," the report published today said. Credit Suisse maintained its "underweight" rating for China's property industry and said the tightening of loans for developers and homebuyers will drive transactions lower in 2011.
Curbing Speculation
Land for affordable housing, reconstruction of shantytowns, and medium and small commercial houses should be no less than 70 percent of the regional government's total supply, the government said in the statement.
Regional governments should "strictly" formulate property purchase policies and local residents with two homes will be banned from further purchases, the statement said. Residents from outside the region with one home already will not be permitted to make further purchases and won't be able to buy any homes if they fail to present proof of personal income tax payments made in the area.
The government also set interest rates for second-home mortgages at no less than 110 percent of benchmark rates, and said people selling homes within five years of purchase will be charged full transaction taxes, according to yesterday's statement, which cited a meeting chaired by Premier Wen Jiabao.
"China will continue to effectively curb investment and speculative purchases of houses to consolidate and expand on previous measures," according to the statement.
Overhang Removed
The government last year raised down payments for second homes, suspended mortgages for third-home purchases and restricted loans to developers. Some cities, including Beijing, limited the number of homes local residents can buy. In October, the central bank increased interest rates for the first time in three years and raised borrowing costs again on Dec. 25.
Premier Wen said on Jan. 18 that the government will "resolutely" implement controls on the real-estate market in the first quarter, including curbing speculation and increasing supplies of affordable housing.
Investors should buy shares of Chinese developers "on dips" as the impact of additional government measures to curb the property industry will be "short-lived," Goldman Sachs Group Inc. said.
"With this policy announcement, we think the near-term policy overhang is largely removed," analysts led by Yi Wang said in a report.
Attracting Investments
China reported the most real estate investment in the world for a second straight year in 2010 as purchases of development sites helped lift global commercial property sales by 43 percent, New York-based Real Capital Analytics Inc. said in a statement yesterday. Property developers tapped 79.6 billion yuan ($12 billion) of foreign capital last year, a surge of 66 percent from 2009, according to the National Bureau of Statistics.
Chinese banks and other lenders extended 2 trillion yuan of credit to real estate last year, including 591 billion yuan to developers and the rest as home loans, the Shanghai Daily said, citing a statement on the central bank's website.
Home prices in Shanghai jumped 26 percent in 2010, according to SouFun Holdings Ltd., the country's biggest real estate website owner. Prices in 70 cities rose 6.4 percent in December from a year earlier, the smallest in 13 months.
'Biggest Danger'
Rising real estate prices are the "biggest danger" to the Chinese economy, Li Daokui, an adviser to China's central bank, said in an interview with Bloomberg News in Davos, Switzerland. Global investors are bracing for the end of China's relentless economic growth, with 45 percent saying they expect a financial crisis there within five years and a further 40 percent anticipating a Chinese crisis after 2016, according to a quarterly poll of 1,000 Bloomberg customers who are investors, traders or analysts.
China is expected to introduce a 0.8 percent real estate levy, which will have a limited impact on the market, according to a Nomura Holdings Inc. Jan. 10 report. The tax will probably be introduced in Shanghai and Chongqing, and rolled out to other so-called overheated cities such as Beijing, Shenzhen and Hangzhou, Nomura analysts led by Alvin Wong said in the report.
To contact Bloomberg News staff on this story: Yidi Zhao in Beijing at yzhao7@bloomberg.net;
To contact the editor responsible for this story: Peter Hirschberg in Hong Kong at phirschberg@bloomberg.net