BSkyB First-Half Operating Profit Climbs on Broadband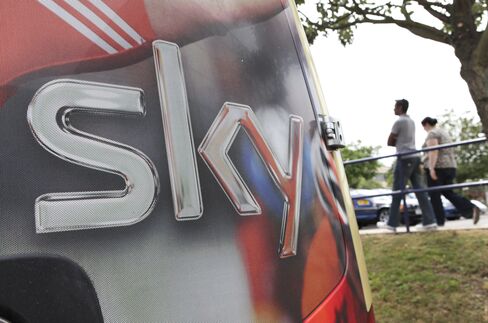 British Sky Broadcasting Group Plc, which rejected News Corp.'s bid for full ownership in June, said fiscal first-half operating profit rose 26 percent on more broadband clients, beating analysts' estimates.
Earnings before interest, taxes and exceptional items increased to 520 million pounds ($828 million) in the six months to Dec. 31 from 414 million pounds a year earlier, the Isleworth, England-based company said in a statement today. That beat the 486 million-pound average estimate of analysts surveyed by Bloomberg. Sales rose 15 percent to 3.19 billion pounds.
"The benefits of those investments in high-definition and broadband are coming through," said Paul Richards, an analyst at Numis Securities in London. The company will continue to benefit as spending on new clients declines, he said.
The U.K.'s biggest pay-television operator hit a target of 10 million subscribers last year. The growth in clients has prompted Rupert Murdoch's News Corp. to make a 7.8 billion-pound bid for the rest of the company as it seeks access to the broadcaster's increasing cash flows. BSkyB spurned the 700 pence a share bid and said it wanted at least 800 pence.
BSkyB added 140,000 net new subscribers in the second quarter, taking it to a total of 10.1 million. Analysts had predicted net additions of 153,000, according to estimates supplied by the company. BSkyB has sought to attract customers to its high-definition services after cutting installation prices for set-top boxes.
The stock rose 0.9 percent to 764 pence as of 8:37 a.m. in London trading.
Last Chance
News Corp. was this week given a last chance to offer remedies to avoid a U.K. Competition Commission review of its proposed purchase. Culture Secretary Jeremy Hunt said Jan. 25 he intends to refer the deal to the commission, though he is still considering undertakings by News Corp. that may alleviate his concerns.
Murdoch's News Corp. may be willing to consider the separation of its Sky News 24-hour channel as a way to get government approval, a person familiar with the matter said this month.
Sky News "is an important part of what we've done," Chief Executive Officer Jeremy Darroch said today on a conference call. "For now there's no change on what we're doing as a business."
A decision by Hunt to seek a Competition Commission review would delay efforts by Murdoch to take over the 61 percent of BSkyB that News Corp. doesn't already own.
Opposition
Murdoch's plans have been opposed by a group of U.K. media companies, including owners of the Guardian, Daily Mail and Telegraph newspapers, which say the takeover would have "serious and far-reaching consequences for media plurality."
BSkyB also agreed to acquire Wi-Fi operator The Cloud Networks Ltd. for less than 50 million pounds, Chief Financial Officer Andrew Griffith said today. The company will offer wireless services together with its Sky Anywhere product, he said.
Before it's here, it's on the Bloomberg Terminal.
LEARN MORE