Bristol-Myers Profit, 2011 Forecast Miss Estimates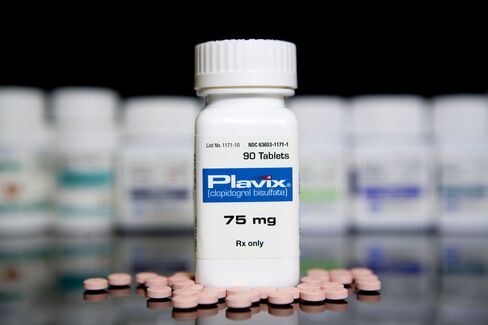 Bristol-Myers Squibb Co., whose top-selling blood thinner Plavix faces generic competition next year, said fourth-quarter profit decreased 41 percent, missing analyst estimates after higher-than-expected taxes.
Income from continuing operations fell to $483 million, or 28 cents a share, from $818 million, or 41 cents a share, a year earlier, New York-based Bristol-Myers said today in a statement. Excluding one-time items, profit was 47 cents a share, missing by 1 cent the average estimate of 15 analysts surveyed by Bloomberg.
Bristol-Myers is eliminating jobs and divesting nondrug businesses as it prepares for generic competition to Plavix. The company is awaiting approval decisions by U.S. regulators for six experimental drugs, led by apixaban blood thinner and its ipilimumab treatment for melanoma.
"The tax rate came in higher than forecast," said Tim Anderson, a Sanford C. Bernstein & Co. analyst in New York, in a note to clients. Still, "2011 is likely to be a busy year for Bristol-Myers in terms of meaningful news flow and potential new product approvals, and Bristol-Myers remains the best pipeline story among the U.S. and European pharmaceutical companies we cover."
Sales Top Estimates
Fourth-quarter sales increased 1.5 percent to $5.11 billion, topping analyst estimates of $5.03 billion. U.S. sales increased 5 percent to $3.3 billion. International sales fell 5 percent on unfavorable exchange rates for medicines sold outside the U.S. and on European austerity measures to decrease drug spending, the company reported.
Bristol-Myers rose 42 cents, or 1.6 percent, to $26.35 at 4 p.m. in New York Stock Exchange Composite trading. It was the biggest gain in four months. The stock has climbed 8.4 percent in the past year.
The company forecast 2011 profit excluding one-time items of $2.10 to $2.20 a share, falling short of the $2.24 estimate of 18 analysts surveyed by Bloomberg. Bristol-Myers said it will face a $250 million non-deductable tax and $250 million in additional costs next year from the health-care overhaul, reducing earnings by 15 cents a share.
"Bristol-Myers has the highest exposure to both U.S. health-care reform and E.U. pricing pressures," said Tony Butler, an analyst at Barclays Capital in New York. "This exposure is expected to decrease dramatically in 2012 with the reduction of Plavix contribution to the top line."
2013 Forecast
Bristol-Myers reaffirmed its forecast for 2013 of profit of $1.95 a share. Some investors had questioned whether the guidance would be lowered, according to Bernstein's Anderson.
The company said it took a $207 million tax charge in the fourth quarter to consolidate some overseas legal entities. The tax rate increased as sales shifted to countries with higher levies, including the U.S., Bristol-Myers said. Excluding certain one-time taxes, the company reported a rate of about 26 percent, higher than the 24 percent rate estimated by Anderson.
Last year's continuing-operations income excludes $7.2 billion in profit from the Mead Johnson infant-nutrition business that was split off last year by Bristol-Myers. Profit in 2009 benefited from $288 million from the sale of product lines in Indonesia and Australia, said Jennifer Mauer, a company spokeswoman, in a telephone interview. Bristol-Myers has been selling non-pharmaceutical businesses, including medical imaging, wound care and infant-nutrition. The company has used proceeds to buy back shares and make acquisitions and to focus its research on biotechnology.
The company aims to trim more than $2.5 billion in expenses by 2012 and has eliminated 15,000 jobs, or 35 percent of its workforce, since 2007 through firings and business divestitures.
Plavix Revenue
Revenue from Plavix, the world's second-biggest-selling medicine, rose 6 percent to $1.7 billion. Plavix is co-marketed with Paris-based Sanofi-Aventis SA. The drug faces generic competition in the U.S. in May 2012. New York-based Pfizer Inc.'s Lipitor is the world's top-selling drug.
Marketing, sales and administrative expenses decreased 15 percent for the quarter to $1 billion, Bristol-Myers said. Advertising and product promotions decreased 19 percent to $271 million. Research and development expenses decreased 9 percent to $1 billion.
Sales of Abilify, a mood stabilizer, were unchanged at $707 million. Bristol-Myers has said the U.S. health-law changes will hurt sales of that drug because Medicaid, the federal and state health program for low-income people, is cutting rebates.
Sales of the Avapro and Avalide medicines for blood pressure fell 26 percent to $252 million. Most of the supply for Avalide was recalled in the past four months while the company corrects a manufacturing glitch that may reduce the drug's effectiveness. The sales fall short of the $322 million average estimate of three analysts surveyed by Bloomberg.
Before it's here, it's on the Bloomberg Terminal.
LEARN MORE