Belgian Rating Downgrade May Loom as Deadlock Deepens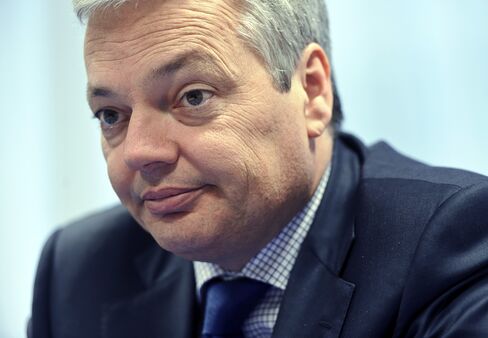 Belgium faces the prospect of a credit-rating cut after the collapse of the latest attempt to jump-start coalition talks 228 days after national elections.
King Albert II is starting consultations will political party leaders today after his mediator abandoned the effort to bring the squabbling parties back to the negotiating table. The king will meet with the leaders of the Liberal parties from both sides of the linguistic divide, Belga news agency reported, without saying where it got the information. The liberals haven't been invited to the royal palace since June following an electoral defeat.
"The situation now is rather serious for the country," caretaker Finance Minister Didier Reynders, who heads the French-speaking Liberal MR party, said on RTL-TVi television last night. "We have to stop going around in circles."
Belgium risks losing its AA+ credit rating, the second-highest investment grade, should its political leaders fail to form a government "soon," Standard & Poor's Ratings Services said last month. The nation may face a surge in borrowing costs to finance the third-highest debt load in the euro region as investors question its ability to keep its public finances from spiraling out of control.
Belgian bonds pared earlier declines and the yield on the 10-year security due September 2021 increased 4 basis points to 4.32 percent at 3:09 p.m. in London. The extra yield investors demand to hold Belgian 10-year bonds instead of German equivalents, Europe's benchmark, widened 2 basis points to 112 points after reaching 117 earlier today. The so-called spread has expanded from 79 basis points before the June 13 election.
Political Stalemate
Japan, the world's most indebted nation, had its rating cut today by S&P to AA-, the fourth-highest level. The government lacks a "coherent strategy" to address its debt, the rating company said.
Belgium's political stalemate puts additional pressure on Prime Minister Yves Leterme's caretaker government to enact deficit reductions to appease investors concerned about the ripple effects of Europe's sovereign debt crisis.
In the absence of a full-time government, the king on Jan. 10 ordered Leterme to craft a 2011 budget that cuts the deficit to less than the target of 4.1 percent of gross domestic product from 4.6 percent last year. The country needs to trim its budget shortfall to less than 3 percent of GDP in 2012, as agreed with the European Commission.
Budget Discipline
"Belgium needs a stricter budget policy" to cushion against the impact of an aging population, National Bank of Belgium Governor Guy Quaden told lawmakers in parliament yesterday. "Without a stricter budget policy, the burden on the younger people will become extremely heavy."
The political standoff pits Bart De Wever's Flemish nationalist N-VA party, which hasn't ruled out a breakup of the country that hosts the European Union and North Atlantic Treaty Organization headquarters, against French-speaking parties that have resisted the transfer of more powers to the richer northern Dutch-speaking region of Flanders.
De Wever, 40, and Elio Di Rupo, 59, the leader of the French-speaking Socialist Party that emerged as the top vote-getter in the southern region of Wallonia, have so far sought a coalition with an overall two-thirds majority and a majority among both linguistic groups that's needed for an overhaul of the nation's constitution. Flanders has progressively gained more authority in five constitutional revamps over four decades.
'Terrible' Problems
"I worry about Belgium," Jonathan Lemco, a sovereign credit analyst at Vanguard Group Inc., which oversees about $1.4 trillion, said at the Bloomberg European Debt Briefing conference in New York this week. "Terrible political problems, a caretaker government right now, unable to reconcile its issues; it's just getting worse."
Belgium plans to sell 34 billion euros ($46.6 billion) of bonds this year to fund its budget deficit and refinance about 20 billion euros of securities coming due, according to data from the debt agency. The figure excludes securities the treasury bought back using proceeds from debt sales last year.
It raised 3 billion euros so far from a sale of 10-year bonds through banks earlier this month. In addition, the country needs to roll over about 38 billion euros of treasury bills due this year, according to data compiled by Bloomberg.