BB&T's King Hunts Takeover Targets in Texas, Midwest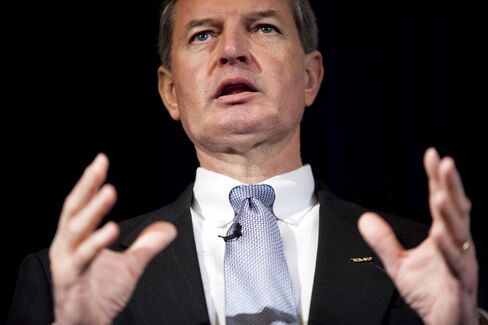 BB&T Corp., the North Carolina lender that took over 22 banks in 10 years, is hunting for more acquisitions in Texas and the Midwest, Chief Executive Officer Kelly King said.
"If I want to have a diversified bank, which I do, then I need to have a diversified marketplace," King, 62, said in an interview last week. "Mergers are going to be an important part of our growth strategy going forward. We expect to be aggressive."
Having a foothold in markets such as West Virginia and Kentucky helped BB&T stay afloat when housing markets slumped in Florida and Atlanta, King said. BB&T, based in Winston-Salem, reported a 12 percent increase in quarterly net income last week and stayed profitable through the financial crisis.
Banking analysts have been predicting a wave of consolidation among small and medium-sized banks amid slack demand for loans and rising costs from new regulations. King said he's interested in high-growth markets as well as more slowly developing areas, where the "pace of life" breeds customer loyalty.
"We very much would like to have a good partner in Texas, particularly one that would give a larger branching network and better retail presence in the market," King said.
Existing Footprint
BB&T already has 31,000 employees at 1,800 offices in regions that include North and South Carolina, Virginia, Georgia, Texas, Tennessee, Maryland, Indiana and Washington, D.C., according to the bank's website.
The 22 previous takeovers included Federal Deposit Insurance Corp.-assisted purchases of Montgomery, Alabama-based Colonial Bank in 2009 and Haven Trust Bank in Duluth, Georgia, in 2008, according to the bank. That helped build deposits to $107.2 billion and assets to $157 billion by year-end, ranking BB&T ninth in both categories among U.S. commercial banks.
The stock rose 43 cents, or 1.6 percent, to $27.79 as of 4:03 p.m. in New York Stock Exchange composite trading. Before today, the shares traded at about 1.9 times tangible book value, compared with a ratio of 1.78 for the 24-company KBW Bank Index, according to Melissa Roberts, a quantitative research analyst at New York-based investment bank KBW Inc.
BB&T has the best profit and capital levels of any large bank in the South, according to Chris Gamaitoni, vice president of research at Compass Point Research & Trading LLC.
'Pretty Vocal'
"They've been pretty vocal about wanting to acquire, and they're in a good position to do it," Gamaitoni said in an interview. The Texas economy is stable or improving, "and Texas credit has some more stability around it," Gamaitoni said. He rates the shares "buy."
BB&T is positioned to be an acquirer, not a target, according to Marty Mosby, a Memphis, Tennessee-based analyst for Guggenheim Securities LLC who rates the stock "neutral."
"They are one of the consolidators," Mosby said in an interview. "They have capital, they're a strong franchise, the management team is generally respected in the marketplace."
King joined BB&T's management development program in 1972. He served as the bank's chief operating officer from 2004 to 2008 and became CEO on Jan. 1, 2009. He holds a Bachelor of Science in business administration and MBA from East Carolina University, according to BB&T's website, and is a director of the Federal Reserve Bank of Richmond.
BB&T's shares have gained 1.2 percent since King took over through Jan. 27, trailing the 20 percent advance in the KBW Bank Index. This year, the shares have risen 5.7 percent, the fourth-best performance in the 24-company index behind Capital One Financial Corp., JPMorgan Chase & Co. and Huntington Bancshares Inc.
Buy, Sell, Hold
Among analysts who follow BB&T, five have "sell" ratings on the stock, 24 say "hold" and 12 recommend "buy," according to data compiled by Bloomberg. The skepticism has arisen from concern that BB&T may not be able to catch up to peers in terms of asset quality, Mosby said.
"Their products and their geographic mix pushed them to realize those losses late cycle," he said. "As you came into the fourth quarter, the worry was about how asset quality was going to do and are they going to be able to turn the corner, because everyone else is making progress."
King said an expanding economy will make mergers and acquisitions more likely. The real estate market is swinging back to normal in certain areas, such as Atlanta, Washington and the Gulf Coast of Florida, he said.
"If you look at the aggregate Southeast, parts of it are beginning to come back," he said.
Dividend Outlook
Cash and near-cash items totaled $1.4 billion in the fourth quarter, the lowest level since the first three months of 2001. The lender slashed its dividend from 47 cents to 15 cents in 2009 as the worst financial crisis since the Great Depression squeezed earnings and balance sheets at U.S. lenders.
Though the bank may consider increasing the dividend, investors should not expect BB&T to have a "huge payout increase," King said during a conference call following the release of quarterly results.
Earnings growth may be hurt because of the Dodd-Frank financial regulatory overhaul, especially the part that regulates debit-card transaction fees, King said. The Durbin Amendment, which caps interchange or "swipe" fees at 7 cents to 12 cents each, is "negative for everybody," King said. The Fed's proposed limits may reduce annual revenue for U.S banks by more than $12 billion. King has declined to quantify the impact on BB&T.
"Singling out one part of a very complex financial industry is completely unreasonable," said King, who told investors he expects Congress will make changes by July, when the caps are due to take effect. "This whole Durbin Amendment is an absurd intervention into the free-market system," he said during the Jan. 21 conference call.
Before it's here, it's on the Bloomberg Terminal.
LEARN MORE