Altria Profit Rises on Higher Marlboro Prices, Snuff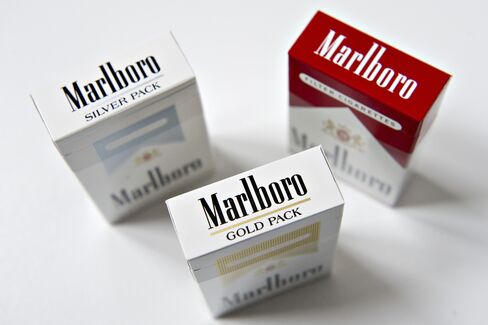 Jan. 27 (Bloomberg) -- Altria Group Inc., the largest U.S. tobacco company, said fourth-quarter profit increased 27 percent, helped by higher prices for Marlboro cigarettes and snuff sales.
Net income rose to $919 million, or 44 cents a share, from $725 million, or 35 cents, a year earlier, the Richmond, Virginia-based maker of Copenhagen snuff said today. That matched the average of eight estimates in a Bloomberg survey.
Altria raised prices for cigarettes twice in the past year, countering a 7 percent decline in shipments in the quarter. Altria, which became the largest smokeless tobacco company in 2009 with Chief Executive Officer Michael Szymanczyk's acquisition of UST Inc., also benefited from increasing demand for snuff.
The company said adjusted profit for 2011 will rise to $2.01 to $2.07 a share. Analysts projected $2.03, the average of 11 estimates compiled by Bloomberg.
Marlboro, the top-selling U.S. cigarette, increased its retail market share by 0.6 percentage point to 42.3 percent, helped by the introduction of a new variety, Skyline Menthol, in the quarter. The share of all cigarette brands slipped 0.2 percentage point to 49.2 percent. The company increased prices by 8 cents a pack on Dec. 6 and by the same amount on May 10.
Altria fell 35 cents to $23.92 at 4 p.m. in New York Stock Exchange composite trading. The stock has declined 2.8 percent this year, after advancing 25 percent in 2010.
(Altria executives discussed financial results on a conference call today. Click MO US <Equity> EVT <GO> to hear a replay of the Web cast.)
To contact the reporter on this story: Chris Burritt in Greensboro, North Carolina, at cburritt@bloomberg.net.
To contact the editor responsible for this story: Robin Ajello at rajello@bloomberg.net.