WellPoint Profit Rises More Than Analysts' Estimate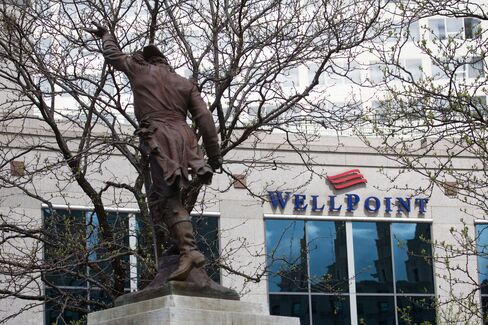 WellPoint Inc., the largest U.S. health insurer by enrollment, reported fourth-quarter profit that rose more than analyst estimates as a national jobless rate above 9 percent kept Americans out of doctors' offices.
Profit excluding one-time items climbed to $1.33 a share, beating the average estimate of $1.22 by 21 analysts surveyed by Bloomberg. Net income fell to $548.8 million, or $1.40, from $2.74 billion, or $5.95, a year earlier, when earnings were boosted by the $4.7 billion sale of a drug-benefits unit, WellPoint said. Net income for 2011 is expected to be at least $6.30 a share, the insurer said. Analysts had estimated a forecast of $6.59.
WellPoint benefited from cost-conscious Americans deferring medical treatment, a trend that reduced expenses for all health insurers in the past two years. A slow start to the current flu season also helped, Chief Executive Officer Angela Braly said on a conference call today. The Indianapolis-based insurer has also been able to negotiate lower prices with some health-care providers in California and other states, Chief Financial Officer Wayne Deveydt said on the call.
These lower costs are expected to continue, "boosting earnings potential in 2011," said Dave Shove, a New York-based analyst with Bank of Montreal.
The savings from less use of medical care were limited in 2010 because WellPoint was forced to accept lower premium rate increases than it proposed in California, and the insurer's commercial enrollment has declined, said Jason Gurda, an analyst with Boston-based Leerink Swann & Co.
Enrollments
Enrollment in WellPoint plans declined to 33.3 million at the end of the year, down from 33.5 million reported in third quarter.
WellPoint rose 85 cents, or 1.4 percent, to $62.55 at 4 p.m. in New York Stock Exchange composite trading. The stock has dropped about 2.8 percent since President Barack Obama signed the health overhaul into law on March 30.
WellPoint is using the conservative assumption in calculating its 2011 forecasts that all the provisions of the federal health-care overhaul signed into law in 2010 will be applied by all 50 states this year, Thomas A. Carroll, an analyst at Stifel Nicolaus & Co. in Baltimore, said in an e-mail.
"That, of course, won't happen," he said.
The full-year forecast was "appropriate, given the level of uncertainty that remains regarding premium rates as well as increases in medical services utilization," said Kristin Binns, a WellPoint spokeswoman.
UnitedHealth Group Inc., the largest insurer in the U.S. by sales, on Jan. 20 reported fourth-quarter earnings rose 10 percent to $1.04 billion, or 94 cents a share, as the Minnetonka, Minnesota-based insurer also benefited from fewer people seeking medical treatment.
Before it's here, it's on the Bloomberg Terminal.
LEARN MORE