Nokia's Elop in Apple Challenge as Profit Shrinks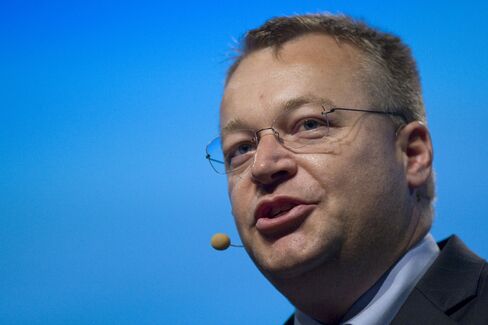 Nokia Oyj may tomorrow report its smallest fourth-quarter profit in a decade, underscoring Chief Executive Officer Stephen Elop's challenge to win back consumers from Apple Inc. and Google Inc.'s Android.
The first full quarter on Elop's watch will include the first sizable sales from the company's N8 smartphone. The 44 percent drop in profit forecast by analysts stands in contrast to Apple's 78 percent earnings growth in the period.
Elop, who took over as Nokia CEO on Sept. 21, may wait until the company's investor meeting in London next month to lay out his plan to stem the drop in the Finnish company's reported market share -- down 10 points to 30 percent in the three years since the iPhone was unveiled. His tasks include simplifying Nokia's software platforms, luring more third-party applications and contending with lower prices from intensified competition.
"It'll probably be an in-line quarter and a subdued outlook and it'll be all about their strategy day and whether the new CEO can really convince people that Nokia can turn itself into an Apple," said James Crawshaw, an equity analyst at Standard & Poor's in London.
Nokia shares have fallen 0.8 percent since Elop was appointed on Sept. 10 as the company announced delays to products in the pipeline. Apple advanced 29 percent and Google gained 30 percent in the period. Nokia, the world's largest maker of mobile phones, has a market value of 28.7 billion euros ($39.3 billion). Apple is valued at $314.5 billion.
Nokia shares rose 7 cents, or 0.9 percent, to 7.75 euros at 10:25 a.m. in Helsinki today.
Profit Estimates
Net income in the fourth quarter may have slid to 529 million euros from 948 million a year earlier, according to the average estimate of 23 analysts surveyed by Bloomberg. The last time Nokia had a lower profit was in the final quarter of 2001, when it earned 450 million euros.
"The quarter should have benefited from the N8 and other new smartphones, but there are new challenges," said Mats Nystroem, an analyst with SEB Enskilda in Stockholm. "It takes a lot more in terms of product portfolio and pipeline to convince investors that they are on the right track."
Nokia's results will depend on how the N8 family stacked up against HTC Corp.'s Desire and other handsets using the Android platform, as well as Apple's iPhone 4 and devices from Research In Motion Ltd.'s BlackBerry.
N8 Hopes
The Espoo, Finland-based company has acknowledged quality problems with some units of the N8, which began being shipped at the end of the third quarter, and dropped U.K. online prices for the N8 and C7 handsets by 15 and 21 percent respectively. It's rolling out improvements to the revamped Symbian 3 software on the handsets.
"We're looking for a pretty decent report mainly driven by good sell-in from a number of different products, and I think the market is anticipating that," said Michiel Plakman, who helps manage 7 billion euros including Nokia shares at Robeco Group in Rotterdam.
Sales may have risen 3 percent to 12.4 billion euros, the average of estimates from 38 analysts. Nokia's results include its equipment joint venture, Nokia Siemens Networks, and its Navteq maps division, as well as handsets and related services.
"I think the N8 did extremely well in markets like Brazil and India, and Vodafone, T-Mobile and Orange put marketing support behind Nokia for the Christmas promotions because they had some fresh value devices out," said Tero Kuittinen, an analyst with Greenwich, Connecticut-based MKM Partners. "The fear is that this bounce won't last very long."
Elop's Efforts
Elop, a former Microsoft executive, is set to reveal his long-term strategy for the company at an investor meeting Feb. 11 in London followed by an appearance at the Mobile World Congress trade show in Barcelona.
Analysts and investors said Elop's pitch in London could be a bigger trigger for the share price than earnings. He has postponed a line of products based on the new MeeGo software platform announced at last year's Barcelona show.
"They'll have to prove it makes sense to continue on the Symbian platform, and they have to show there is a Plan B for going with a different operating system," said Robeco's Plakman. "Nokia has to show progress on MeeGo or shelve the project."
Since joining Nokia, Elop has streamlined Symbian software development, postponed the keyboard-equipped E7 as well as MeeGo phones and gutted a bundled music package.
He has so far left Nokia's management team in place, except for the appointment of a new marketing chief, Jerri DeVard.
Low Expectations
Standard & Poor's, Danske Bank and Svenska Handelsbanken cut their recommendations for Nokia this month. Standard & Poor's and Danske now recommend investors hold the shares and Handelsbanken advises selling them. Currently 25 analysts recommend buying Nokia stock, 15 suggest holding it, while 13 have a "sell" rating, according to Bloomberg data.
"The market still discounts any major improvement," said Sami Sarkamies, an analyst with Nordea Bank in Helsinki. "Expectations and share price have come to a low level, resulting in good upside potential in our view."
Analysts expect the new handsets to increase Nokia's average selling price to about 66 euros from 63 euros in last year's fourth quarter. Volumes are likely to be little changed from last year at 129 million units, pushing Nokia's reported market share closer to 30 percent from 35 percent a year ago.
Apple Dominates
Nokia last year revised its market-share methodology to better account for small Chinese factories making unbranded basic phones.
"We find growth in 2011 in smartphones and in the low end," said Helena Nordman-Knutson, a Stockholm-based analyst at Oehman.
Apple continues to set the pace for the industry, selling 16.2 million iPhones last quarter to produce handset revenues of $10.5 billion. That approaches Nokia's forecast of 8.2 billion to 8.7 billion euros ($11.1 billion to $11.7 billion) for fourth-quarter devices and services sales.
HTC Corp., the Taiwan-based maker of high-end Android smartphones, doubled its fourth-quarter net income as it sold 9.1 million handsets at an average price of $364.
Samsung Electronics Co., the world's second-biggest handset maker after Nokia, sold 10 million units of the Galaxy S, an Android model that competes with the N8, since its June debut.
"Let's see what Mr. Elop says in London; I'm sure he will provide some nice one-liners and say the right things, but odds are pretty low that the market would fundamentally change its view of Nokia," said SEB Enskilda's Nystroem.
Nokia will report earnings at about 1 p.m. local time tomorrow, with a conference call at 3 p.m. that can be monitored on the company's website.
                         Forecast             Reported
                         4th quarter 2010     4th quarter 2009

Sales
Average estimate           12.4 billion        12.0 billion
Highest estimate           13.4 billion
Lowest estimate            11.0 billion

Net income
Average estimate            529 million        948 million
Highest estimate            730 million
Lowest estimate             350 million

Non-IFRS net income
Average estimate             669 million        912 million
Highest estimate             877 million
Lowest estimate              421 million

Earnings per share
Average estimate              0.14 euros        0.26 euros
Highest estimate              0.20 euros
Lowest estimate               0.04 euros

Adjusted earnings per share
Average estimate              0.19 euros        0.25 euros
Highest estimate              0.24 euros
Lowest estimate               0.13 euros

Nokia device shipments (24 estimates)
Average estimate             129 million      126.9 million
Highest estimate             136 million
Lowest estimate              122 million

Industry device shipments (16 estimates)
Average estimate             412 million      329 million
Highest estimate             467 million
Lowest estimate              364 million

Nokia market share
Average estimate             31.3 percent     35 percent

Nokia average selling price (24 estimates)
Average estimate             65.9 euros       63 euros
Highest estimate             71.8 euros
Lowest estimate              62 euros
Before it's here, it's on the Bloomberg Terminal.
LEARN MORE