Mandy Moore, U.N. Raise $1.2 Million for African Mosquito Nets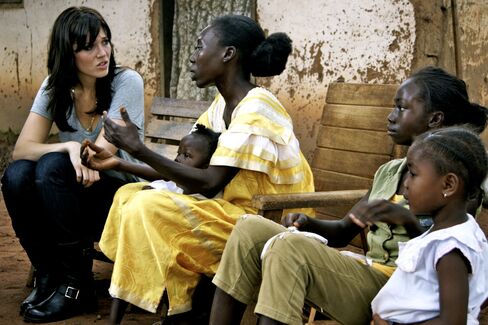 In 2009, actor and singer Mandy Moore saw the life-and-death role a mosquito net could play in the war on malaria in southern Sudan.
"I slept under a net," Moore, 26, said in a phone interview from Los Angeles, where she lives. "Every 45 seconds a child dies of malaria, and it's totally preventable."
So when the United Nations Foundation approached her last year about boosting awareness of an anti-malaria program called Nothing But Nets for the Central African Republic, "I knew that I couldn't say no."
The Nothing But Nets campaign announced Monday that it met its goal of giving nets to every family in the Central African Republic, about 837,000 total at a cost of more than $1.25 million.
A $10 donation funds a bed net for a family living on as little as $1 a day in a hut or mud home that lacks screens. The donation also covers distribution and education about the nets.
"I don't think we would have been able to achieve this goal without Mandy," said Adrianna Logalbo, the campaign director, in a phone interview. "The reach that her personality gave us was massive."
The foundation distributed the nets with the help of the United Nations Children's Fund and PSI, a Washington-based nonprofit that assists the poor, to distribute the nets. Moore is a PSI ambassador.
After the launch of the Central African Republic project in July, Moore participated in a live online Malaria Townhall on Facebook.com that attracted more than 10,000 viewers. She used social media to tell fans and friends to donate money and traveled to Bangui, the capital, to observe living conditions.
'Stagnant Water'
"You would walk through impoverished areas of town and villages that have man-made canals that are filled with stagnant water, which obviously are a breeding ground for mosquitoes," she said. "People are living with not very much at all."
Other celebrities who have donated time to U.N. organizations include actors Angelina Jolie, Danny Glover and Whoopi Goldberg and soccer star David Beckham.
Moore, a Nashua, New Hampshire, native, became a pop music star in the 1990s with her recordings "I Wanna Be With You," "Candy" and the self-titled album "Mandy Moore" of 2001. Her last CD, "Amanda Leigh," came out in 2009. Her film roles include "A Walk to Remember" (2002) and "Chasing Liberty" (2004).
Nothing But Nets was inspired by sports columnist Rick Reilly's 2006 Sports Illustrated column asking readers to donate nets to the U.N. Foundation. After Reilly's plea, the National Basketball Association and the United Methodist Church helped the foundation establish the program.
$1 Billion Gift
The foundation itself was started in 1998 by a $1 billion gift from philanthropist Ted Turner. It connects the public to global health issues such as malaria, measles and polio. Nothing But Nets is the foundation's largest campaign, Logalbo said.
Nothing But Nets has distributed more than 4 million nets in 25 African countries including Senegal, Sierra Leone, Uganda and the Democratic Republic of Congo.
Moore, who said she will record another album this year, said she'll continue promoting the net program.
"This helps round out the rest of what I get to do," she said. "I'm happy to use this platform for the causes I'm passionate about."