Hynix Profit Falls 83% on Chip Prices, Legal Case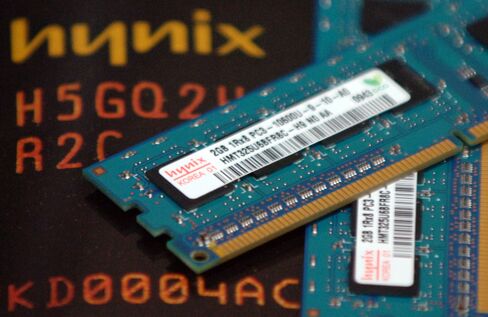 Hynix Semiconductor Inc., the world's second-largest maker of computer memory chips, reported an 83 percent drop in fourth-quarter profit after prices for the components fell and the company lost a legal case.
Net income fell to 110.1 billion won ($99 million) in the three months ended Dec. 31 from 656.8 billion won a year earlier, Ichon, South Korea-based Hynix said today in a regulatory filing. Operating profit, or sales minus the cost of goods sold and administrative expenses, was 417.6 billion won, exceeding the 404 billion won median of 15 analyst estimates compiled by Bloomberg in the past 28 days.
Prices for computer memory chips fell as demand for personal computers slowed. Hynix paid 160.7 billion won to Hyundai Securities Co. on Dec. 17 after losing a lawsuit with the brokerage, according to a filing last month.
"While a one-time factor such as the legal issue and some tax payments appear to have weighed on the bottom line, the company's operating earnings were relatively quite good," said Kim Do Han, an analyst at Samsung Securities Co. in Seoul. "Earnings will gradually improve from the second quarter as chip prices rebound."
Chip prices may recover this quarter as computer makers stock up for new models and demand rises for chips for tablet computers and smartphones, analysts including Kim Young Joon at LIG Investment & Securities Co. said.
Fourth-Quarter Sales
Sales in the fourth quarter totaled 2.75 trillion won. Hynix rose 0.2 percent to 28,250 won as of 11:35 a.m. on the Korea Exchange, in line with the benchmark Kospi stock index.
The price of the benchmark DDR3 1-gigabit dynamic random-access memory, or DRAM, chip fell about 47 percent in the fourth quarter amid weak demand for personal computers, according to data from Taipei-based Dramexchange Technology Inc. Benchmark 32-gigabyte NAND flash memory prices slipped 2.6 percent in the period, according to Dramexchange.
DRAM chips are used to store data temporarily to help devices run multiple programs at the same time. NAND flash memory saves data including songs and pictures in gadgets such as smartphones, MP3 players and digital cameras.
Prices for NAND flash memory will continue to outperform DRAM in 2011, and Hynix needs to increase NAND capacity quickly to capitalize on the boom, David Choi, an analyst at KTB Securities Co. in Seoul, said in a Jan. 6 report.
Chipmakers' capital expenditure on NAND will beat spending on DRAM for the first time this year amid a race to develop smaller memory devices, C.J. Muse, a New York-based analyst at Barclays Plc, said in a report last month.
"Hynix's quarterly earnings will likely have bottomed out in the fourth quarter," Lee Ka Keun, a Seoul-based analyst at Hana Daetoo Securities Co., said in a Jan. 5 report. "DRAM prices are forecast to fall at a slower rate, and NAND will still get strong demand."