Conservatives Seek to Rally Canadians Around Tax Cuts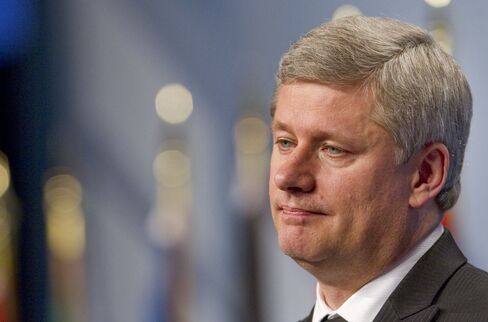 Jan. 26 (Bloomberg) -- Canadian Prime Minister Stephen Harper's government is promoting planned corporate income tax cuts today with a country-wide campaign aimed at pressing opposition lawmakers to back his government's 2011 budget.
At least nine ministers are appearing at manufacturing sites across Canada to build public support for the measures, in a coordinated campaign with the Canadian Manufacturers and Exporters, a lobby group. Finance Minister Jim Flaherty kicked off the campaign during a press conference at the AGS Automotive car parts plant in Oshawa.
"The economy remains our government's number one priority," Flaherty told reporters. "That is why we are keeping taxes low for job creators to grow our economy."
Harper, whose party holds a minority of seats in Parliament and needs opposition support to remain in power, says the tax reductions will spur job creation and support economic growth. Opposition lawmakers say the government should cancel the cuts and use the funds to pay for health and education programs.
While ruling out a reversal in the tax cut plan, Flaherty has said he would consider funding for the forestry industry and worker training in the next budget as grounds for compromise with other parties.
The Conservatives hold 143 of the 308 seats in the House of Commons while the Liberals have 77, the Bloc Quebecois 47, and the New Democrats 36. There are also 2 independents and 3 vacant seats. Harper needs the backing of one of the three opposition parties to pass budgets and legislation, and has turned to all three at various points since taking power in 2006.
Fiscal Plan
Lawmakers return to Parliament Jan. 31 after a six-week break. Flaherty has said he will release his next fiscal plan in March, and its defeat would trigger an election.
Canada cut the federal corporate income tax rate by 1.5 percentage points to 16.5 percent on Jan. 1, and it will fall to 15 percent in 2012 under legislation passed in 2007. Bank of Nova Scotia, Royal Bank of Canada, Canadian Imperial Bank of Commerce and Toronto-Dominion Bank -- which reported paying a combined C$6.2 billion ($6.2 billion) in income taxes over the past 12 months according to data compiled by Bloomberg -- may be among the biggest beneficiaries.
Opposition Liberal Party Leader Michael Ignatieff has pledged to cancel the reductions if his party wins power, and would spend part of the savings to support people who care for sick and elderly family members at home. Investing in education and supporting small businesses would be a better way to create jobs, Ignatieff told reporters in Ottawa today, adding the government's plan to raise payroll taxes will undermine job creation. Flaherty this year raised premiums for employment insurance, following a two-year freeze.
Conservative Proposal
"The Conservatives' proposal is to cut tax on the richest and most powerful corporations in the country," Ignatieff said. "The people who create jobs in this country are the small and medium enterprises of the country and they've had their payroll taxes jacked up."
The Liberals helped to pass the reductions when they were legislated three years ago by abstaining from the budget vote. Lowering corporate income taxes continues a policy started by previous Liberal administrations, said Len Farber, a senior adviser at Ogilvy Renault in Ottawa and the highest ranking tax official in Canada's public service when he left in 2006.
The measures will have a "stimulating effect that's good for the economy," Farber said. "It was good for Liberal governments before and is good for Conservative governments now."
The measures have also won backing from business groups, including the Canadian Chamber of Commerce, which said in a statement today reversing the tax cuts would be like "giving the economy a blind-side hit."
Job Creation
The measures will generate a net 49,900 new jobs and add C$25.8 billion to the economy over two years, according to a study released Jan. 12 by the Canadian Manufacturers and Exporters. The group, which sent representatives at today's events to back the cuts, estimates they will cost the federal government C$6.2 billion in foregone revenue next year.
"Our analysis demonstrates that business tax cuts are critical drivers of the Canadian economy," Jayson Myers, the group's president, said in a statement.
Among ministers participating in the campaign are Canada's junior finance minister, Ted Menzies, who is in Calgary, Treasury Board President Stockwell Day in Vancouver and Labor Minister Lisa Raitt in Kitchener, Ontario.
To contact the reporter on this story: Theophilos Argitis in Ottawa at targitis@bloomberg.net.
To contact the editors responsible for this story: Christopher Wellisz at cwellisz@bloomberg.net; David Scanlan at dscanlan@bloomberg.net.