California Capital $500,000 'Crash Tax' Taps Drivers to Fill Gap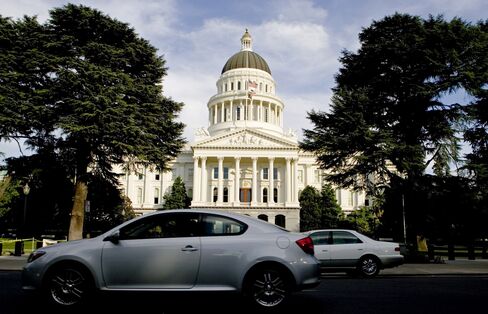 California's capital city of Sacramento, facing a $35 million deficit, will bill out-of-town drivers whose traffic accidents require rescue crews, the latest U.S. municipality turning to a "crash tax" for revenue.
The fees, ranging from $435 to $2,275 if a helicopter is needed, may generate as much as $500,000 a year, according to city data. The ordinance approved last night by Sacramento's City Council applies to drivers who don't live in the city, no matter who's at fault for the accident.
U.S. cities strained by the longest recession since World War II saw local tax revenue tumble 3.2 percent last year, the National League of Cities said in an October report. So-called accident-recovery fees have been adopted in at least 27 states, according to the National Association of Mutual Insurance Cos. In California, more than 50 cities or fire districts, including Oakland, have embraced the charges.
"It's bad public policy," said Sam Sorich, president of the Association of California Insurance Cos., which opposes the fees. "This is a fundamental government service. Anyone who comes to Sacramento expects that the government will be there to come to the scene of an accident."
Sacramento's fees eclipse those being considered by New York City, which is weighing charges from $365 to $490, depending on whether fire or injuries are involved.
"We don't believe it's a tax," said Sacramento Fire Chief Ray Jones. ''The purpose isn't to secure revenue. The purpose is to recover reasonable costs."
Sacramento, the state's seventh-largest city by population, had a $43 million deficit in the fiscal year that began July 1, equal to 12 percent of its $364 million general fund budget. The city of 500,000 people may face a $35 million gap this year, amplified by growing labor costs and proposed cuts in state aid as California grapples with its own $25 billion deficit.
Auto Accidents
Sacramento's fire department responds to about 3,600 automobile accidents each year, according to city figures.
Cities that charge the fees generally bill insurance companies for payment. Typical insurance policies don't cover the fees, Sorich said, so the drivers themselves may then be billed. The fees are collected by private vendors, who earn 14 percent to 20 percent of the fee, according to city documents.
Other U.S. cities that have enacted fees include Dallas; Buffalo, New York; Quincy, Massachusetts; Bridgeport and New Haven, Connecticut; and Toledo, Ohio, according to the Columbus, Ohio-based Mutual Insurance association, which opposes them.
They have been outlawed in 10 states, including Alabama, Florida and Georgia, according to the group. A bill is pending in the California Legislature by state Senator Tony Strickland, a Ventura Republican, to make them illegal in the most populous U.S. state.
''Californians, regardless of the city in which they live, work, or visit, should be awarded certain public safety protections," Strickland said. "They should be allowed to commute to work or travel on vacation without having to worry about a bill waiting for them when they get home."
Before it's here, it's on the Bloomberg Terminal.
LEARN MORE