Arizona's Brewer Seeks to Cut 280,000 From Medicaid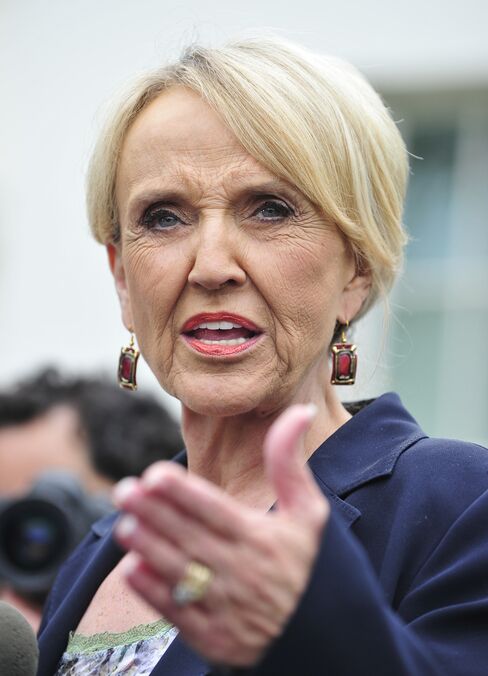 Arizona Governor Jan Brewer asked for U.S. permission to tighten Medicaid eligibility to drop coverage for 280,000 people and slash $541.5 million in spending, a move other states may follow.
The 16th-largest state by population faces a $1.2 billion deficit in the coming fiscal year, more than 80 percent of which is from Medicaid costs, Brewer wrote in a letter to U.S. Health and Human Services Secretary Kathleen Sebelius yesterday.
"We are in a crisis unlike any we have seen," said Brewer, a 66-year-old Republican. "We are in a struggle for our state's survival." Mary Kahn, a spokeswoman for Sebelius, declined to comment, saying she hadn't received the letter.
President Barack Obama's health-care overhaul requires states to maintain Medicaid eligibility for the same people they did before the legislation was signed in March, according to a fact sheet from Brewer's office. The rule is designed to prevent states from dropping people as a result of the law. States that fail to comply can lose federal Medicaid reimbursements, the fact sheet says.
Thirty-three governors or governors-elect, including Brewer, sent President Obama and other federal officials a letter on Jan. 7 asking to remove the so-called maintenance of effort requirement. Arizona is the first to seek a waiver of the rule, Kahn said.
Others to Follow
Other governors will follow Brewer, said Dan Mendelson, chief executive officer of the Washington-based consulting firm Avalere Health LLC and a former associate director for health in the Office of Management and Budget under President Bill Clinton.
"There are other states contemplating this," he said in a telephone interview. "Several" letters will come from "big states" that are "reaching the point of no return," he said.
Brewer asked to drop coverage for 250,000 childless adults and 30,000 parents whose income is more than 50 percent of the federal poverty level. Removing 280,000 would slash $541.5 million in general-fund spending next year, according to the governor's budget summary.
Arizona is one of six states covering childless adults, the governor's letter says. It's one of a few that covers parents up to 100 percent of the federal poverty level, the letter said.
Medicaid, the joint federal and state health-care program for the poor, represents almost 30 percent of the state's general-fund expenditures, up from 17 percent in 2007, Brewer said.
Spending Cuts
The state has slashed $2.2 billion in expenses from its $10 billion general-fund budget and raised taxes by $1 billion to stem the impact of the economic recession that cost the state 300,000 jobs, she said.
"I cannot sacrifice those basic government services of public safety and education to preserve a Medicaid program that is far more generous than most other states," Brewer said.
Allowing states to cut some beneficiaries will be a difficult decision for the Obama administration, which has indicated it doesn't want anyone to lose coverage, according to Vernon Smith, a former director of Michigan's Medicaid program and now a consultant in Lansing, Michigan, with Health Management Associates.
"The federal government will be torn on this issue," Smith said in a telephone interview.
Before it's here, it's on the Bloomberg Terminal.
LEARN MORE