Greece Pins Debt Hopes on Property Sales After Monastery Furor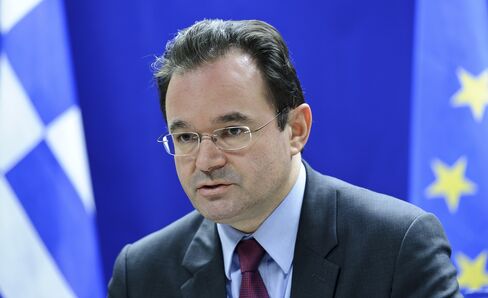 Jan. 25 (Bloomberg) -- When the Greek government swapped land with a Byzantine monastery on a mountainous northern peninsula, the furor in 2008 over the price contributed to the defeat of Prime Minister Kostas Karamanlis a year later.
Finance Minister George Papaconstantinou aims to do a better job raising funds from state-owned properties with an estimated value of as much as 300 billion euros ($408 billion), equivalent to the national debt. First, he'll need to figure out what assets are in government hands, before competing with other debt-laden European countries for investors.
"The supply and demand dynamic for Greece isn't good right now," said Frances Hudson, who helps oversee about $242 billion as an equity strategist at Standard Life Investments in Edinburgh. Hudson would rather buy commercial real estate in Paris or Stockholm that would offer more predictable returns.
The European Union and International Monetary Fund, as well as German politicians who oppose bailing out Greece and local lawmakers, have urged the country to sell or lease casinos, golf courses, airports and even islands to pay down debt and avoid a default. The EU, which led a 110 billion-euro rescue of the country in May, said in a December report that "sizable" proceeds could be generated this way.
Potential income from property enabled Papaconstantinou to increase the forecast for state-asset proceeds in November to 7 billion euros by 2013 from 3 billion euros. The assets earmarked for sale range from a golf course on the island of Rhodes to the former Athens airport of Hellenikon.
Mount Athos
The transaction with the Vatopedi monastery, a 10th-century building on Mount Athos, did little to improve Greece's finances. In 2008, the property scandal, which involved the previous government, knocked the collapse of Lehman Brothers Holdings Inc. off the front pages of local newspapers.
The current government, which came to power in October 2009, is suing the monastery, part of the oldest surviving community of its kind, amid reports from Greek media including NET television and the Ta Nea newspaper that the land-for-property deal cost Greek taxpayers 100 million euros. That's because the state agreed in 2007 to swap 45 acres (18 hectares) of land for property that was allegedly worth less.
Misgivings about the deal forced two ministers to resign and led to a parliamentary investigation. Three separate appraisals ordered by prosecutors have failed to provide a value for the land involved.
Unknown Value
The total value of Greece's real estate holdings is estimated at 200 billion euros to 300 billion euros by analysts at banks, including Alpha SA and EFG Eurobank SA.
"I wish it was 300 billion euros, or 280, 250, or 200 billion euros," Papaconstantinou, 49, told parliament on Jan. 14. "The fact is we just don't know."
The government is due to publish an inventory by June, a task made harder by the lack of a centralized registry of deeds. The state has several registers of assets that can't be cross-checked because they aren't compatible.
About 40 percent of registered state properties are disputed and an additional 25 percent don't have enough data on their legal status and are "questionable," Papaconstantinou told lawmakers.
"The Greek government really needs to employ a professional private-sector adviser to help them with the inventory and ensure the valuations and sales are carried out with the greatest transparency," said Grant Fitzner, the London-based head of research for Europe, the Middle East and Africa at Jones Lang LaSalle Inc., the world's second-largest commercial property broker.
Wider Deficit
Greece's debt and deficit figures were revised higher after Prime Minister George Papandreou came to power and revealed the budget shortfall would be four times the EU limit, sparking the European debt crisis.
Wage and pension cuts and tax increases, in return for the emergency funds to prevent a default, will mean the economy contracts 3 percent this year after shrinking as much as 4.2 percent last year. Debt is forecast by the EU to increase to 156 percent of gross domestic product in 2012.
Banks, hurt by their holdings of state bonds, have scaled back lending, while new property taxes have crimped real estate prices. Definitive real estate data is scarce in Greece.
"It's impossible to say whether commercial property prices have dropped or held steady because so few transactions have taken place," said Ioannis Kaligiannakis, a property appraiser at Colliers International in Athens. "Some tenants have been able to agree rent reductions of as much as 20 percent."
Court Battles
Competing claims over land have resulted in lengthy court battles, one factor that's deterred foreign investment in Greek real estate along with cumbersome approval procedures. Jones Lang LaSalle ranked Greece 29th on its Global Real Estate Transparency Index for 2010, below Spain, Italy and Portugal.
Foreign direct investment to southern European countries using the euro is mainly directed into real estate, according to Nikos Christodoulakis, an economist and former economy minister, who cited figures from the Paris-based Organisation for Economic Cooperation and Development.
Greece will face competition from debt-burdened governments across Europe, particularly in the south, to find investors for its real estate after the global financial crisis and recession led to higher public deficits and debt.
Falling property values and tougher borrowing conditions cut proceeds from state-owned property sales in the 27-member EU to 3 billion euros in 2008 and 2009, from 13 billion euros in the two years though 2007, according to a July report by London-based CB Richard Ellis Global Research.
'Sacrifices'
Spain hasn't announced any real estate sales or leases to help reduce its budget deficit, the third largest in the EU. Madrid alone has 147 state buildings that may fetch as much as 8.4 billion euros, according to Santiago Aguirre, president of Aguirre Newman, a broker in the Spanish capital.
EU rules allow countries using the euro to deploy the proceeds from the sales of state assets, including real estate, to redeem debt.
In November, Italy, Europe's most-indebted nation after Greece, failed to attract bidders for three military barracks. Italy plans to transfer more than 11,000 state-owned properties to its regional governments who can then lease or sell them onto third parties to reduce municipal debt.
"Before it was impossible for Greece to sell state land or property as the public perceived it as evil and politicians didn't have the courage to do it," said Yannis Perrotis, managing director of CB Richard Ellis in Athens. "Now things are very different. People accept there have to be sacrifices."
To contact the reporters on this story: Maria Petrakis in Athens at mpetrakis@bloomberg.net; Sharon Smyth in Madrid at ssmyth2@bloomberg.net.
To contact the editors responsible for this story: Andrew Blackman at ablackman@bloomberg.net