Obama Poised to Intensify U.S. Criticism of Egypt's Mubarak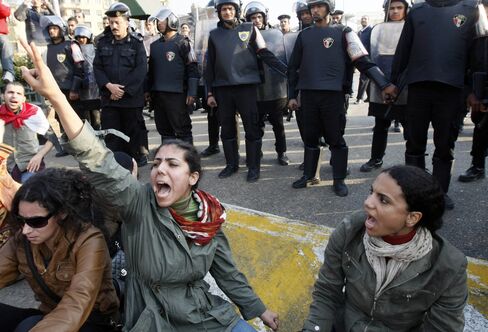 The White House is prepared to step up its criticism of Egyptian President Hosni Mubarak, a key Middle East ally, if his government intensifies its crackdown on protesters, said an administration official.
President Barack Obama privately pressed Mubarak in a telephone call last week to embrace democratic changes, said the official, who requested anonymity. Secretary of State Hillary Clinton yesterday said Mubarak, in power since 1981, has an "important opportunity" to enact economic, political and social reforms.
"We call on all parties to exercise restraint and refrain from violence," she told reporters in Washington. "We urge the Egyptian authorities not to prevent peaceful protests nor block communications, including on social media sites."
The message that White House officials want Mubarak to hear is that he should seize the protests as an opportunity to reform state institutions and not use them as a pretext to strengthen his grip on power, the administration officials said yesterday.
Egyptian stocks tumbled the most in more than a year and bonds fell after thousands took to the streets of the capital in protests against Mubarak. The yield on Egypt's 2040 dollar-denominated bonds jumped 40 basis points since the uprising that ousted Tunisian leader Zine El Abidine Ben Ali on Jan. 14. They were yielding 7 percent, the highest level since July, according to data compiled by Bloomberg.
The U.S. has a major stake in what happens in Egypt, the most populous Arab nation, a moderate voice in the Muslim world and a key player in Middle East peace efforts. Egypt is the fourth largest recipient of American aid after Afghanistan, Pakistan and Israel, based on the State Department's budget request for the current fiscal year.
'Potentially Dangerous'
The Obama administration needs to move cautiously, said Anthony Cordesman, a senior defense analyst at the Center for Strategic and International Studies, a nonpartisan research group in Washington.
"There isn't just the morning after to think about, there is the decade after," he said in a telephone interview. "For the U.S. to get out in front now would be premature and potentially dangerous."
Shadi Hamid, an expert on Islamist politics and democratic reform in the Middle East at the Brookings Institution, said the large pro-democracy protests may have broken the "psychological barrier of fear" among Egyptians.
"The U.S. does not want to see the Egyptian regime fall any time soon,'' Hamid said in a telephone interview. "But people who are protesting, the tens of thousands, do want to see the regime fall some time soon. They are diametrically opposed interests."
Son May Rise
The 82-year-old Mubarak hasn't publicly said whether he will run for re-election when his term ends this year. Opposition groups, including the outlawed Muslim Brotherhood, say the president is grooming his politician son Gamal to succeed him. Both men deny this claim.
Obama, who came to power promising the Arab world a ''new beginning,'' runs the risk of being discredited if he appears to back an increasingly violent crackdown that belies his message of encouragement for human rights and freedom of speech.
The White House Press Secretary Robert Gibbs created some ambiguity yesterday when asked whether the administration still supports Mubarak. In his response that ''Egypt is a strong ally,'' he avoided repeating Mubarak's name.
The Obama administration also has been communicating through the same social media sites that the Egyptian protesters have used to organize themselves. The State Department issued statements yesterday on Twitter, including one supporting the ''universal rights of the Egyptian people including freedom of expression.''
Social Media
Twitter Inc. of San Francisco, which was used to help coordinate the Tunisian protests, yesterday said access to its services was blocked in Egypt. Facebook Inc., the Palo Alto, California-based owner of the world's most popular social-networking service, hasn't seen any major changes in user traffic in Egypt, though it is aware of reports of service disruption in the country. Earlier, some Facebook users reported the site was inaccessible in Egypt, according to Herdict.org, which monitors web access.
Obama faces a dilemma in trying to balance support for ''democratic aspirations," given a risk that extremists will dominate, and continued backing of an ally who he took two years to win over and who shows little inclination to relinquish control. Mubarak was a key component of Obama's efforts to involve influential Arab nations with his Middle East peace plan.
After Tunisia
The unrest in Egypt was inspired by the uprising that ousted Tunisia's Ben Ali on Jan. 14. The economic challenges that plague both countries are shared by others in the region including Algeria, Morocco and Yemen.
Nouriel Roubini, the economist who predicted the financial crisis, said economic malaise in the region may lead to the overthrow of long-standing autocratic governments.
"In emerging markets, it's leading to rising inflation, to reduction in disposable income, it's leading to riots, demonstrations and political instability," Roubini, a New York University economics professor, said in an interview in Davos, Switzerland, with Tom Keene on Bloomberg Television's "The Pulse." "It's really something that can topple regimes, as we have seen in the Middle East."
When asked about whether he was concerned protests would spread, Jordanian Foreign Minister Nasser Judeh said that while economic hardships were undeniable, countries such as Jordan had a system in place that gave public discontent a forum.
'Economic Realities'
"We have economic realities that we have to deal with, but we have a political system, guided by His Majesty the King, that promotes freedom and openness and freedom of expression," he said in a joint news conference with Clinton at the State Department.
Jordan and all other Arab countries except Lebanon and Iraq are classified as authoritarian regimes in the Economist Intelligence Unit's 2010 Democracy Index. Egypt, Algeria and Yemen all rank in the bottom half -- well below 59th-placed Tunisia -- of Berlin-based Transparency International's 2010 Corruption Perceptions Index of 180 nations.
More than 80 percent of U.S. aid to Egypt, or $1.3 billion, is in the form of military assistance, according to data supplied by the U.S. State Department. With Obama in power, military aid has stayed unchanged from the Bush-era. Under Obama, economic assistance has been cut from $411 million in 2008 to $250 million, with the phasing out of democracy-linked programs.
In his State of the Union speech Jan. 25, Obama said the U.S. "stands with the people of Tunisia." He shied away from making a direct reference to Egypt when he pledged support for "the democratic aspirations of all people."
Before it's here, it's on the Bloomberg Terminal.
LEARN MORE