Egypt Police Use Tear Gas to Break Up Cairo Protest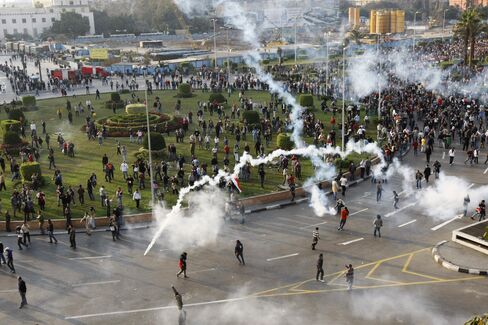 Egyptian police fired tear gas at thousands of anti-government demonstrators who gathered in central Cairo today for a protest inspired by the revolt that toppled Tunisia's President Zine El Abidine Ben Ali.
"The government is illegitimate, the president is illegitimate," the protesters chanted, denouncing President Hosni Mubarak and other members of the government. The demonstrators later hurled rocks at police, who threw them back. Some of the protestors were walking around with bloodied faces, and one group hijacked a fire truck.
Protests have also erupted in other Arab nations including Algeria, Morocco and Yemen, which face similar problems of high unemployment and rising living costs. The demonstrations today were organized on Facebook, with about 90,000 people signing up to protests, and some of those attending the Cairo rally waved Tunisian flags. There were smaller protests in Alexandria.
"The young people decided," Mohamed ElBaradei, the former head of the United Nations nuclear agency, said in an interview in Vienna today. "They haven't seen a government listening. They got quite excited by the Tunisian change of power, or revolution, if you'd prefer to call it that."
Corruption
Egypt, Algeria and Libya all rank in the bottom half, well below 65th-placed Tunisia, in the latest survey of corruption perceptions in 180 nations by Berlin-based Transparency International. All Arab countries except Lebanon and Iraq are classified as authoritarian regimes in the Economist Intelligence Unit's 2010 Democracy Index.
"This government must go," said 25-year-old Rida Mohamed, a civil servant. "We're through with promises." Essam Mohamed, a member of the organizing committee of today's demonstrations, said they would continue tomorrow.
Ben Ali fled Tunisia on Jan. 14 after a wave of demonstrations accusing his regime of corruption and human rights violations. The national unity coalition that took over includes several former members of Ben Ali's ruling party, and protesters are demanding that they be stripped of their posts.
"Tunisia sent a very powerful message," said ElBaradei, who in February said he would run for president if the government removed constitutional restrictions on independent candidates. "When Egyptians saw a country like Tunisia being able to do that, they realized that it is doable. It gave them the confidence. And that's why they went to the street today."
Violence
In Algeria, three people were killed and 420 injured in clashes with police this month during rallies against high food prices and a lack of public housing. Three men set themselves on fire, emulating the Tunisian university graduate whose self-immolation a month ago began the wave of demonstrations that culminated in the fall of Ben Ali, El Khabar newspaper reported. At least three Egyptians have set themselves on fire.
Mubarak, in power since 1981 and without a designated successor, hasn't publicly said whether he will run for re-election when his term ends this year. Opposition groups, including the Muslim Brotherhood, say the president is grooming his politician son Gamal Mubarak to succeed him, a claim that both men deny.
The government announced additional spending of as much as 3.5 billion pounds ($600 million) in October to cover the country's rising food bill, increasing the strain on a budget deficit that widened to 8.1 percent of gross domestic product in the fiscal year that ended in June.
The cost of insuring Egyptian sovereign debt rose 22 basis points to 325, the highest since June 2009, according to CMA prices for credit-default swaps. Egypt's benchmark EGX30 Index has declined 6 percent since Ben Ali was toppled.
Before it's here, it's on the Bloomberg Terminal.
LEARN MORE