Oil Supply Climbs in Survey as Imports Increase: Energy Markets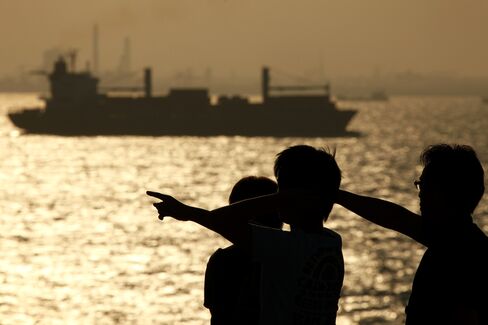 Jan. 25 (Bloomberg) -- U.S. crude supplies probably rose a second week as imports increased and refineries operated at the lowest rate since November, a Bloomberg News survey showed.
Inventories climbed 1.2 million barrels, or 0.4 percent, in the seven days ended Jan. 21 from 335.7 million a week earlier, according to the median of 15 analyst estimates before tomorrow. Twelve of the respondents forecast an increase and three projected a decline.
Imports expanded during January in seven of the past 10 years, while refineries cut operating rates during the same month in nine of those years. Refiners postpone shipments until the year ends to cut tax bills. Units are often idled for maintenance in January and February as attention shifts away from heating oil and before gasoline use rises.
"A big part of the gain is a function of seasonal tendencies," said Tom Pawlicki, an analyst at MF Global Holdings Ltd. in Chicago. "In all likelihood imports were up again last week as refineries cut operating rates."
Oil for March delivery fell $1.68, or 1.9 percent, to $86.19 a barrel on the New York Mercantile Exchange, the lowest settlement price since Nov. 30.
Stockpiles climbed 2.62 million barrels in the week ended Jan. 14, the Energy Department said. Along the U.S. Gulf of Mexico coast, supplies surged 6.88 million barrels to 160.5 million, the biggest gain since July.
Tax Rates
"Crude supplies are expected to show another significant seasonal increase with the bulk of the upswing again developing within the Gulf Coast region," Jim Ritterbusch, president of Ritterbusch & Associates, a Galena, Illinois-based consulting company, said in a report.
Some localities along the Gulf Coast levy taxes based on the amount in storage at year's end. U.S. crude stockpiles slipped 26.6 million barrels, or 7.4 percent, in the six weeks ended Jan. 7. It was the longest series of declines since July 2009.
"Refiners delayed deliveries in December because of end-of-the-year tax issues," Pawlicki said. "We should now see imports increase as the delayed cargoes arrive. We saw this occur a year ago, there was a sharp decline in inventories followed by a sharp rebound."
Imports rose 6.5 percent to 8.99 million barrels a day in the last two weekly reports. Imports along the Gulf Coast surged 12 percent to 5.39 million barrels, the highest since Oct. 22.
Alaska Shipments
Inventories on the West Coast may rise after the resumption of shipments from Alaska, where the Trans Alaska Pipeline System, which carries about 11 percent of U.S. oil, was shut after a leak was discovered on Jan. 8. Shipments resumed Jan. 17 after a bypass around the leak at Pump Station 1 was installed.
Supplies tumbled 2.57 million barrels to 49.1 million, the lowest level since February, according to the Energy Department.
Refineries probably operated at 83 percent of capacity last week, according to the Bloomberg survey. The rate was unchanged from the week before when they ran at the lowest level since Nov. 26. Refiners cut operating rates 3.9 percent in the week ended Jan. 14, the biggest one-week drop since October, 2009.
"Crude oil consumption was probably down," said Rich Ilczyszyn, a market strategist at Lind-Waldock, a broker in Chicago. "There is a seasonal pattern at work. Refiners are already starting to gear up for later this year."
BP Closure
BP Plc will shut a crude unit in conjunction with planned maintenance on a fluid catalytic cracker at its Texas City, Texas, refinery, a person with knowledge of the plans said on Jan. 19. The crude unit, one of two at the refinery, is expected to shut within the next several weeks, said the person.
The Texas City plant has a capacity of 475,000 barrels a day, according to data compiled by Bloomberg News.
Royal Dutch Shell Plc is conducting maintenance at its Deer Park refinery in Texas, Ted Rolfvondenbaumen, a company spokesman, said on Jan. 14. Deer Park, a joint venture with Petroleos Mexicanos, has a capacity of 340,000 barrels of oil a day, according to the company's website.
Gasoline stockpiles increased 2.3 million barrels, or 1 percent, from 227.7 million, the survey showed. It would be the ninth gain in 10 weeks. Sixteen respondents gave product-supply estimates. Fifteen of the analysts projected supplies to climb and one said there was no change.
"Seasonal demand for gasoline is low, making it easier to build inventories," said Tim Evans, an energy analyst at Citi Futures Perspective in New York. "There was a 2 million-barrel build during this week last year."
Supplies of distillate fuel, a category that includes heating oil and diesel, probably slipped 500,000 barrels, or 0.3 percent, from 165.8 million, the survey showed. Ten of the analysts anticipated a decline, four projected an increase and two said there was no change.
The department is scheduled to release its weekly report at 10:30 a.m. tomorrow in Washington.
To contact the reporter on this story: Mark Shenk in New York at mshenk1@bloomberg.net
To contact the editor responsible for this story: Dan Stets at dstets@bloomberg.net.